A Telling Photo from this Year's APEC Meeting
"Take a very good look at the official photos," writes the Asia Times' globe-trotting columnist Pepe Escobar.
Mr. Escobar is unimpressed with the elite media's headlines from the APEC meeting of Asia-Pacific powers in Beijing — like a "climate change" agreement between President Obama and Chinese President Xi Jinping.
"This is all about positioning," he writes of the photos — "and this being China, pregnant with symbolic meaning:
Notice anything in the photo above? Let's zoom in…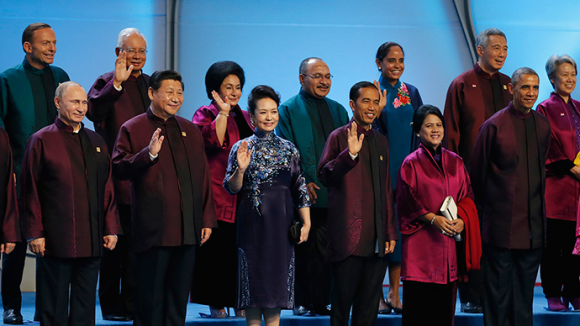 Hmmm…
"Guess who's in the place of honor," Escobar writes, "side by side with President Xi Jinping. And guess where the lame-duck leader of the 'indispensable nation' has been relegated."
Contrary to what — ahem — a certain "edgy" financial blog claims, Obama was not relegated to the "wives' club." He's there with the presidents of Indonesia and Singapore.
But Xi positioned Russia's Vladimir Putin at his side. And as Mr. Escobar rightly points out, "The Chinese can also be masters at sending a global message." The message is that China sees its future more tightly wound up with Russia's, and ultimately with the heart of Europe.
"Think of near future Eurasia as a massive Chinese Silk Belt — in some latitudes in a condominium with Russia," he goes on — "a complex network of high-speed rail, pipelines, ports, fiber-optic cables and state-of-the-art telecom that China is already building through the Central Asian -stans, linked to Russia, Iran, Turkey and the Indian Ocean, and branching out to Europe all the way to Venice and Berlin."
It's a vision that has the Beltway positively panicked. "Washington's No. 1 objective now," he writes in the introduction to his latest collection of essays, "is to prevent a full economic integration of Eurasia that would leave the U.S. as a non-hegemon or, worse still, an outsider."
A volatile state of affairs, much like the run-up to World War I a century ago: Watch out for "a 1914-style chain reaction of catastrophic blunders — by the West — that could fast spin out of control."
Comforting thought, eh?
"On Monday, everything the world knows about Chinese stocks will change," writes Greg Guenthner from his trading desk in this morning's Rude Awakening.
Hey, if China's determined to become the premier Eurasian power via commerce and honest friendship, there's money to be made, right? Take it away, Greg…
"For the first time ever — as in ever — China is opening its mainland stock markets to noninstitutional investors. Hardly anyone is paying attention to this seismic development about to take place. They're still too busy talking about the elections or the alarming increase in the number of exorcisms nationwide.
"Most investors," Greg explains, "can't get their hands on stocks traded in mainland China. Sure, investors from all over the world can invest in stocks trading in Hong Kong. But on the Shanghai exchange? Nope. Not allowed — unless you're an approved institutional investor.
"But that all changes Monday, Nov. 17. The new Shanghai-Hong Kong Stock Connect program will give regular investors a shot at mainland Chinese stocks."
Already, the Shanghai Composite index has zoomed up 20% since July. And while you can't buy stocks in Shanghai yet, you can invest in many of the same companies' shares traded in Hong Kong via FXI — the big Chinese-stock ETF. Shares are a little below $40 now. "I don't think $50 is out of the question for a longer-term move."
Regards,
Dave Gonigam
for The Daily Reckoning
P.S. Greg offers up daily trading guidance just like this — and yes, we said daily — to his readers of The Rude Awakening. You can join their ranks for FREE, right here. 
P.P.S. If you'd like to read our own daily musings, their entirety — (this only a snippet) — you can click here right now and sign up for The 5 Min. Forecast.