3 Examples of How the U.S. Is Totally Unprepared for an Ebola Outbreak
Dammit. We really tried not to bring up Ebola today…
We wanted to lighten the mood. We had two hilarious bits lined up. One about China's weird security measures and another on how to make money twerking (both had to be cut for lack of space. Tomorrow.)…
Get a few chuckles today. Release some tension. That was the plan.
Alas, duty calls. Some pretty heavy developments have surfaced in the past 24 hours.
And we couldn't let them go unreported.
As you probably know by now, another Texas nurse has been infected.
Her name is Amber Vinson. She helped treat Thomas Eric Duncan, the Liberian who fled to America after coming into contact with the virus.
Come to find out…
Even after coming into close contact with Duncan, the CDC told her that it was OK to fly on a commercial airplane to Cleveland.
Then when it came time for her to fly back, they gave her the thumbs-up again…
This time after she told them she had symptoms.
Yep. Contrary to what the CDC initially reported, they told her to fly after she called them to tell them she was experiencing Ebola-like symptoms.
Seriously. She was on the plane in full transmission mode.
We learned this from CBS News' Medical Correspondent Dr. John LaPook.
According to his report, Vinson called the CDC several times before boarding a plane back to Dallas from Cleveland.
She called to tell them she was showing symptoms true to Ebola and see what steps she should take.
CDC's response? It's fiiine. Get on the plane!
While at first, the CDC denied it, they later came out and said it did happen.
"This nurse, Nurse Vinson," Dr. LaPook said, "did in fact call the CDC several times before taking that flight and she said she has a temperature, a fever of 99.5, and the person at the CDC looked at a chart and because her temperature wasn't 100.4 or higher she didn't officially fall into the category of risk."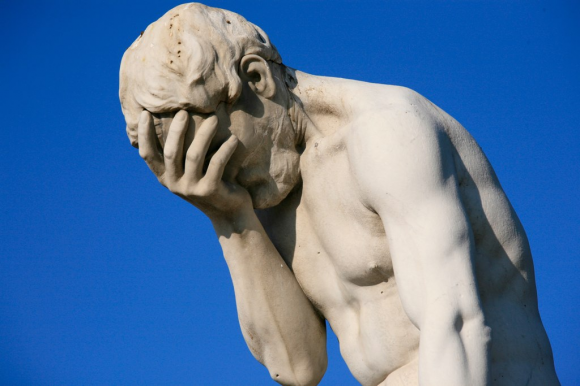 Caption: Obligatory facepalm
"Frontier Airlines is working closely with the CDC to identify and notify all passengers on the flight," CBS News reports.
[Is that supposed to be comforting?]
"The airline also says the plane has been thoroughly cleaned and was removed from service following CDC notification early Wednesday morning."
[You hear that big "BUT" stomping toward you?]
"However…"
[Yep. There it is…]
"…according to Flighttracker, the plane was used for five additional flights on Tuesday before it was removed from service. Those flights include a return flight to Cleveland, Cleveland to Fort Lauderdale–Hollywood International Airport (FLL), FLL to Cleveland, Cleveland to Hartsfield–Jackson Atlanta International Airport (ATL), and ATL to Cleveland."
One more time…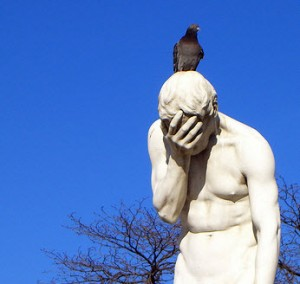 From a different angle
Let's back up. How do not one — but two — Dallas nurses get infected?
Maybe because they haven't been properly trained… or maybe it's something much more harrowing.
The former is a possibility:
National Nurses United (NNU), during a conference call with reporters this week, announced that most Dallas nurses had no clue what to do when Duncan Thomas was brought to the hospital.
And that's not all they revealed. Far from it. See below.
(We've been following their Twitter feed. Highly recommend it. Extremely telling. Visit it here for the latest.)
Here are some highlights…





"There was no advance preparedness on what to do with the patient, there was no protocol, there was no system," one NNU spokeswoman said.
Officials, on the other hand, claimed that the first health care worker, Nina Pham, must've breached protocol.
On the contrary: NNU reported that the only Ebola training Texas Presbyterian (the hospital Duncan was quarantined at) offered was optional for the staff. And the guidelines were constantly changing.
"When it came time to deal with it," alt-media blog Bustle reported, "workers were allegedly allowed to choose whichever protocol they wanted."
Pick what you like. Sounds super effective.
Oh. Here's another gem that just popped up on our newsfeed…

As you might've seen in the Vice video we shared last week, there's no room at all for error when dealing with the infected.
None. Zilch. Nada.
Especially considering the bombshell the Center for Infectious Disease Research and Policy (CIDRAP) dropped back in September…
According to Breitbart, CIDRAP warned the CDC and WHO as far back as September 17 that the risk of airborne aerosol infection is real.
"Being at first skeptical that Ebola virus could be an aerosol-transmissible disease," reads the article written by two national experts on respiratory protection and infectious disease transmission, Dr. Brosseau and Dr. Jones, "we are now persuaded by a review of experimental and epidemiological data that this might be an important feature of disease transmission, particularly in healthcare settings."
Also, they wrote that "We believe there is scientific and epidemiologic evidence that Ebola virus has the potential to be transmitted via infectious aerosol particles," including exhaled breath.
They're warning that surgical facemasks won't cut it. Healthcare workers must outfit themselves with "full-hooded protective gear and powered air-purifying respirators," Breitbart reported.
Not just any respirator. The go-to respirator was the N95. Unfortunately, says the report, "N95 filtering facepiece respirators seem inadequate against microorganisms."
But the most disturbing part of the story is this:
"Guidance from the CDC and WHO recommends the use of facemasks for healthcare workers providing routine care to patients with Ebola virus disease and respirators when aerosol-generating procedures are performed."
[This is where it gets real dumbfounding.]
"(Interestingly, the 1998 WHO and CDC infection-control guidance for viral hemorrhagic fevers in Africa, still available on the CDC website, recommends the use of respirators.)"
Three facepalms in one day? Too excessive.
"Facemasks," the article goes on, "do not offer protection against inhalation of small infectious aerosols, because they lack adequate filters and do not fit tightly against the face.
"Therefore, a higher level of protection is necessary."
Most body fluids are capable of creating short-living aerosol.
Vomit, diarrhea, blood and saliva: All of them are capable of creating inhalable particles in the immediate vicinity. Though they are said to evaporate quickly, anyone within reach could be in danger.
The CDC had to have considered this information when CIDRAP informed them of it. And it shouldn't have come as a shock: they recommended it over a decade and a half ago!
Yet they still let her on the plane.
As a side note, if anyone cares, wanna know what Obama's up to?
According to the Golf Channel, he just swatted his 200th round of golf as President.
Good for him.
Oh, what the hell…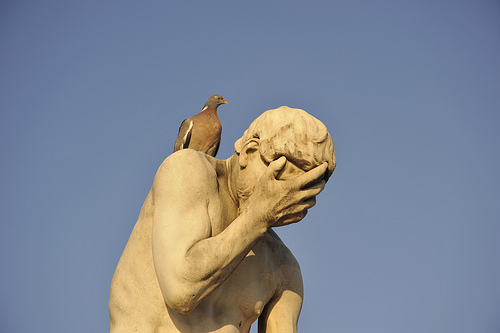 The absurdity is so overwhelming, even the bird looks worried…
We recently received the screening protocols for Johns Hopkins Hospital from a friend on the inside.
Not only are the Ebola protocols vague, they don't emphasize how to keep from getting infected while screening a potential Ebola patient.
"Has the patient traveled to Sierra Leone, Guinea, Liberia, Nigeria or the Democratic Republic of Congo within the past 21 days?" the protocol reads in big red words.
"If YES, give a mask to the patient to wear, escort patient to a private room and shut the door and immediately notify a clinician (designated nurse or MD). Immediately place the patient on Contact and Droplet Precautions and the designated clinician will complete the screening form below."
Contact precautions means nobody touch the patient.
Droplet precautions?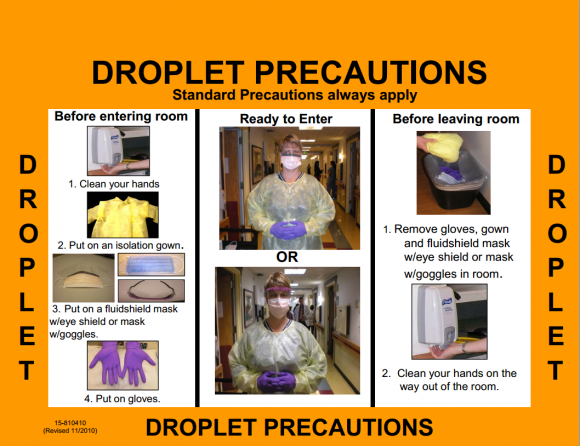 Unfortunately, warding off an Ebola infection is a little more complex…
First, the mask pictured is definitely not going to cut it. Officials have already admitted that Ebola could be spreading through aerosols. The possibility is no longer controversial.
Even if the possibility is minute, we should upgrade. A simple mask isn't enough.
Also, healthcare workers have to be extremely careful when taking off the gear.
The safest way to take off the gear is to spray it down with bleach beforehand.
If they can't do that, there's a specific way to take off just the contaminated gloves so their hands don't get the virus on them.
Not perfect. But we hope they're at least being told this.
Apparently not.
OK. That's what we gathered today.
We have a feeling after the latest news this is going to be a bumpy ride. Hold onto your hat.
Regards,
Chris Campbell
for The Daily Reckoning
Ed. Note: Ebola is real. It's serious. And the world could be on the brink of a global epidemic. It would be wise to do these three things: stay calm, prepare, and stay informed. The latter is where Laissez Faire Today can help… Chris Campbell has been on the case since Duncan Thomas touched down, and he won't stop reporting the unvarnished truth until Ebola is no longer a threat. Click here to sign up today for Laissez Faire Today, for FREE, right now. You can also secure yourself a copy of Laissez Faire's Ebola Pandemic Survival Guide — available on Amazon right now for only 99 cents — by clicking right here.