When the FDA Plays God, Investors Make a Killing
Maybe you've seen the new ads on AMC or other cable channels — for the weight-loss drug Belviq. The drug works by blocking the brain's appetite signals. You eat less and still feel full.
No, we don't suggest buying the maker of the drug, Arena Pharmaceuticals. But the backstory of how Belviq came to market — very profitably for some of our longtime readers — shows how you could generate regular gains of 118% starting this year.
"The FDA has been under mounting pressure to approve a new weight-loss treatment," said a Reuters story the day Belviq won approval in 2012.
No wonder: Two-thirds of Americans are now classified as overweight or obese. But the agency proceeded with great caution after its previous major approval –the disastrous "fen-phen" combination, pulled from the market in 1997 because it turned out to cause heart damage.
Indeed, the FDA rejected Belviq in October 2010 — prompting an unusual shareholder revolt. "What has mobilized so many people, within our group and beyond, are the comments and behavior of some FDA officials and what we believe to be incorrect scientific conclusions," shareholder Douglas Park told The Wall Street Journal.
The FDA re-evaluated… and gave its blessing on June 27, 2012. Smart investors — ahem, including some who read Agora Financial publications — saw a 567% ramp-up in Arena Pharmaceuticals during the months leading up to that date.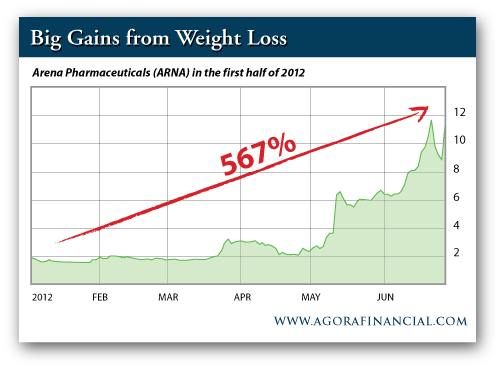 In short, Arena survived its "PDUFA date."
PDUFA is short for a mouthful called the Prescription Drug User Fee Act. "It's a promise the government makes to companies to approve or reject new drugs much faster than in the past," explains Agora Financial investment director Paul Mampilly.
"And it forces the FDA to get new lifesaving drugs to the market faster and in a more predictable fashion. In short, the biotech company pays the FDA a fee to review their drug. And in turn, the FDA gives the company an exact date when they plan to approve or deny the drug."
Think of PDUFA as judgment day, says Paul. "It's the day the FDA plays God and gives the verdict on whether or not it's going to approve a company's drug.
"We want to know the PDUFA day, some idea whether the company is going to get its drug approved or not, because companies with PDUFA dates have the chance to go up the most if the FDA says yes to their drug application."
Regards,
P.S. Know when these dates fall — there are 36 of them in the next 12 months — and you could parlay it into average gains of 118% every 90 days. That's based on extensive back-testing our research team performed after Paul explained to a group of us how to play PDUFA dates for regular profit. Readers of today's issue of The 5 Min. Forecast were given an exclusive chance to discover all of these dates for themselves, and all of the profit potential that comes with them. If you're interested in getting in on this and other great investment opportunities, click here now to sign up for your own subscription to The 5 Min. Forecast.