The Sad Reason Americans Forfeited $5.7 Billion to the IRS
The number is staggering: Americans forfeited $5.7 billion to the IRS in 2011.
The reason is even more staggering: Giving up the money was the only way they could make ends meet.
Or so we can divine from a Bloomberg article this week. "For decades, Americans' homes were their piggy banks," it says. "As values rose, they refinanced or took out second mortgages. Since the housing collapse of 2008, that's often no longer an option.
"Taking money from a 401(k) — and worrying about the consequences later — became a more attractive alternative and a record number of Americans made early withdrawals in 2010."
Fully 4% of U.S. households forked over the early-withdrawal penalty in 2011. The IRS' total take was the aforementioned $5.7 billion. And that's actually down a bit from 2010.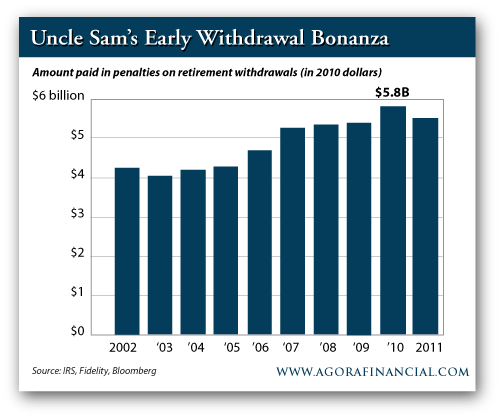 Uncle Sam's take from early withdrawal penalties has grown 37% since 2003… and that's after adjusting for inflation. Coincidentally, the total amount of home equity loans outstanding has shrunk 38% since peaking in 2007.
Personal finance gurus say it's a lousy idea to borrow from your retirement plan in the first place. "You're losing the growth that you could have earned on the money you withdraw," says Terry Savage.
But then if you lose your job, you have 60 days to repay in full before you owe the early-withdrawal penalty. To say nothing of having the loan amount counted toward your taxable income that year. "They get hit with the penalty at exactly the time when they're the most vulnerable," says Reid Cramer of the New America Foundation. "So it's a real double-whammy."
Major U.S. stock indexes were all in the green this morning. But the shakeout in the "mo-mo" stocks is gathering speed. "More former highfliers had their wings clipped yesterday," says Greg Guenthner, Managing Editor of The Rude Awakening. "Groupon shares tanked more than 20%. Aegerion Pharma fell 21%. FireEye, a popular cybersecurity play, fell as much as 25% after announcing terrible earnings.
"In short, it's not looking good for growth stocks. In two short months, these momentum names have transformed from kingmakers to villains."
There wasn't much "news" for traders to react to this morning. First-time unemployment claims fell sharply last week, but the number is becoming so volatile week to week it's nearly meaningless.
Fed chairwoman Janet Yellen is testifying to Congress for a second day, but it's unlikely she'll say anything more interesting than yesterday's "The recent flattening in housing activity could prove more protracted than currently expected." Shocking, we know…
But what's this…
"How a Popular Two-Letter Word Is Undermining Your Credibility," reads a headline at Fast Company.
"Everyone… does it," says the article — prefacing sentences with the word "so." As in, someone you just met asks what you do and you say, "So I'm the global brand director for our portfolio of…"
Bad habit, writes Hunter Thurman: "Beginning your sentence with 'so' orients your message and subconsciously alerts your audience that what you're about to say is different than what you've been talking about up until this point… 'So' demonstrates that you're not 100% comfortable with what you're saying."
Which brings us back to Yellen's testimony…
Economics blogger Robert Wenzel noticed something interesting six months ago during her confirmation hearings: "Whenever she faced a hostile question, she started her reply with 'so.' The 'so' makes no grammatical or logical sense. But she did put it at the start of every hostile question."
It continued in March during her first news conference as chairwoman. Wenzel analyzed the 15 reporter questions. "With seven of those questions, she started the answer with the word 'so,' with the other eight she did not. Indeed, the most challenging questions did come from the reporters, where she replied starting with the word 'so.'"
Heh… Wenzel hasn't weighed in on her testimony this week. But your editor just scrolled to a random question from yesterday's archived video on the C-SPAN website. It was a Republican senator asking about the challenges of small business facing uncertain fiscal and monetary policy from Washington. Sure enough, she prefaced her answer with "so."
Yellen's next news conference immediately follows the next Fed meeting on June 18. If you're up for a drinking game at 2:30 in the afternoon (earlier if you're not in the Eastern time zone), it could be amusing…
Regards,
Dave Gonigam
for The Daily Reckoning
Ed. Note: The world of finance is often little-more than a comedy of errors, and sometimes the best thing to do is just sit back and chuckle. Of course, that doesn't mean you can't make some money in the process. That's why Dave writes the 5 Min. Forecast… It's informative, helpful and always entertaining. And every single issue comes jam-packed with a handful of the world's most potentially lucrative profit opportunities you can't find anywhere else. Click here now to find out what you're missing.