Jack Lew: Debt Ceiling Drama To Return in October
Oh, debt ceiling battles… what wonderful political theater you are.
The next battle is coming this fall, although no one seems quite sure when. Regardless, it will have an impact on markets, as before, and could send gold shooting skyward.
Treasury Secretary Jack Lew is urging lawmakers to raise the $16.7 trillion ceiling by mid-October to avoid a catastrophic default. Skeptical Wall Street firms are scrambling to figure out when exactly the Treasury Department's emergency funds will run out: Jefferies LLC predicts they'll have enough money through the end of October, while Credit Suisse sees enough cash until mid-November.
Bloomberg reports, "'It's important for Treasury to have some kind of a deadline because Congress tends to work better when they come up against a deadline,' Ira Jersey, an interest-rate strategist in New York at Credit Suisse, one of the 21 primary dealers of U.S. government securities that trade with the Federal Reserve, said of Lew's Aug. 26 letter to lawmakers."
"If this were easy to do," says House Speaker John Boehner, "somebody over the last 20 or 30 years would have gotten it done."
This upcoming act of the debt ceiling drama should prove to be even more enthralling than the last. President Obama has vowed not to negotiate over the debt ceiling and is calling for Congress raise it without conditions. This is a pipe dream, since the fiscal year will begin Oct. 1, and Republicans will use the debt ceiling as leverage on budget talks. Republicans are demanding cuts accompany any ceiling deal.
Both parties are expected to dig their trenches even deeper this time… making the fireworks even more explosive than usual. Since the gridlock in Congress seems unlikely to change, expect this to become a new annual national pastime… something like D.C.'s version of the Super Bowl.
Get out your popcorn… and don't forget to keep an eye on gold prices. Remember this chart.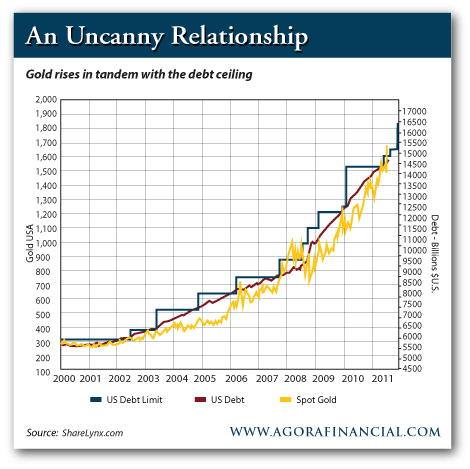 P.S. Get even more great tips and big ideas than we publish on the website by subscribing to the TheDaily Reckoning email edition. Click here.