Energy Stocks Reach Bargain Basement Prices
It was November 1998. Oil was bottoming near $10 a barrel — a level last touched a decade earlier and never to be seen again. Exxon and Mobil were planning their merger.
If you'd bought XOM at the time, you'd be sitting on a gain of 160% by now, not including dividends. An S&P 500 index fund would be up barely 50%, and only after climbing out of the basement since 2009.
No point in kicking yourself… because you have the chance to repeat that performance now. Actually, you have the chance to achieve far bigger gains in much less time…
"Energy stocks have been shunned by investors and have languished in recent years," writes our friend Frank Holmes, chief of the U.S. Global mutual-fund family.
Expectations for global growth and oil demand are in the tank. Thus, oil stocks held in the Energy Select SPDR ETF have underperformed the broad market by 32% since 2008, according to Goldman Sachs.
And check out this chart from Frank: It compares the price-to-book valuations of the MSCI World Energy Index with that of the MSCI World Index — basically weighing the global energy sector against the broad stock market worldwide. The ratio sits near a low last reached in… [drum roll, please]… November 1998, when oil bottomed near $10 and Exxon and Mobil were planning their merger.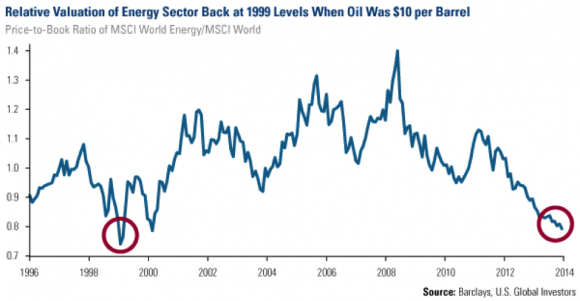 Frank's conclusion: "Today, with oil hovering around $100 a barrel and improved economic conditions in the U.S., energy stocks appear to be a tremendous bargain compared to overall stocks."
"Be careful what you read," writes Matt Insley of our resource-investing desk.
He spotted a Bloomberg story that says the rough winter has depleted natural gas storage: "Waves of frigid weather through March pushed stockpiles to the lowest level in 11 years. Almost 3 trillion cubic feet of gas will need to go into storage during the warm-weather months to cover winter demand, something that's never been done before."
Well yes, but… "Following Bloomberg's logic," says Matt, "you'd wonder how we'd ever dig ourselves out of this hole! We've lowered our inventories beyond help! How will we ever produce that much natural gas?"
The answer — easily.
"U.S. production is at an all-time high," says Matt. "In the last month on record, for instance, the U.S. produced 2.21 trillion cubic feet of gas.
"That's the highest single month on record. Ever. We could dig ourselves out of this stockpile hole in quick order."
Thank you, "shale gale."
"As shale formations continue to produce natural gas at alarming rates," Matt adds, "we could continue to see production levels make new all-time highs. The sky is the limit here."
Just look at the Marcellus Shale in Pennsylvania. It accounts for 18% of U.S. production today. It accounted for almost nothing a mere seven years ago…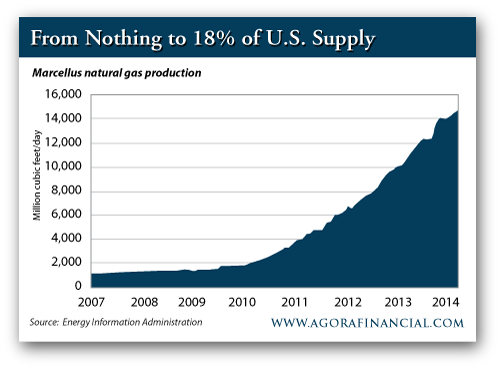 "We've seen an impressive run-up," Matt concludes, "and there's more to come."
Regards,
Dave Gonigam
for The Daily Reckoning
P.S. As US oil production continues to ramp up, a handful of savvy investors are already finding out what "millionaire status" looks like. And readers of The 5 Min. Forecast have received several chances to learn how they too can capitalize on this new US energy boom. We suggest you expose your portfolio to these kinds of life changing gains before the story gets any bigger. Click here to learn how you can join the list of well-informed 5 Min. Forecast readers today.