Danger! A Shutdown Bounce is NOT Guaranteed
Shutdown, day seven…
Stocks continue to swoon. Futures are pointing to sharply lower open today. It looks like the market will cough up all of Friday's gains right out of the gate…
Here's the bigger question:
Are we in for a replay of the 2011 market scare that battered stocks?
The news cycle has progressed in an eerily similar fashion. Concern builds. Media speculation amplifies investors' worries. Just look at the sentiment data that continues to plunge…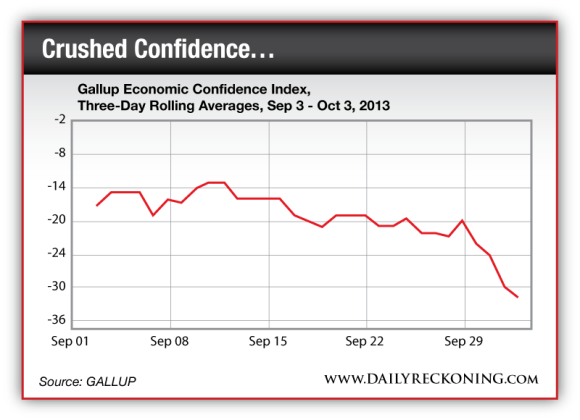 "Americans' confidence in the U.S. economy has dropped sharply as the partial government shutdown caused by Congress' inability to pass a spending bill has become reality." Gallup reports. "Gallup's Economic Confidence Index's three-day rolling average stands at -34 for Oct. 1-3, down 14 points from Sept. 27-29, and the lowest such average since December 2011."
Despite the dreary feelings, many investors still believe that capitulation by either side in the government shutdown saga will produce a meaningful market bounce. That's my biggest worry right now. We can't assume that the government swooping in to "save the day" will actually help stocks finish out the year on a high note. That's dangerous thinking right now.
Approach any market action with a skeptical eye this week. The major averages remain in limbo—close to support and a swing either way. Don't get suckered into complacency. If you're trading, keep your stops tight. This week could be the start of a wild ride…
Regards,
Greg Guenthner
for The Daily Reckoning
P.S. In today's email edition of The Rude Awakening, I gave readers one specific story to watch and 5 important numbers to keep in mind as the markets progress. I do this every day to help readers get a leg-up on the rest of the market… and it's all completely free. So you've got nothing to lose by signing up, and a lot to gain. Start getting the full story. Sign up for The Rude Awakening, for FREE, right here.