6 Fascinating Wine Facts to Liven Up Any Conversation (and One Pairing Cheat-Sheet)
[Ed. Note: Here at the Daily Reckoning, we strive to bring you a unique and entertaining view of the world of finance. But we also realize that there's more to this world than money. After all… what good is money if you don't know how to enjoy it? So as part of our ongoing "Tip of the Day" series — brought to you by our friends at Laissez Faire Today — we're proud to share this little actionable tip on living a happier, healthier and more enjoyable life than you ever thought possible. Enjoy!]
So you're meeting a date at a fancy restaurant this Saturday…
Or you're going out on an important business dinner tomorrow evening…
Or there's a wine and cheese reception happening next week…
That means one thing: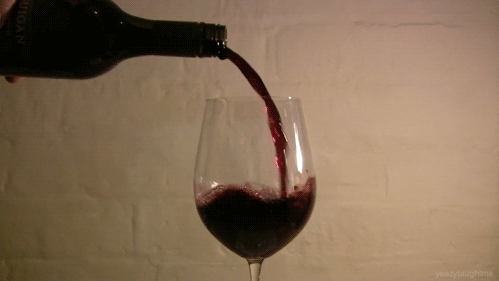 Image: Reddit Heathenbarbie
Just in case the conversations hit a dull point, here are six fascinating wine facts that you can use as talking points to get the juices flowing…
Cheers: Have you ever wondered why we bump glasses in "cheers"? The tradition comes from Rome. They originally did it to make sure no one was trying to poison the other. It was much less delicate and messy than how we do it now — the point was to get your wine in their cup.
Fancy: The world's most expensive wine will cost you $168,000 a bottle. It's Penfolds Limited Edition Ampoule made in Australia. There are only 12 bottles in the world.
The secret to a lasting life: The world's oldest person — Jeanne Calment — said she made it to 122 because of her diet of olive oil, port wine and 1 kg of chocolate a week.
Prince Charles' wine-guzzling Aston Martin: Prince Charles converted his Aston Martin to run on biofuel made from surplus wine.
Spa day: In Japan, there is a spa that lets you swim around in tea, coffee, and wine.
The French chemist: In the 1860s, a French chemist named Angelo Mariani made a king's ransom selling cocaine mixed with red wine. His Vin Mariani was given glowing reviews from, among others, Queen Victoria, President WIlliam McKinley, and even Pope Leo XIII.
Also, if you want to take your wine knowledge a step further, study the infograph below courtesy of Wine Folly.
It'll tell you everything you need to know on how to properly pair your wine with food. Enjoy.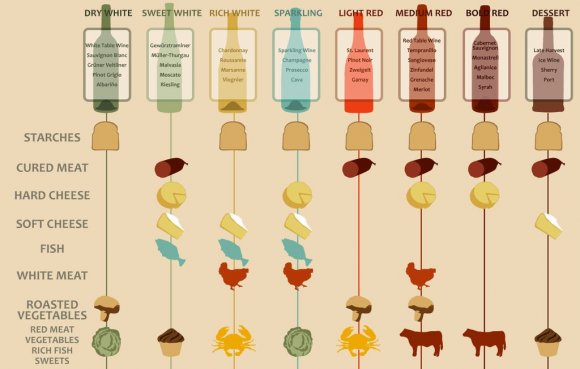 Infograph courtesy of Wine Folly.
Regards,
Chris Campbell
for The Daily Reckoning
Ed. note: This "Tip of the Day" is just a small fraction of what you could be getting out of the FREE Laissez Faire Today e-letter. Each issue is packed full of actionable advice. In fact, today Chris gave his readers and opportunity to get two bottles of delicious, carefully-picked wine absolutely for FREE. Don't miss out. Click here to sign up for Laissez Faire Today, for FREE, right now.