The Real Winners of the US Gas Glut
"These are amazing numbers," says Lynn Helms. "These are major, major milestones."
No, Mr. Helms is not talking about the national debt, and thank goodness for that. As director of North Dakota's Department of Natural Resources, he's talking about his state's oil and gas production.
Forgive us, dear reader, if you think we're giving short shrift to the debt ceiling 24 hours before the Treasury's drop-dead date. We know the cable news channels went, er, shall we say, "simian-defecation" yesterday after the close, when Fitch threatened to downgrade Uncle Sam's debt. As if the rating agencies have any credibility left.
Whatever happens in the coming days, we doubt the drill bits in North Dakota will stop turning. The August numbers came in yesterday: North Dakota oil production has surpassed 900,000 barrels a day, still second only to Texas. Natural gas production is now north of 1 billion cubic feet per day.
Meanwhile, the United States is about to leap over Saudi Arabia to become the world's biggest oil supplier before year-end.
According the PIRA Energy Group, if you add up conventional crude with biofuels and natural gas liquids, you get 12.1 million barrels a day in the U.S. — more than Saudi Arabia's 11.8 million.
"The combination of horizontal drilling and hydraulic fracturing, or fracking, has unlocked supplies in shale formations in the central part of the country," Bloomberg reports by way of background, which is now old hat for many of you. "Shale liquids output has climbed 3.2 million barrels a day in the last four years, the biggest gain since Saudi Arabia raised production between 1970-74."
PIRA estimates the United States will retain its new lead from now all the way until 2030.
Legendary short-seller Jim Chanos says he's a "glass half-empty kind of guy" when it comes to the boom in U.S. natural gas.
Fracking has created a gas glut — making it hard for some players to compete. "For some of the guys who paid too much acreage," Chanos tells CNBC, "clearly, it's been a struggle.
"It's an area you have to do fundamental work on. You can't just say, 'Oh, this is bullish. I'm going to buy natural gas producers.' They all have different capital structures and lease obligations."
So how do you play it? Identify the players poised to ship more gas abroad. As we noted yesterday, U.S. natgas sells for under $4 per thousand cubic feet. But Europeans pay north of $10, and Asians more than $15.
That's a rich export market for U.S. players, no? Five weeks ago, on Sept. 11, 2013, Dominion Resources won approval from the feds to export natgas. The share price jumped maybe 5%. But there was another way to play the move — adding up to 193% gains in only 48 hours. Every $5,000 invested generated $9,650 in pure profit.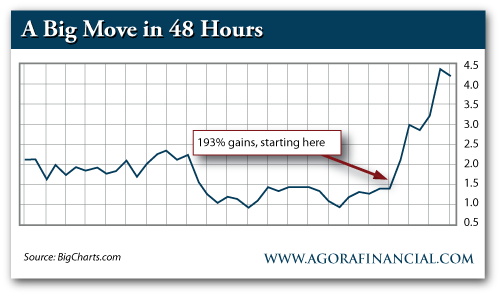 Dominion is one of four companies that have won federal approval since May. Those are the red dots on this map below. A well-connected energy industry insider informs us that two or three more approvals are likely by December. (The agency in charge of these approvals is up and running despite the shutdown.) That's out of 21 players seeking approval. Those are the blue dots on the map.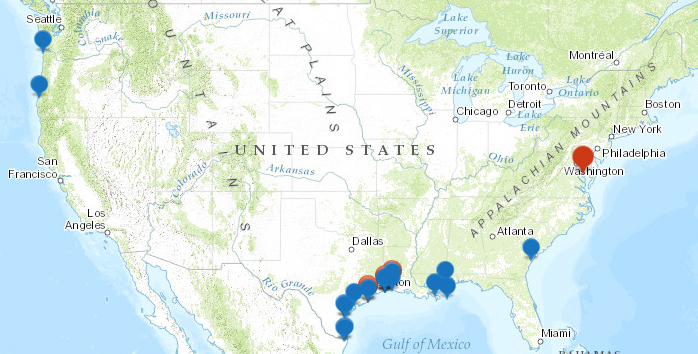 Regards,
Dave Gonigam,
for The Daily Reckoning
P.S. Readers of The Daily Reckoning email edition were able to discover further details about the 21 companies that stand to pop when the government grants key approvals. In fact, when you subscribe to the DR email edition… you get the much more than what you're able to read on this website. Signing up is easy, simply click here.