Now What?
At 2 p.m. the announcement came issuing…
The Federal Reserve has lowered interest rates for the first instance in 11 years — since those grim, unlit days of 2008.
A 25-basis point rate cut it is.
In its own telling:
In light of the implications of global developments for the economic outlook as well as muted inflation pressures, the Committee decided to lower the target range for the federal funds rate to 2–2.25%.
The Federal Reserve also declared an immediate and unconditional halt to quantitative tightening today — two months ahead of schedule.
Has Jerome Powell thrown down his sidearm, hoisted the white flag of surrender… and come out with his hands in the air?
Or does today's rate cut merely represent a fighting retreat, a tactical withdrawal?
In his post-announcement statement, Mr. Powell got his back up high and stiff… and hunkered in.
Do not consider today's rate cut a retreat, he insists:
Let me be clear: What I said was it's not the beginning of a long series of rate cuts… When you think about rate-cutting cycles, they go on for a long time and the committee's not seeing that… You would do that if you saw real economic weakness and you thought that the federal funds rate needed to be cut a lot. That's not what we're seeing.
Powell instead labelled today's cut a "midcycle adjustment to policy."
Just so.
But the market says otherwise.
Federal funds futures presently give a 60% chance of another cut in September. But a 100% chance by November.
Our money is on Mr. Market. We further expect additional rate cuts to follow.
Let us come out flatfooted and declare it…
The rate hike cycle is over. "Normalization" is no more.
We do not know when we will see normal again… if ever.
By our lights, the global economy is in for hard sledding.
Reams of economic indicators suggest today's conditions are worse than in September 2007 — at the doorstep of crisis.
These include global manufacturing data, economic surprise indexes (how economic data meet expectations) and financial conditions.
These United States are not excepted… despite the superficially gaudy numbers.
Go at them one by one, line by line.
In each instance you will find a woeful comparison against 2007: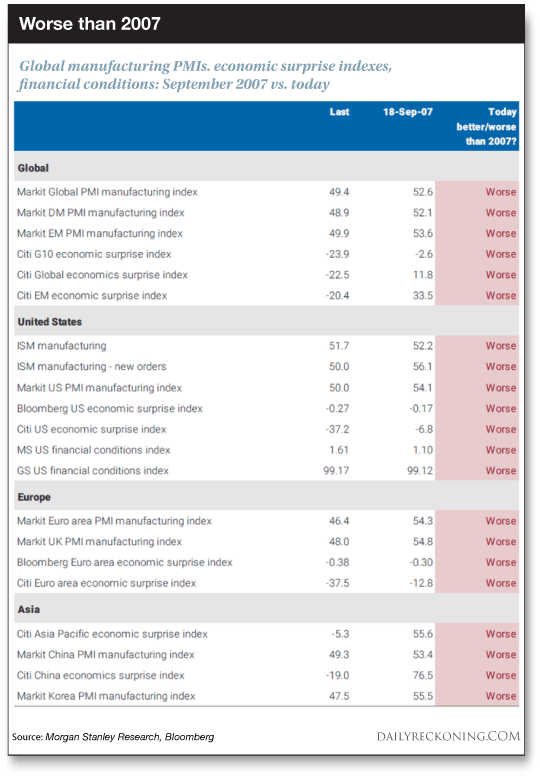 The crackerjacks at Morgan Stanley ransacked the data. And it got them sweating
They concluded a 25-basis-point cut lacks the required oomph
They pleaded for a 50-basis point cut instead.
That is because markets wagered most heavily upon a 25-basis point rate cut today. The blindsiding blow would have dizzied Wall Street… and riled the animal spirits.
How did the stock market absorb today's 25-point cut?
Perhaps Jerome Powell should have taken aboard Morgan Stanley's advice.
Come the 2 p.m. announcement, the market took a sip of Powell's near beer… and spit it back in his face.
All major indexes plunged into red numbers.
The Dow Jones lost 334 points on the day, nearly all after 2 p.m. It had shed 478 points at the peak of the rout.
The S&P lost 33 points on the day; the Nasdaq, 98.
MarketWatch in summary:
U.S. stocks fell Wednesday afternoon with investors disappointed that the Federal Reserve only cut interest rates by a quarter percentage point as expected in order to cushion the economy from a global slowdown and escalating trade policy tensions.
But even if the Federal Reserve cut 50 basis points, we expect heavy weather soon enough.
As we have maintained, recession is likely within three months of the first rate cut that ends a cycle.
Today we have the rate cut… at last
Thus the hourglass begins dripping sand. By early November it may run out.
More tomorrow…
Regards,
Brian Maher
Managing editor, The Daily Reckoning