How to Achieve "Escape Velocity" from this Falling Market
Scientists have just detected gravitational waves a billion light-years from Earth.
But you don't have to travel into deep space to learn about gravity. Just take a quick peek at stock markets around Mother Earth…
Stocks are falling fast as Newton's apple here on home base. Bespoke Investment Group notes that the MSCI World index is sneaking toward a new bear market. That's an official bear market, mind you. That means anything that's down 20% from its all-time highs.
"If that does happen," Bespoke notes, "it will join Bloomberg's index of world market capitalization (in USD) based on exchange market caps in bear market territory; that index is off over 22% from previous highs in the summer of 2015."
The world's markets haven't seen this kind of action since the Eurozone crisis of 2011. Take a look for yourself: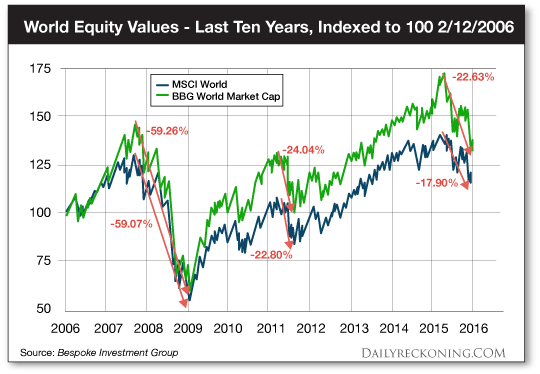 Yesterday afternoon, the MSCI finally hit the mark, falling 20% below its 2015 peak. The whole world's sinking like a stone. Europe's in the gutter. China's in the middle of a post-bubble panic. And emerging market's aren't exactly emerging.
Meanwhile, the S&P 500 is off a cool 10.5% so far in 2016. Stateside, markets recovered a couple of ticks on Thursday afternoon thanks to a quick oil rally after OPEC announced it was ready to consider an output cut. It was a welcome break after a painful week of selling.
But the question remains: will the world's gravitational pull crush U.S. markets like some black hole?
Many investors seem to think so. As they watch this slow search for lower prices, the herd is starting to get skittish. Just look at precious metals…
"2016 has been great for gold (so far)," I told you earlier this week. "But it's imperative you remember that gold is still technically locked in a longer-term downtrend. The bounce off its December lows has been impressive. But gold now has to contend with resistance at $1,200."
Well guess what? $1,200 was shattered yesterday as traders piled into gold. By early afternoon, gold futures were up at much as $60. And after some consolidation this morning, gold remains well above this $1,200 breakout. Check it out: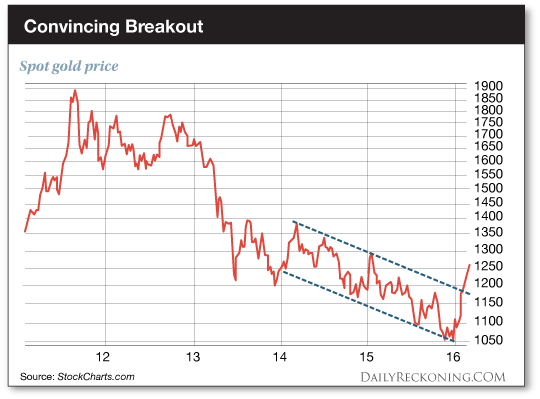 Of course, I'd expect some backing and filling from here. You can't expect a change in trend like this one to be perfect. It won't be easy to buy. And you'll experience plenty of whipsaw moves. This big move in precious metals isn't moving under the radar. Every trader with an internet connection sees what's happening and is trying to profit from it. So hold on tight. We could see some huge moves (up and down) from gold over the next few weeks.
Overall, this is a very interesting breakout. Remember, precious metals have endured a brutal bear market. Heck, gold peaked in September 2011. It's been a very long time since we've seen any bullish action.
Thankfully, we've had the opportunity to fight the stock market's gravitational pull with our own gold miner trades—Click here to learn more.
Like the metal, we shouldn't expect these mining stocks to move up in a straight line, either. But they are offering some refuge from an angry market—and we'll take any opportunity we're offered to book a winning trade.
Sincerely,
Greg Guenthner
for The Daily Reckoning
P.S. If you want to cash in on the biggest profits this market has to offer, sign up for my Rude Awakening e-letter, for FREE, right here. Stop missing out. Click here now to sign up for FREE.