A Recovery Where You'd Least Expect It
"I get calls weekly asking if I will sell my home. I finally stopped one to ask, 'Does anybody actually say yes?' And he said, 'Of course. Otherwise, why would we do this?'"
You might guess such cold-calling for houses is now happening in some hot U.S. market, like San Francisco. But no, this is actually going on in Dubai. This little city-state in the United Arab Emirates, on the Persian Gulf (or the Arabian Gulf, as it is called there), is enjoying a spectacular recovery. Yet there is still a long way to go. And there are ways to take advantage of the trend.
That was the key message of Peter Cooper, editor of ArabianMoney, from whom I quote at the start. Peter is English-born, but made his fortune in the Middle East and has been living in Dubai for 17 years. I've been to Dubai a few times, and I always enjoy the visit. It's a fascinating place, especially if you like modern architectural marvels.
Anyway, Peter was one among many who spoke at this year's Agora Financial Investment Symposium. It was another good conference, and I have come away with a few favorite ideas. This is one of them.
It was three years ago that Peter first made the case for Dubai. The economy then was "in tatters and investors' dreams in shreds. Remember the cartoons of heavily indebted Arabs begging for money? It was not so far from the truth. Dubai real estate had fallen 60% from the peak, and the stock market was a disaster area."
Those are, of course, the times to pay attention. It was during such time that Peter advised building positions in Dubai stocks for the inevitable recovery. This year, patience paid off. Dubai's stock market is up 63% for the year.
But it is still 75% off its high and a compelling bargain on the numbers.
"Let's have a look at some valuation metrics for the Dubai Financial Market courtesy of my old friends at Daman Securities, an excellent local broker if you need one," Peter said. He also recommends the National Bank of Abu Dhabi's brokerage arm NBAD Securities. It will establish offshore accounts for U.S. citizens without them visiting the UAE. Anyway, Daman Securities maps the Dubai market up against its regional peers and finds it to be the cheapest on a combination of earnings and book value per share.
Dubai has only recently finally been added to the world's main index of emerging markets. Before that, it was classified as a frontier market. "I always thought it was ridiculous to have Dubai in the same boat as Bangladesh and Cambodia," Peter said.
Peter was also a fan of Dubai real estate. The villas he tipped in his newsletter in April of last year are up 50% in value. And the Dubai property market ranks third in the world in terms of performance, with prices up 21% over the last 12 months, according to the Knight Frank global property index. (Only China and Hong Kong did better.)
Here are the top 10.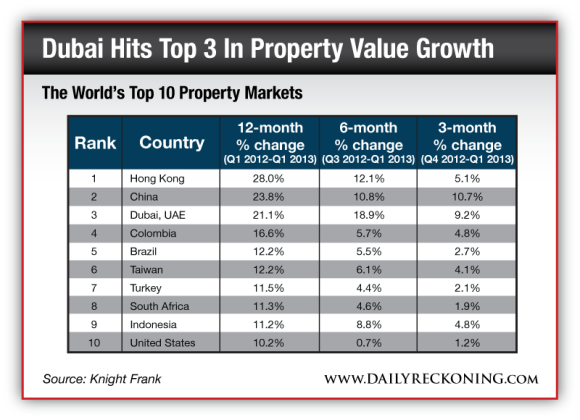 Dubai real estate also enjoys high rental growth — about 18%, Peter says, year over year. He thinks real estate is probably fairly valued now, and I would agree with him. But you can still play Dubai property by owning Emaar Properties, which he believes remains undervalued. Emaar is the premier property company in Dubai and a good long-term play.
Its stock chart is one for the ages…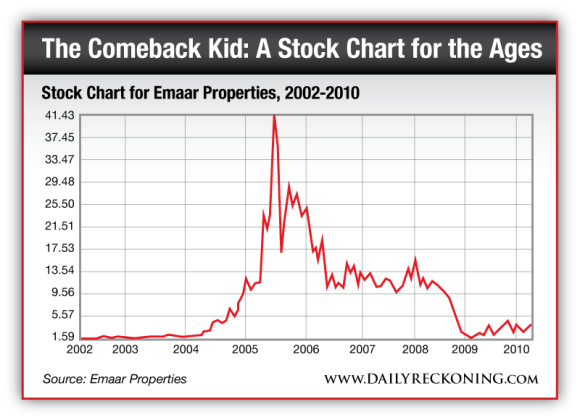 The recovery in share price is just beginning, Peter says. People are quick to point out that it will never see 41 again. But all this did happen before, in 1998-99. "I remember after it cracked then that people said it would never go higher than its old peak," Peter said, "but it did." Perhaps Emaar will not better its old high, but even if it gets to the teens, it will prove an excellent investment from here.
In the grand scheme of things, it was easy to see that Dubai's comeback was inevitable. Dubai is, as Peter put it, "the commercial hub of Arabia." It is the safe haven of the Middle East. It is the place where people put their money and property and even families to be safe. To some extent, turmoil in the Middle East benefits Dubai, as the money flows in.
As Peter says, "This is the region's most open, liberal and efficient city." Its airport is the fastest-growing airport in the world. It will pass Heathrow as the world's busiest international airport next year. Dubai also has the largest marine port in the region. And the city is a comfortable place to visit, with great hotels and restaurants.
Rising oil prices help the economic picture, too, although Dubai itself is not a significant oil producer. Rising oil prices increase the wealth of its neighbors, in particular Abu Dhabi, its sister city in the United Arab Emirates.
Dubai also has several built-in advantages. Foreigners operate in a tax-free environment. There are no tax forms to submit. Nobody cares how much money you are making.
Peter told a funny anecdote. "A true story," he says. "There was a chap in front of me at the airport. He put his sack through the scanner, and it was full of money.
"The security guy asked him how much money he had in the bag. 'About five hundred thousand dollars,' he told him.
"'No problem. Welcome to Dubai.' And off he went."
Dubai is a small economy with particular strengths, as Peter says. "I have never found another place like it in my long career," he said. "Modest talent can bring great reward in the UAE. You're not always up against the best in the world as in the USA."
Peter's newsletter is the best way I know of to keep up with the goings-on of Dubai. And as a 17-year veteran of Dubai and a man who made his fortune in the city, he is the best guide to its investment possibilities.
You can find out more at www.ArabianMoney.net. Or write Peter directly at peter.cooper@arabianmoney.net.
Regards,
Chris Mayer
for The Daily Reckoning
Ed. Note: This essay was featured prominently in The Daily Reckoning email edition — a free e-letter that seeks to provide a unique view of global economics and investment news. It currently goes out to over 300,000 subscribers each day around 4 p.m. And that number is growing. Find out for yourself what everyone's talking about. Sign up for free, right here.