Research Reports
As an email subscriber to The Daily Reckoning, you'll receive the most important market information every day. And you'll have unlimited access to romp around your new financial paradise – The Daily Reckoning Research Library. Here You'll find:
A growing collection of special reports showing you the threats to your wealth and strategies for protecting yourself…
Clear, agenda-free explanations of challenges the United States face and steps you can take to protect yourself and your wealth.
Simple, straightforward investment ideas that you won't find anywhere else.
Each provides the groundwork for the themes we write about in your daily issues and in the contributor articles we post to our homepage.
To take advantage of these reports simply sign up for The Daily Reckoning e-letter next to any of the reports below. We will NOT share your email address.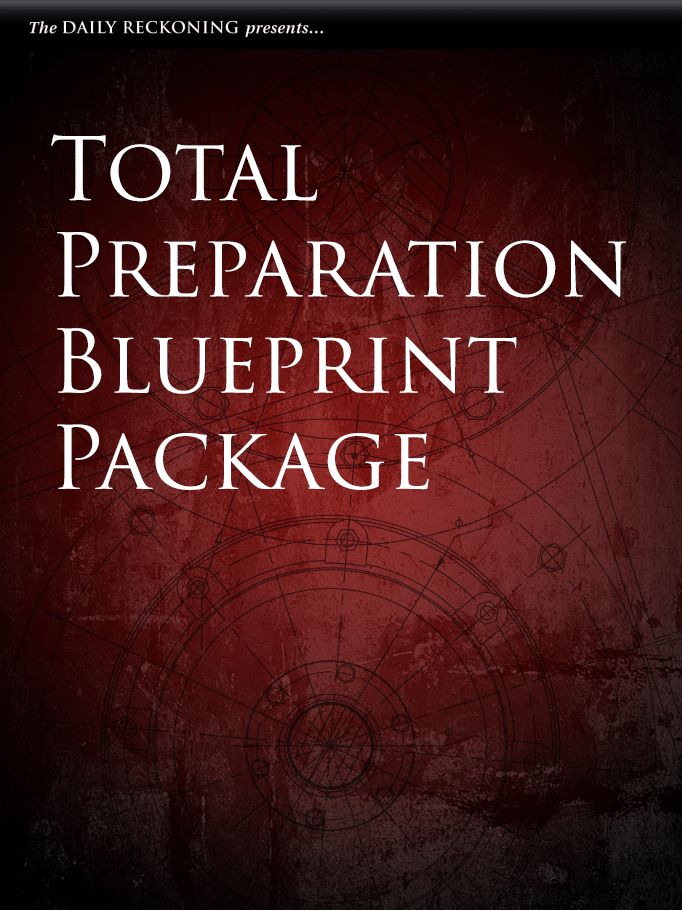 Total Preparation Blueprint Package
Love him or hate him, President Donald Trump has a huge problem on his hands. While it is not his fault, one massive event could trigger an immediate halt to governance. The turmoil would be a horrendous blow to the full faith and credit of the United States government and cause blowback creating prolonged government shutdowns throughout the year. This package will equip you with analysis and insights from our Wall Street and Washington insiders that can be found nowhere else like this. The next big call is in, be informed and prepared before it's too late. Sign up for the Daily Reckoning today and get your copy of our free report: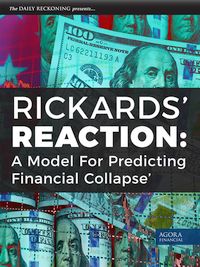 Rickards' Reaction: A Model For Predicting Financial Collapse'
Jim Rickards' reveals the only model you need to safe guard your wealth from the next financial crisis. In this 5-part exclusive framework a former Wall Street and intelligence community insider breaks down his analysis into a model to warm of impending financial collapse. The model is designed to offer the easiest and fastest way to apply hard facts, science and good sound analysis. Sign up for the Daily Reckoning today and get your copy of our free report: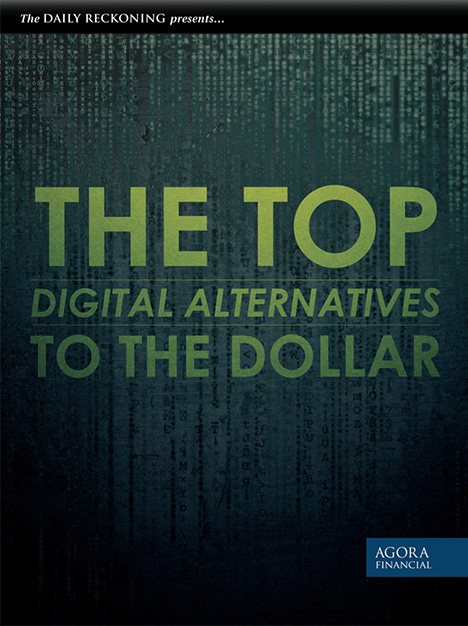 The Top Digital Alternatives to the Dollar
Chris Campbell shows you why the rise of alternative currencies isn't a fad. You'll see exactly what they are, why they're challenging government fiat currencies and how you can utilize them to protect your assets. The report offers direct solutions on why only the best money can win in a given market. Sign up for the Daily Reckoning today and get your copy of our free report: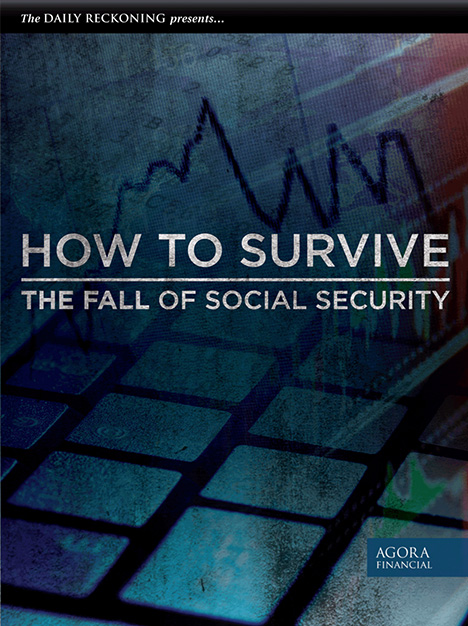 How To Survive The Fall Of Social Security
If you were born before 1969, read this report. You'll see how Social Security is doomed (and sooner than you think) and the awful way social security might be "saved." Then, we show you how to build a "social security fund" of your own. Sign up for the Daily Reckoning today and get your copy of our free report: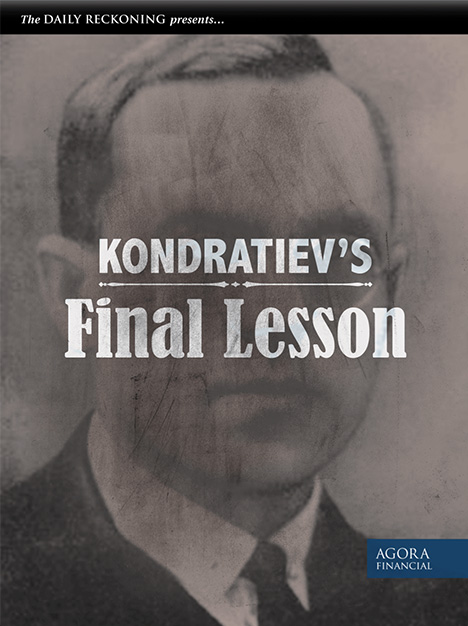 Kondratiev's Final Lesson
A murdered soviet economist's groundbreaking research gives you a roadmap to investment opportunities in breakthrough technologies. This nearly-forgotten theory can help you position your assets for booms and busts. Sign up for the Daily Reckoning today and get your copy of our free report: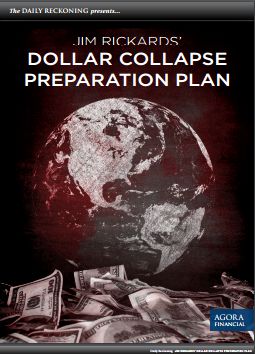 Jim Rickards' Dollar Collapse Preparation Plan
Jim Rickards says a the collapse of the dollar and international monetary system is imminent. Read this report immediately. He shows you concrete proof and gives you five actionable steps to protect and grow your wealth during the coming crash. Sign up for the Daily Reckoning today and get your copy of our free report: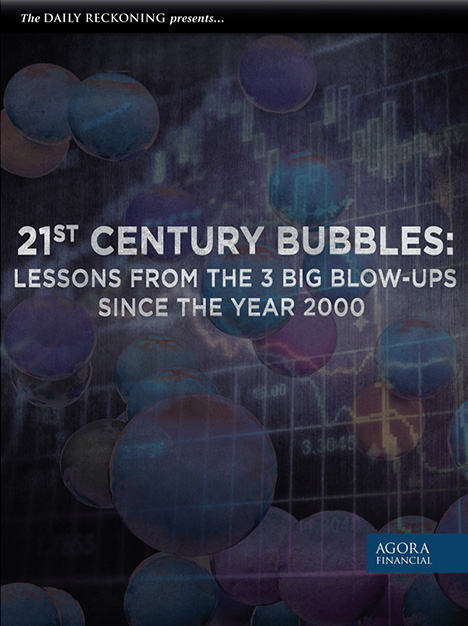 21st Century Bubbles: Lessons from the 3 Big Blow-Ups Since the Year 2000
This is a tell-all on how to avoid getting burned by overpriced stocks. All bubbles pop eventually. And Ben Traynor shows you three vital lessons you must know before investing a single dollar into any "hot" stock or commodity that's in the headlines today. Sign up for the Daily Reckoning today and get your copy of our free report: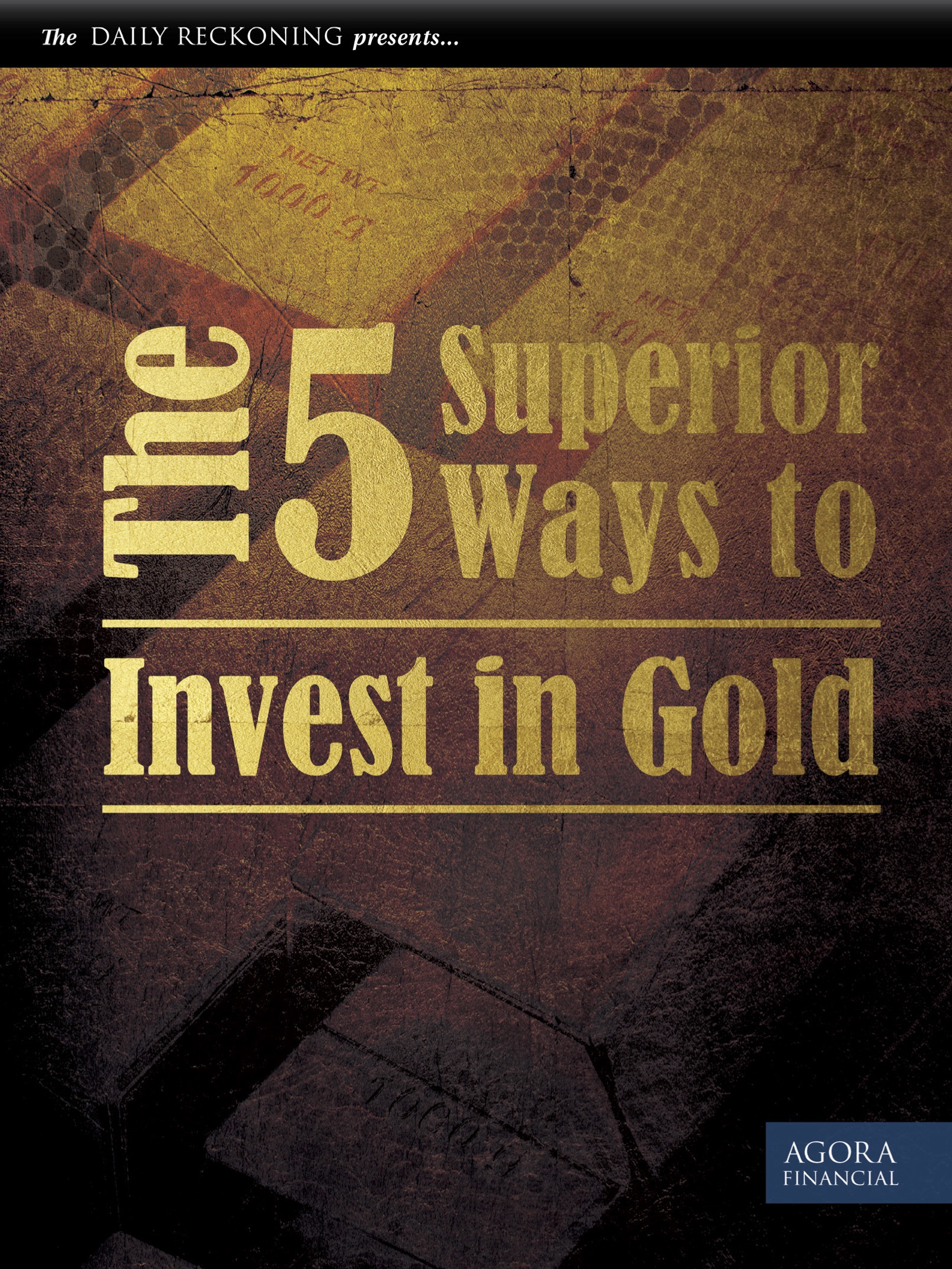 The 5 Superior Ways to Invest in Gold
If you have any of your wealth in dollars or dollar-denominated assets like stocks or bonds (chances are you do), read this report. See the dangers of having your hard-earned nest egg totally reliant on one currency… why gold can solve a problem you may not even know you have… and the 5 best ways to diversify into gold. Sign up for the Daily Reckoning today and get your copy of our free report: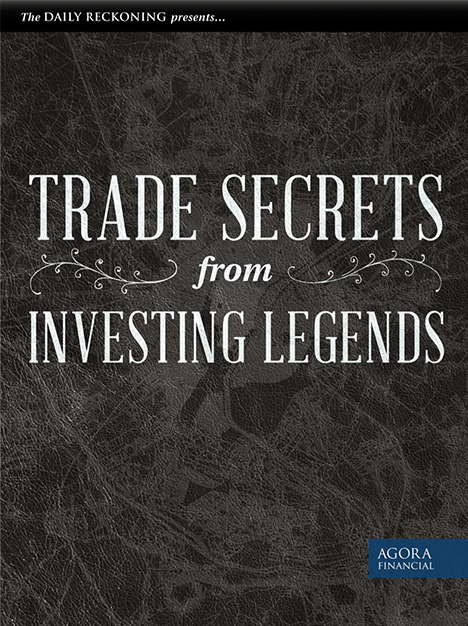 Trade Secrets from Investing Legends
Don't be drawn into the suckers rally: Listen to the guys who have beaten the market! Chris Mayer lays out eight unusual rules for becoming a better investor. In the report he reveals the five greatest investment books you have never heard of -- you get them immediately. Sign up for the Daily Reckoning today and get your copy of our free report: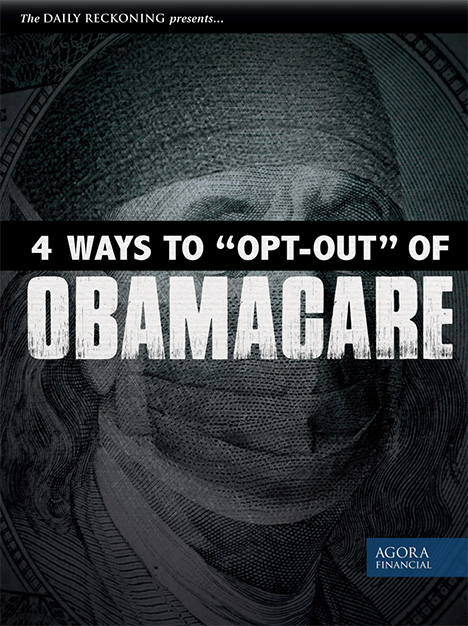 4 Ways to "Opt-Out" of Obamacare and Get the Best Healthcare of Your Life
Get the best healthcare when you need it and the best access to your doctor. Save yourself time, money, and frustration from some of the best alternatives to the healthcare marketplace. Obamacare has gone from a nightmare to a total trainwreck in the last few months. Read this report now. Your body and wallet will thank you later. Sign up for the Daily Reckoning today and get your copy of our free report: