Buffett's Juicy Deal with Burger King
The S&P 500 index couldn't manage a close above 2,000 yesterday. Today was a different story — it eked out its new record close at 2000.02.
To get there, traders chewed on a handful of economic numbers…
Consumer confidence: At 92.4, according to the Conference Board. That's the highest reading since October 2007 (when the stock market peaked and subsequently cratered for 18 months. Just sayin'…)
Durable goods: Up a silly-good 22.6% in July, but that's thanks to aircraft orders. Back out transportation and there was a 0.8% drop
Case-Shiller home price index: Down 0.2% in June. Year over year, it's still an 8.1% increase, but the trend is in the direction of easing.
But for sheer Street buzz this morning, there was nothing like Burger King's planned takeover of the Canadian coffee-and-doughnut chain Tim Hortons for $11.4 billion. It's another so-called "inversion" — allowing the firm to be headquartered in Canada, where corporate income taxes run about 27%. In the United States, they're closer to 40%.
Away from the Street, there's much gnashing of teeth over the deal. Business Insider grabbed a few of these comments off Facebook…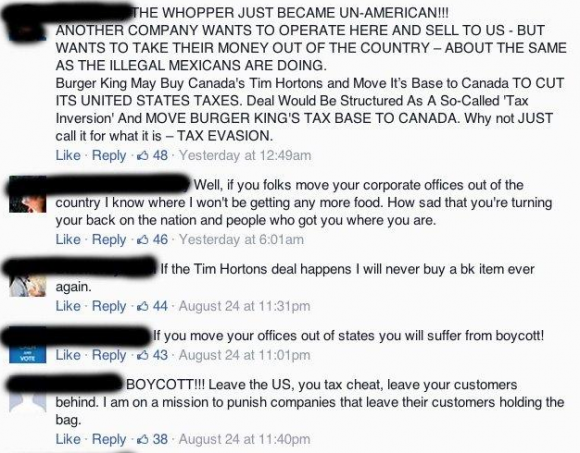 Heh… If only they knew who was helping finance the deal…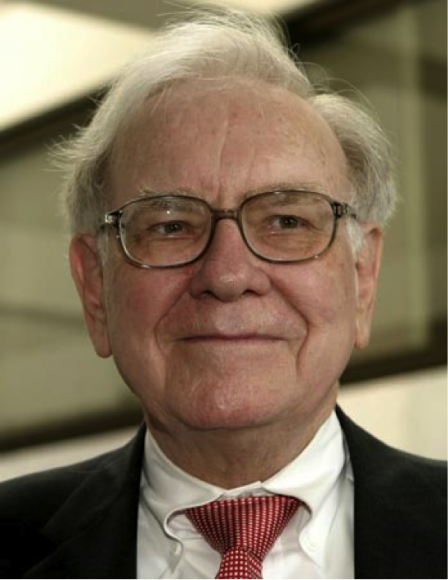 "Can I get a Cherry Coke with my Whopper?"
The Wall Street Journal says Warren Buffett's Berkshire Hathaway will furnish about 25% of the deal's funding. In exchange, it will get preferred shares of the merged company.
"The investment would also thrust Mr. Buffett, known for championing American companies like Coca-Cola Co. and for advocating that wealthy individuals pay their fair share of taxes, into an uncomfortable position at the center of a spirited debate over U.S. tax policy," the paper adds circumspectly.
We won't be so circumspect. Buffett likes having one set of rules that apply to himself… and another set for everyone else.
Every so often we cite this passage from the book Endless Money by our acquaintance Bill Baker, founder of Gaineswood Investment Management: Buffett knows "full well the burden [of higher progressive taxation] would fall primarily upon members of the upper middle class, who have not yet achieved the threshold that would permit them to shift income to tax-minimizing structures."
Not all of the details of Buffett's involvement in the Burger King deal are public yet. But almost every deal Buffett does includes a specific kind of vehicle that's allowed him to collect billions in just the last six years. Before you let your outrage get the better of you, you should know this type of vehicle isn't limited to the uber-rich. And it can pay you up to 19 times what you'd get from regular stocks.
Inside the digital walls of the 5 Minute Forecast and Daily Reckoning, we call these plays "executive dividends". When you sign up for the Daily Reckoning today, you'll get access to a free research report entitled The Hidden Investment That Quietly Pays You Up to 5 Times Your Money. It will explain what they are and how you can invest in them. For access, click here to signup for our free e-letter today.
Regards,
Dave Gonigam
for The Daily Reckoning
P.S. "Few investors outside of Wall Street have even heard of 'executive dividends'" says our own Chris Mayer. "In fact, it's so profitable you could make more than five times your money over the next four years.
That works out to $94 in return for every $28 you invest.
Best of all, you can buy these plays in your plain-old brokerage account. And in today's issue of The 5 Min. Forecast, readers got an exclusive chance to learn precisely how to do it. It's just one small benefit of being a paid-up 5 Minute Forecast reader. Follow this link now to start reading "The 5" each day.