S&P Says U.S. Debt Is "Stable", Really.
Big News: Standard & Poor's upgraded the U.S. credit outlook this morning from "negative" to "stable." The ratings agency cited an improvement in U.S. deficit projections and higher tax receipts. Markets barely noticed.
"We now see… government debt as a share of GDP staying broadly stable for the next few years," the agency reported. "[This stability] would allow policymakers some additional time to take steps to address… age-related spending pressures."
"Additional time"? Best of luck.
There is nearly no movement in Congress to address "age-related spending pressures." S&P seems to glumly acknowledge this in their release:
"We see some risks that the recent improved fiscal performance… could lead to complacency. A deliberate relaxation of fiscal policy without… measures to address the nation's longer-term fiscal challenges could place renewed downward pressure on the rating."
Translation: Congress is going on a summer break.
Projected growth of the national debt is not encouraging, as a result: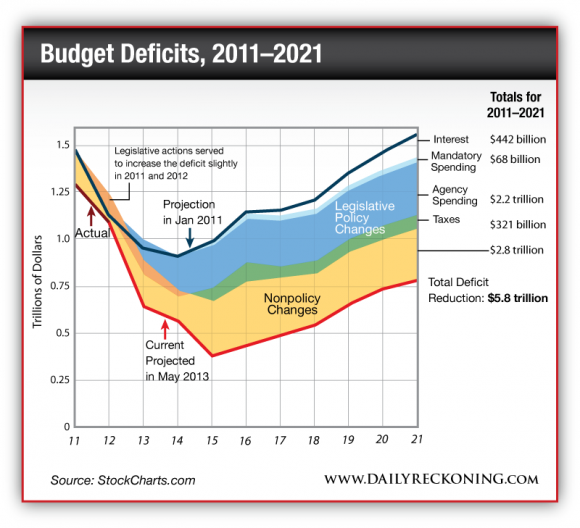 Regards,