Big Gains from an Earnings Season Surprise
Silly season — er, earnings season — is in full swing.
"Bank of America Beats Earnings Estimates," says Business Insider. "Bank of America Misses," says Yahoo Finance.
Uhh… guys, can we make up our minds here?
As you were rubbing the sleep out of your eyes this morning, Bank of America (BAC) let it drop that it lost 5 cents per share during the first quarter. Whoops, that's a "miss" in the expectations game — the Street was looking for earnings of 5 cents, not a loss.
But wait! That's just an accounting glitch. Throw out the ever-popular "one-time adjustments" and earnings work out to 35 cents a share — beating the consensus expectation of 27 cents.
The adjustments in this case are for $6 billion in litigation expenses — "showing how Bank of America is still paying for its mortgage missteps nearly six years after the financial crisis," as The New York Times put it.
"Missteps." Gotta love the establishment media euphemism. Can't call it "fraud" if the Justice Department refuses to bring a criminal case, right?
Presumably, that $6 billion includes the $15 million BAC is paying to cover for former CEO Ken Lewis' lies — er, excuse us, "misstatements" — about the acquisition of Merrill Lynch in 2008.
Traders find the numbers indicating a loss more credible; BAC is down 3% this morning, while the rest of the financial sector is slightly in the green. Heh…
We mock the expectations game that comes with earnings season. But as we explained last Thursday, you can play earnings surprises for big gains in a brief span of time.
To explore a recent example, we revisit a little history…
Micron is one of the more unusual Silicon Valley stories from the 1980s — not least because it's located far from Silicon Valley, in Idaho.
Founded in 1978, the startup got a huge boost in 1980 when the Idaho potato baron J.R. Simplot took a stake in the firm. Simplot was the guy who figured out how to freeze a french fry and wound up selling gazillions of them to McDonald's.
Success with Micron came only after Simplot exhausted his ready venture funds and dug deep for what he called "our real gambling money," ultimately sinking $30 million into the firm. "We were sure pawing the air for a while," Simplot recalled in George Gilder's book Recapturing the Spirit of Enterprise. "It was touch and go."
But it all worked out: Between Micron and the potatoes, Simplot was the oldest billionaire in the Forbes 400 when he died in 2008 at age 99.
Today, Micron is one of the heavy hitters in the semiconductor space, with a $23.5 billion market cap and 30,000 employees.
Last year, Micron was a top performer in the S&P 500 — more than tripling its investors' money. And it all began in late 2012…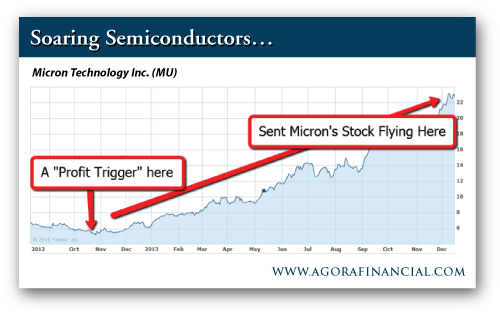 "Micron flipped a 'Newton's Profit Trigger No. 3,'" explains Agora Financial's Rick Pearson, "driving unexpected sales revenue… and skyrocketed 347% a few months later. Had you put $5,000 in before 'Newton's Profit Trigger' sent the stock flying up, you could have made $17,375 in very little time."
"Newton Profit Triggers" are any kind of catalyst that propels a stock in a big way in a short amount of time. Rick's spent the last decade chasing them down in his own portfolio — after he walked away from a seven-figure Wall Street salary.
Over the years, Rick has identified five types of these profit triggers — No. 3 described here is a "surprise" earnings announcement — the kind that's not really a surprise to an analyst who understands a company's competitive landscape.
Regards,
Dave Gonigam
for The Daily Reckoning
P.S. In today's issue of The 5 Min. Forecast, we gave readers a chance to discover all five of Rick's profit triggers – and how they can be used to generate up to 347% gains in mere months. To make sure you never miss another great opportunity like this one, check out The 5 Min. Forecast, right here.