The World's Best Places to Retire in 2015
With spiraling costs compelling more and more North Americans to retire overseas, retiring abroad has never been more attractive. But finding the right location among the myriad options available can be daunting.
That's what our Annual Global Retirement Index does. Using input from our team of correspondents on the ground all over the world, we combine real-world insights about climate, health care, cost of living, and much more to draw up a comprehensive list of the best bang-for-your buck retirement destinations on the planet.
Keep in mind that, even though only 25 countries feature on our list, all of them are worth your attention. We selected them from among all the countries in the world for their qualities as retirement hot-spots, so even the lowest-ranked nation on our index is still very much an option worth considering.
Take into account, too, that ultimately no list or formula can automatically deliver the best destination for you. Only you can decide that. Only you can assess your personal preferences, needs, budget, and desires, and look at the options available to see which nation best suits your needs.
Are you an urbanite or do you prefer the wide-open spaces? Would you prefer a tropical climate with year-round sun or more temperate weather that reminds you of home? Would you rather live by the sea or on a mountainside? Sample the exotic delights of Asia or explore the rich cultural heritage of Latin America? Only you can make these calls.
In assembling this index, we aim to deliver an in-depth guide to the best countries available to you today. It's been compiled using the solid judgment and on-the-ground intelligence of our correspondents around the world. All of them are expats who have become experts on their adopted countries.
Through their insight, we hope to give you an indication of the relative strengths and weaknesses of each locale and a flavor of the life that could await you in each. That way you can focus your own search in a well-informed way.
We're constantly looking to improve and refine our annual Retirement Index. On top of having access to a larger network of correspondents than ever before, this year we required more (and more detailed) input from the field to make this year's results the most comprehensive to date. As a result, for instance, Vietnam is included this year for the first time, in recognition of the opportunities we've uncovered there for North American expats within the last year.
You can see the full table of results below, but here for your inspection are details of the best in the top three countries…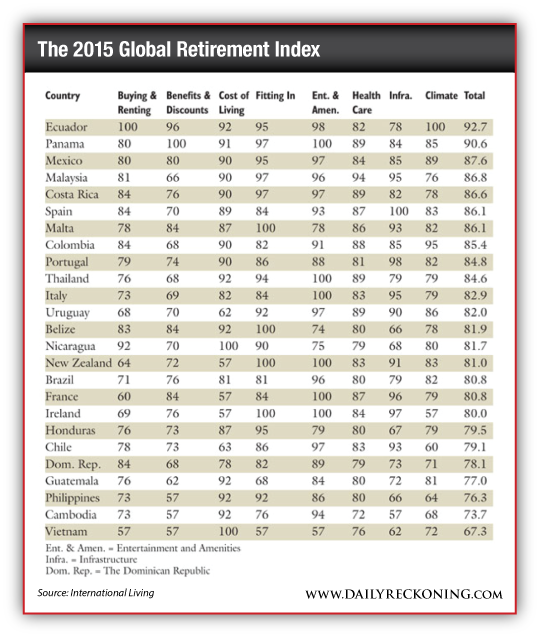 #1 Ecuador — The World's Number 1 Retirement Haven
From the quaint town of Cotacachi to the vibrant capital, Quito, from Salinas by the sea to the peaks of the Andes, Ecuador's diversity is a key part of the massive appeal that sees it regain the coveted top spot on this year's retirement index.
Although prices have risen slightly in recent years, Ecuador's real estate is still the best value you'll find anywhere. This is bolstered by the generous array of benefits the government has afforded to retirees.
And the cost of living is low. "You can get a lot more here for your dollar than you could in the U.S. or Canada," says IL Ecuador Highlands Correspondent Wendy DeChambeau. "A doctor's visit will set you back around $10, while a main course in a restaurant can be had for as little as $2.50. The bus trip from Cotacachi to Otavalo will cost you 25 cents. For big-ticket items like real estate, you can get a lot more for your dollar here than in the U.S. A couple can live well here on $1,400 a month, including rent."
You'll find world-class medical facilities in big cities throughout the country, and you can catch direct flights to and from the States in Quito and Guayaquil. Good Internet is more readily available than ever. Public transportation is so efficient that many expats report not having to even buy a car. And with Ecuador having one of the most robust economies on the continent — its Gross Domestic Product has grown an average of 4.54% a year since 2000 — it is likely that this infrastructure is only going to improve over the coming years.
The steadily growing expat population makes it easy to integrate, as do the friendly locals. "Many of the locals are somewhat bilingual, and they are very welcoming toward North Americans," says IL Cuenca Correspondent Edd Staton. "We also have a steadily growing expat community here."
When it comes to entertainment, Ecuador offers a diverse range of options. Biking, fishing, zip-lining, hiking, and rock-climbing are all popular and readily available. The country's location affords it access to a staggering variety of environments, from the vast Pacific Ocean (including the Galapagos Islands, one of the world's most important ecological sites) and the Amazon to the mighty peaks of the Andes. This diversity ensures you're guaranteed to find a climate that suits you down to the ground.
The country's heritage is writ large in its culture, fusing indigenous influences with various European and African peoples who have settled there over the centuries. This multitude of cultures inevitably influences Ecuadorian cuisine, which is as varied as it is delicious and affordable, with new and reputable restaurants springing up all the time.
As many expats note, Ecuador delivers fresh experiences every day, making it the perfect location for someone in search of a happy and fulfilling life overseas.
#2 Panama — Enjoy the Best Retirement Benefits in the World
Runner-up in the Index — and the best retirement destination in Central America — Panama offers retiree expats the advantages of the world's best retirement program: the Pensionado visa.
"Panama wants you to come — and their policies court you," says Jessica Ramesch, IL's Panama Editor. "The Pensionado visa is available to anyone with a lifetime pension of over $1,000 a month. Discounts you can get with the visa include 20% off medical services, 50% off entertainment, 25% off restaurant meals, 25% off airfare, and 25% off electricity and phone bills."
Add all this to the country's already low cost of living, and Panama is the very definition of an affordable expat haven. For under $2,000, a couple can live comfortably in a country with a well-earned reputation for being expat-friendly.
Thriving expat communities in towns such as Boquete, Coronado, and Pedasí attest to the ease of integration and afford you plenty of opportunities to meet like-minded types.
For under $2,000, a couple can live comfortably in a country with a well-earned reputation for being expat-friendly.
"There are active expat communities all over Panama," says Jessica. "This is possibly the friendliest country toward North Americans, because of its long-standing relationship with the U.S. There are so many activities for expats and Panamanians, it is easy to join different groups and get out there and start meeting people. Panamanians like to meet foreigners. They like to try to practice their English on you or hear you trying to speak Spanish. You even make friends at the supermarket here."
Although a developing nation, Panama's array of infrastructure makes it easy to get (and get to) what you need. It has both the fastest Internet and best roads in Central America, and it serves as the air hub for the entire region, with a large and growing number of routes serving U.S. and Canadian cities. This makes Panama one of the easiest countries on our list to get home from.
The Pacific coast of Panama is world-renowned for its beautiful beaches and azure waters: the definition of tropical paradise.
Sunshine is ubiquitous in Panama and gray days are rare. The evenings and mornings are pleasantly cool, and rains rarely last more than an hour. At either extreme, the weather is perfectly manageable. The temperature is generally warm, but not so hot as to be stifling, and the ocean water reflects this, making Panama a perfect place if you love to swim. Unlike some other countries in the region, hurricanes do not pose a threat.
This favorable climate makes Panama a perfect place for those who love the outdoors, with plentiful opportunities for hiking, bird-watching, fishing (among the best in the world), and water sports. It also has a vibrant arts and cultural scene centered on the larger towns and cities.
The John Hopkins-affiliated Punta Pacífica Hospital in Panama City provides care comparable to what you'd receive in the U.S. It's one of five major hospitals spread throughout the country, although smaller facilities also provide first-rate service at highly competitive prices. Because of its small size, you are never more than an hour's drive from a medical facility in Panama. The local health-care system is both cheap and reputable. A visit to the doctor can set you back as little as $5.
#3 Mexico — Thriving Expat Communities South of the Rio Grande
One of the world's best expat havens lies just south of the border, proving that you don't have to traverse the globe to find your own piece of paradise. Due to its proximity to the U.S., the comforts of home are never far away in Mexico. English is widely spoken in expat havens (though Spanish will help tremendously) and U.S. food, products, and sports are also popular.
"In Mexico I can get almost anything I could get back home, between the U.S. chain stores and the local shops and markets plus I can get all the wonderful local specialties," says IL Editor Glynna Prentice. "The big difference is the prices. Tickets to a top-notch concert may cost me $8 or even less…and I can walk to the concert hall through a beautiful colonial city. I can buy a week's worth of groceries for $15 or $20, and I don't know anyone who pays more than a few hundred dollars a year in property taxes."
Established expat havens in communities such as Puerto Vallarta and San Miguel de Allende ease the integration process, while excellent property can still be found for far less than you'd pay in the States. In communities where expats flock, health care is as good as what you'd expect at home, but delivered at a much lower cost, leaving you with plenty of money in your wallet to enjoy the innumerable activities and cultural treasures this large and diverse country has to offer.
From the pristine beaches of Puerto Vallarta and the scenic streets of San Miguel de Allende to the Mayan ruins of the Yucatán, Mexico has it all.
This country can cater to a wide range of tastes — whether you're in search of a quiet getaway or on the hunt for adventure. The country's large size also affords it a diverse range of climates to accommodate every tolerance of heat, humidity, and rainfall. Good Internet and infrastructure can be found throughout most of the country, and Mexico's famed cuisine is another much-loved plus. Regular flights to and from the U.S. are also a distinct advantage…or you could drive home if so inclined.
Regards,
Conor William O'Brien
for TheDaily Reckoning
P.S. Be sure to sign up for The Daily Reckoning — a free and entertaining look at the world of finance and politics from every possible angle. And while the articles you find here on our website represent our commitment to high quality commentary, they're only a snippet of what you receive in The Daily Reckoning email edition. Click here now to sign up for FREE to see what you're missing.