Wild Fed Guesses vs. Market Strength
All eyes are on the Fed today.
Honestly, I'm sick of all the hype. But we can't trade in an alternate universe where policy-changing events don't pop up every once in a while…
Still, it's no fun.
Anticipation and wild guesses have held the market hostage right now. There's nothing we can do but wait for the rate announcement at 2 p.m. and the press conference that follows.
I don't really care about the content of today's Fed message, either. I'm bored of reading about tapering and rate hikes. I just need to see how the market reacts to the news. That will give me the clues I need to trade.
For now, we can only prepare to ride out the storm…
"I can't remember a time when so many global markets were awaiting comments from a Fed meeting," commented technician John Murphy late yesterday afternoon. "We've gotten to a point where comments from central bankers have become major market moving events. And that includes global bonds, stocks, and currencies. It shouldn't be that way, but it is."
In the meantime, despite the frantic lead-in to Fed Day, the market has quietly pushed higher. In fact, a lot of the recent technical damage in the S&P has been repaired.
Stocks punched through to new June highs yesterday. More importantly, breadth has been especially strong this week.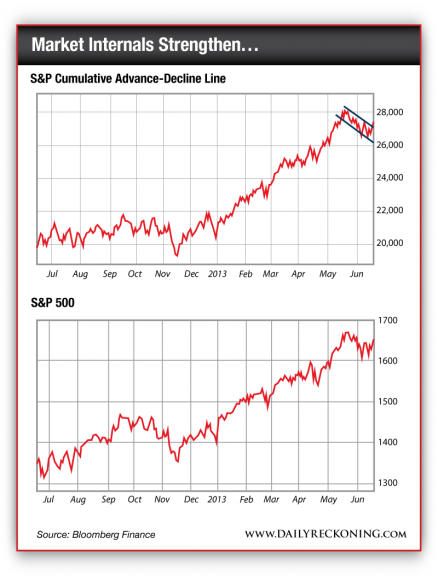 The top image is a shot of the S&P Cumulative Advance-Decline Line. When the number of advancing stocks in the S&P outnumbers the decliners, it moves higher. When more stocks are dropping, it moves lower. The A-D line is a great way to keep an eye on broad market strength. If it moves lower as the S&P advances, you know to proceed with caution since the rally is getting propped up by fewer and fewer names.
But that's not the case this week. In fact, the broad market is strengthening heading into the Fed announcement today. After fading for weeks, we finally see an A-D line breakout. That's a great positive tidbit to hang onto as today's storm approaches…
Remember, don't get too trigger happy when 2 p.m. rolls around. It's bound to be a volatile afternoon. Unless you're a short-term minded trader, I recommend completely avoiding real-time intraday charts. We're probably in store for some intense overreactions in either direction as the market attempts to sort through the clutter.
Regards,