Why You're a Terrible Market Timer
You're not an effective market timer.
Don't beat yourself up over your shortcomings. After all, most retail investors buy when they should be selling. Then, when the market turns against them, they sell out right at the bottom. You're in good company…
Main Street investors have a bad track record because they allow their emotions to get the best of them. They're more susceptible to fear and greed. They simply overlook the dangers of running with the herd and following their gut.
So at first glance, the fact that more retail investors are taking an interest in stocks might be cause for concern…
"According to the Investment Company Institute, the Great American Public has poured $92 billion into the stock market via stock mutual funds since the start of the year," reports MarketWatch.
"To put that in context, in the first seven months of last year — when the market was much lower — they withdrew $180 billion…
"The last time the investing public jumped into the Wall Street pool with both feet like this was in 2007. And they are investing even more this time around. In the first seven months of 2007 they invested $85 billion into stock funds."
So is it time to sell out and head for the hills?
Not quite…
Yes, the market has generated some newfound interest from retail investors so far this year. That's not surprising at all. Investors are going to take notice when the broad market is up double-digits midway through the summer.
However, we still have a long way to go before we make up for the record outflows that occurred from 2009-2012: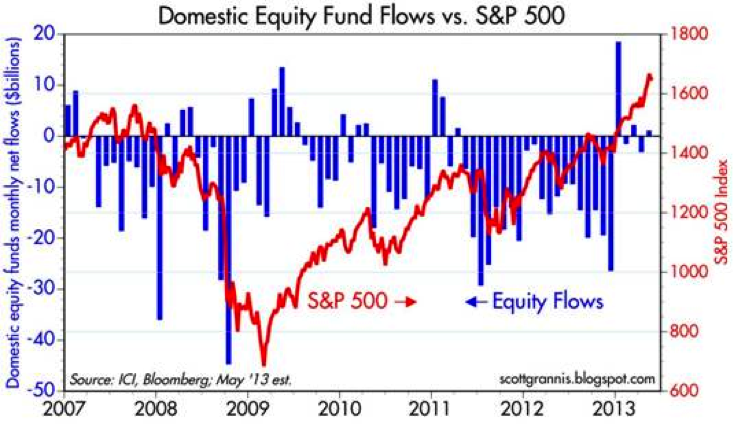 The truth is investors have been on the run from stocks since the financial crisis. The market's definitely attracting some new money this year—but it's not the climax of years of mom and pop investors piling into a red-hot market.
It wouldn't surprise me if all of these new investors are forced to endure a small correction sometime over the next several months. Shaking out some of the weak hands is fine with me. However, as I explained yesterday, I doubt the market will hit the reset button again at this stage of the game…
The trend continues to tell you that consolidation periods and corrections are buying opportunities. Until this message changes, you should feel comfortable seeking out new investments.
Regards,