We Are Becoming a Nation of Burger Flippers
The latest BLS jobs report isn't looking good. The media and government alike are crowing over the creation of new jobs and a decline in the unemployment rate to 7.4%. Sorry, things are not getting better. A look at the numbers makes that clear.
Of the 162,000 jobs created in July, only 35% were full time. Zero Hedge noted this morning that June's numbers were equally ominous: Part-time jobs exploded higher by 360,000, while full-time jobs dropped by 240,000. This is according to the BLS household survey data.
It gets even worse than that: 60% of July's newly created jobs went to workers over age 55. Only 15,000 were created for workers between the ages of 25-54. Over the last four years, the employment environment for younger workers has appeared to just get worse. Workers aged 16-54 have yet to claw back millions of jobs lost from the credit crunch of 2008.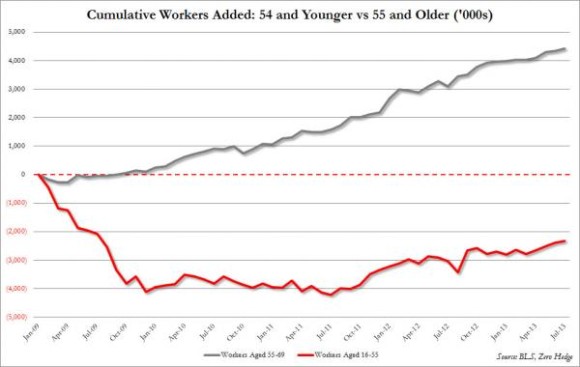 The American workforce is slowly converting to a force of burger flippers and shelf stockers, mostly older people in semi-retirement. The implications for the economy are serious, and the ballooning cost of health care for businesses under Obamacare bears much of the responsibility: The law's (expensive) mandate that employees who work over 30 hours per week receive mandatory health benefits is suppressing the hiring of full-time workers, particularly by small businesses. Even Sen. Max Baucus, one of the law's architects, said "I just see a huge train wreck coming down," at an April 17 hearing.
Most of the economy will continue to suffer as the health care law rolls out full implementation on Jan. 1. The market will continue to negotiate the uncertain impact on small businesses, which are expected to bear the worst of it.
There is one sector that will benefit immensely from Obamacare: health care. As Josh Grasmick told Tomorrow in Review readers on May 30, companies known as "pharmacy benefit managers" (PBMs) stand to rake in cash as millions of new people get access to prescription drugs.
"While most PBMs are privately held firms," Josh pointed out, "some are publicly traded… they could turn out to be the safest way to make money in America over the coming years."
You can read more of his tips on PBM's here.
P.S.: Subscribe for free to our email edition to get more of our investing tips and advice. Click here.