US Oil Boom Gets Global Shoutout
"We believe that the U.S. energy transformation is a once-in-a-lifetime moment," said the CEO of an industrial giant. "And we have our chance, each of us, to make it our moment."
Significantly, the CEO did not hail from an American industrial giant. Instead, it was Germany's Siemens — with a $111 billion market cap bigger than United Technologies or 3M.
Siemens CEO Joe Kaeser ventured to an energy conference in Houston two weeks ago. He said new and plentiful U.S. energy is bringing about the "re-industrialization" of the United States. He suggested he'd bring more operations here, no matter which direction the boom goes: If oil will be transported by pipeline, Siemens can make pipelines more efficient. If oil will be transported by rail, Siemens makes locomotives.
"We're ready to go — because we're on top of the global energy agenda," Kaeser said. "And we believe in the U.S. energy story."
"We keep raising our forecasts, and we keep underestimating production," says an analyst with the International Energy Agency.
Ditto for the U.S. Energy Information Administration. We shared the numbers on Monday — U.S. production of 7.5 million barrels a day last year, the most since 1989. Production is set to equal the 1970 peak by 2019.
Here's another way of looking at the numbers. Barely a decade ago, the United States imported six out of every 10 barrels of oil it consumed. As of 2012, it was only four in 10. And the numbers only stand to improve further…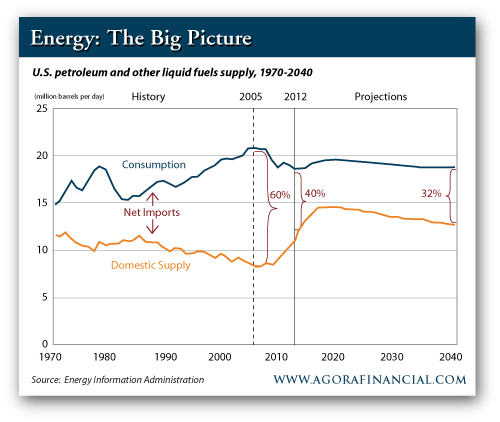 "The U.S. oil turnaround is stunning," says our resident oil field geologist Byron King. "Looking ahead by just over five years, to 2020, expect that U.S. oil production will continue to grow by as much as 4.4 million barrels per day (MB/d) over what it is now. The U.S. is on track to be the world's leading oil producer, beating out Russia and Saudi Arabia by a wide margin."
"Think about that number, too," says Byron — "4.4 million 'new' barrels every day. That's current output PLUS 4.4 million more.
"At, say, $100 per barrel, that's $440 million per day of new wealth coming to the surface. U.S. landowners will make money. Drilling companies will make money. Service companies will make money. Oil companies will make money. Governments will cash big tax checks — and of that you can be sure!
"Meanwhile, U.S. refineries are producing pretty much everything that the U.S. economy needs. That and much more, because the U.S. has become a net exporter of refined products. It's not a bad thing, either. Take a $100 barrel of crude oil, refine it into $250 worth of product and then export the product. With economics like that, it's no wonder that U.S. refinery usage is at a historic high."
Regards,
Dave Gonigam
for The Daily Reckoning
P.S. Byron's readers have had the chance to parlay this transformation into impressive gains — up to 45% in less than a year. But now he's ready to take his readers to the next level… They're about to gain access to a new energy strategy that generates profits 178 times greater… and 216 times faster… than conventional "Big Oil" plays. And as an added benefit of their subscription, readers of the FREE Daily Reckoning email edition received an exclusive opportunity to join Byron's readers. But not to worry, if you weren't among them… The Daily Reckoning will be back tomorrow — and every day — with another host of chances to discover some of the world's most lucrative profit opportunities. Make sure you sign up for free, right here, before you miss another issue.