Tokyo Real Estate: Buy or Sell?
The topic is Japanese real estate. And the question is: Are we buying or selling?
The first thing to know about real estate in Japan is that there isn't much of it — at least compared with the number of people living on it.
Japan's four main islands run about 1,200 miles in length. That's makes it roughly two-thirds the length of the U.S. Atlantic coastline (about 2,000 miles). In land area, though, Japan is a touch smaller than Montana.
However, much of Japan's land is mountainous and uninhabitable. In reality, you've got 127 million squeezed into an area about the size of Kentucky (which has about 4 million people).
Greater Tokyo alone has 36 million people in it. Land pressures drove the Japanese to reclaim some of the land from the sea.
As you know, I've been traveling in Japan, poking around with my 16-year-old son. I got back on Sunday, and I'm still working out the jet lag. (There is a 13-hour time difference.) One day, we visited the famous Tsukiji fish market.
This market is the largest seafood market in the world. An astonishing 2,400 tonnes of it move through the market every day. I loved walking through this market and seeing all of the strange things fishermen pulled from the ocean. I could show you lots of pictures, but here's just one that captures some of the color: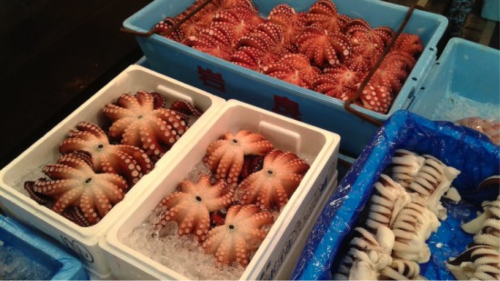 The treasures of the sea on sale.
The prize is bluefin tuna (maguro), and if you get here at 5 a.m., you can watch the auction. We didn't get up that early. So when we got there, all that was left were the remains.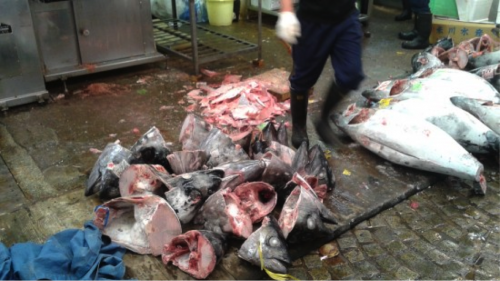 Our work is done here.
But what's interesting about Tsukiji from a real estate perspective is that it's built on reclaimed land. In fact, the name means "reclaimed land." The Japanese reclaimed the land from Tokyo Bay in the 18th century.
Anyway, land prices are high, and the Japanese do not waste space.
Afterward, our guide in Tsukiji took us to her home and taught us how to make sushi using some ingredients we bought from the market. (Our ensuing sushi lunch was delicious.) We got a look at what a typical Japanese apartment looks like. Here is a shot of the main living area, which has a great view of Tokyo from the 14th floor.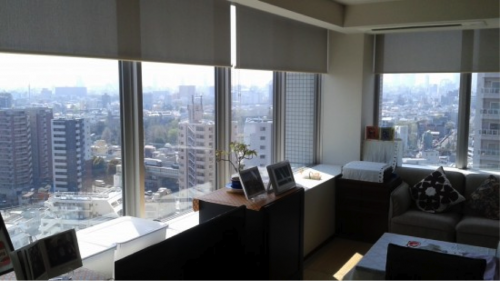 Great view… without paying a premium.
Apartments in this building run from about 570 square feet for a one-bedroom to 750 square feet for three. Rent would be about $1,800 a month for the one-bedroom and $2,300 a month for the three-bedroom.
The Japanese make that space work rather well. In the kitchen, for example, everything is compact and tucked away. And of course, the place was spotless.
Later, we visited the Tokyo office of a company I've been monitoring called Kennedy Wilson (KW:NYSE), where we met with Kevin Thang. He's the president of KW's subsidiary in Japan, KW Investment. It owns a portfolio of 50 apartment buildings. Most of these are in Tokyo.
Thang told us how the Japanese real estate market is different than in the U.S. People don't pay a premium for a view. There are virtually no amenities such as a gym or a pool, particularly in Tokyo, because land values are so high. You basically pay for a room.
KW works through property managers who do the day-to-day managing of the properties. For its 50 properties, KW works with five property managers. The big difference in Japan versus the U.S. is the delinquency rate. KW's is tiny. People pay on time. There is no grace period. If a tenant is one day late, that tenant is delinquent.
Thang explained how in Japan it was typical to ask for a guarantor on a lease, because there is no credit check system in Japan. The guarantor is the backstop. That could be a family member or even an employer.
KW uses a guarantee company, which guarantees the rent for a nominal fee. For a typical two-year lease, the tenants pay the guarantee company one month's rent and the guarantee company will cover delinquency for two years. If the tenant doesn't pay, the guarantee company steps in and pays and goes after the tenant.
Since there are no amenities, the expenses a landlord has are light. The profit margin is typically 80% of gross rent. Turnover is 10-20% annually, and it is not hard to keep buildings full in Tokyo. We saw a lot of construction in the city, but they are not building apartments.
Right now, especially with the Olympics coming up in 2020, most of the construction is in infrastructure and big projects. Construction costs have gone up in the face of heavy demand.
And developers feel it's no longer worth building an apartment at current rents, which might be indicative of future rent growth.
Today, an apartment yields only about 4% in Tokyo, but you can borrow at 1%. So the margin is still there. KW, too, still enjoys rent increases, despite falling or flat prices in much of Japan. (Although, some of that is changing. Wages are going up, Thang said.)
But is Japanese real estate a buy or sell?
KW bought its last building in Japan in 2008. Prices have been flat much of the way, but recently took off.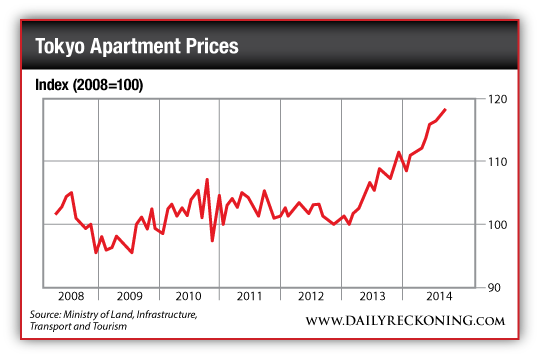 It looks like KW took that as its cue to sell.
KW announced it sold its portfolio only days after I visited. (In fact, I found out later they signed the docs the day I was in the office. Funny timing.)
I'm not an expert in Japanese real estate, but the folks at KW are. In one form or another, they've been in the market since 1995. Not only that, but KW, as you know, have been savvy buyers and sellers of real estate wherever they've gone. If they're selling, I'm not buying.
However, ever with an eye toward opportunity, I note that KW is still keeping a foot in the market. Buried in the 8-K, I find the following footnote to the deal:
"[KW] expects to invest approximately $7 million alongside the purchaser to retain approximately 5% of the equity interests in the portfolio. In addition, a wholly owned subsidiary of the company ('KW Manager') will enter into an asset management agreement with the purchaser to provide asset management services for an initial term of three years."
Smart. And a way to leave the door open. Should opportunity emerge, KW will be there. It's age-old market wisdom at work. What's a sell today could be a buy tomorrow. And vice versa.
Always be willing to change your views. Never let a door close all the way.
Regards,