The New Bitcoin Trend that Could Make You $100,000 Per Month
This is a true story.
Back in 2008, I was adventuring around the world.
I had just lived in South Africa for six months, Australia and New Zealand (North Island) for one more and Fiji for a couple weeks.
Finally, I decided to re-enter my native homeland to visit a free-spirited friend who had taken up residence at Sunset Beach, Oahu, Hawaii.
Yet of all my adventures during that time, that visit with my friend impressed me the most (though I'd never have guessed it beforehand).
"His main goal in life," his brother always jokes, "is basically to avoid stress."
And that's what he did. He ate gloriously healthy food, exercised each morning by surfing 15-20-foot waves, practiced martial arts and spent nights with his friends "chasing things"…
You get the picture.
Though my friend may be a surfer, mind you, he is no beach bum.
The first BTM to go live… made $100,000 in the first month alone…
Through a connection at Deutsche Bank, he makes a great living setting up ATMs throughout the Pacific island chains that surround Hawaii.
He collects that 3% fee (yes that one). And, with about a dozen ATMs, monitors a steady stream of income from the comfort of his beach house, which affords him his lifestyle.
The guy is in his late 20s. He's still there, in Hawaii, living the dream as if he actually worked his whole life and retired.
Want to learn how to do something like that, or at least have the option?
Well, I'm not going to show you how to do what my friend does. But I'll do you one better. I'll show you how to do what my Hawaii friend does on a much grander scale.
Judging from current operations and according to some simple math, I've calculated that you could make three-five times your investment in just one year.
That's enough to at least supplement your existing income so that if you wanted to, you could live a permanent vacation… or whatever you wanted, really. It is, after all, a free country.
So what exactly is this enhanced income strategy, and how does it work?
Glad you asked!
This income strategy has to do with what we've nicknamed "Underground Banking"… but cast in a new light due to recent events.
"Underground Banking" is the ever-growing network of cryptocurrencies, mainly Bitcoin, that have been growing strong in pockets of the global economy.
"Strong" is actually an understatement. Right now, 1 bitcoin fetches about $480 — remember, a scant five years ago, it was trading for mere pennies. See this chart: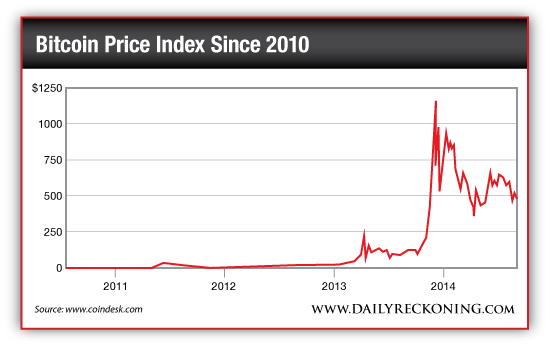 What you may not know is that Bitcoin teller machines (BTMs) are appearing in places from New York City to Hong Kong.
The first BTM to go live was in a Canadian coffee shop in October 2013. It charged a 7% fee per transaction to the operator. They made $100,000 in the first month alone… swiftly making back their $25,000 on the purchase of the machine itself.
That's $75,000 profit in a single month. And with a steady stream of users, the one machine made over $1 million in a single year! I haven't even started on the increase to the coffee shop's customer traffic, estimated to be about 15%.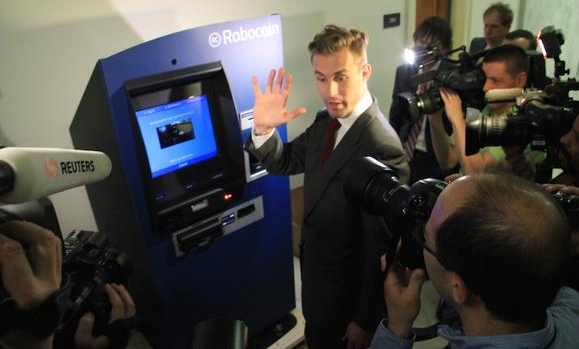 Robocoin CEO Jordan Kelley at a Bitcoin ATM

Now, I'm not saying you're going to make a million dollars in a year if you set up a BTM. This is only the first BTM to go live, after all, so there's some novelty to it.
But this is part of a larger trend that you can still exploit.
There are roughly 200 working Bitcoin ATMs in existence, according to the website Coin ATM Radar, which keeps track of the machines in operation.
Some of these BTMs are low-grade and work like glorified vending machines.
That's why there's never been a stock… that has outperformed Bitcoin.
Others convert currency, dispense cash, act as "Bitcoin" banking branches and more…
In other words, not all of them will yield $1 million a year.
You just need to know where to set up your BTM… what manufacturer to contact… and some details on how to become a successful operator… and you could do very well from a comparatively meager investment. (More on that later.)
Bitcoin teller machines (BTMs) are going to become the physical backbone to a network of Bitcoin accounts that have been opened by more than 1 million people in all 50 states and in nearly every city in the country. Internationally, the network of Bitcoin accounts and trade activity is more immense.
I'll name just a few reasons why Bitcoin accounts are becoming more popular:
They're anonymous and backed by cryptographic mathematics (not a government's fiat-based currency)
You don't need a minimum deposit to open an account (they're 100% FREE), and there's no pressure to fund it after it's opened
Amazingly, in the past, Bitcoin speculators have made more than 50 times what a typical savings account, certificate of deposit or savings bond pays.
There is, however, a large challenge that MUST be overcome…
And this is where BTMs come in. Put simply, most people don't want to deal with messy online exchanges that aren't necessarily intuitive, are not widely understood and are still being refined.
Sometimes, you don't even get what you want from the online exchanges when you request it!
Yet Bitcoin has become extremely popular despite these flaws. It just goes to show you how die-hard supportive the Bitcoin community is.
That's why there's never been a stock — barring a few historical private-equity investments — that has outperformed Bitcoin. That's a true statement.
And we're just getting started.
More to come tomorrow…
Best,
Josh Grasmick
for The Daily Reckoning
P.S. The first time our little independent firm wrote about the enigma that is Bitcoin was back on June 3, 2011. The price was about $10 per Bitcoin. Today, it hovers around $500. But cryptocurrencies are only one vein we mine in our FREE daily e-letter, Tomorrow in Review. Every day, we share with our readers timely investment ideas in a variety of breakthrough technologies that are redefining industries right now – and that could lead to a massive uptrend in your portfolio. Don't miss a single issue or any of the great investment ideas we'll share.. Sign up for Tomorrow in Review right here.