Stock Market Gives Congress the Finger
Senate leaders are within "striking distance" of a deal, according to a pile of this morning's top headlines.
Whatever. I'll believe it when I see it…
Meanwhile, the market continues to give congress the finger. After opening in the red yesterday, the big averages dutifully marched higher. Stocks appear bored with the reckless politicians and their quarrels. Can't say I blame them.
Just as all of this shutdown nonsense started to weigh on the markets a couple of weeks ago, I told you I found it tough to get too bearish with smaller stocks crushing the broad market. The Dow might be stuck in neutral, but the stocks just outside the average investor's sight are humming right along.
That's still the case—even as the big, bad debt ceiling deadline approaches this week.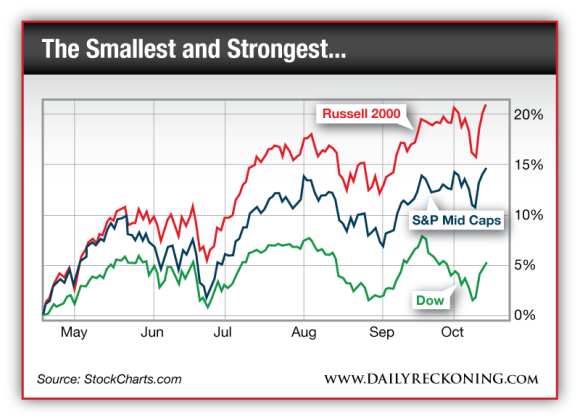 The Russell 2000 posted a new all-time closing high yesterday. Same goes for the S&P 400 Mid Cap Index. Both of these high-flyers have trounced the Dow over the past six months.
Still, the shenanigans in Washington have minted some fierce bears. Bloomberg reports that hedge funds have pushed short sales near the highest levels of 2013. Betting against stocks has come within spitting distance of its yearly low, according to a gauge of manager bullishness compiled by ISI Group.
It looks like hedgies (who have underperformed the market by a huge margin this year) are getting aggressively pessimistic. That could grow into a costly mistake.
I know I've preached a tactical stance for some time now. While I don't think it's time to buy with both hands, leaning heavily on the short side in this market is a dangerous move—even with potential congressional deal breakers making noise. Stay nimble. Don't gamble on Congress…
Regards,
Greg Guenthner
for The Daily Reckoning
Ed. Note: With so much speculation surrounding the government shutdown and the impending debt ceiling, it's difficult to know just where to put your money. That's why Greg writes The Rude Awakening email edition. Every morning, he provides his readers with an honest and unfiltered view of the markets and how to profit no matter what the yahoos in Washington decide to do next. If you're not reading the Rude Awakening email edition, you're not getting the full story. Sign up for FREE, right here.