Shutdown Over. Markets Shift Into Overdrive.
This market's not fooling around.
At the very end of September, I told you to watch for a powerful fourth quarter melt-up. Sure, the government shutdown and debt-ceiling crisis put these carefully laid plans on pause. But it didn't take long for buyers to jump back into the fray, squeezing every short in town and pushing stocks back to all-time highs.
Here's the scorecard:
All-time highs for the S&P…
All-time highs for the Russell 2000— which has been leading everything higher through the "crisis"…
Only the Dow failed to rip yesterday. But even with an IBM earnings disaster, the Big Board fought its way back to breakeven on the day.
In fact, the S&P 500 and all ten sectors closed are now in overbought territory, according to Bespoke Investment Group. The biggest rippers— energy, financials and health care—are actually sitting at extreme levels this morning (which Bespoke defines as more than 2 standard deviations above the 50-day moving average).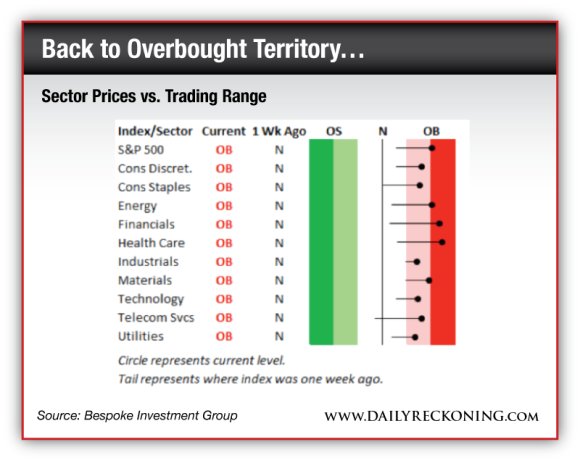 That's an insanely fast shift from the fear and panic we witnessed leading up to the debt ceiling vote. And there's not much I see standing in the way of investors buying with both hands leading up to the holidays. The melt-up is upon us.
My most important piece of advice to you heading into October was not to short this market. You can see why today as every sold-out bull with a brokerage account is stepping on the throats of some of the most heavily-shorted stocks out there…
Your end-of-year strategy is simple: go for the performers. The names that have already harnessed the momentum will lead you to the most explosive gains heading into the holidays. These are the stocks that are getting bid up this morning. Don't miss the ride…
Regards,
Greg Guenthner
for The Daily Reckoning
P.S. Today I told readers of my Rude Awakening email edition about 5 specific numbers to watch in the markets today. Along with a more in-depth view of some of the economic trends going on in the markets right now. If you didn't get it, you can sign up for FREE, right here.