NATO Meeting Gives You a Strong "Buy" Signal
One event caught my attention earlier this month. A gathering that confirmed that you should be holding one stock over the long term.
It was Sept. 4-5th, when I saw news accounts of the big NATO meeting at Celtic Manor, a high-end golf venue and resort in Newport, Wales. In addition to the usual pomp, ceremony and security that accompanies a gathering of heads of state, we have this military image…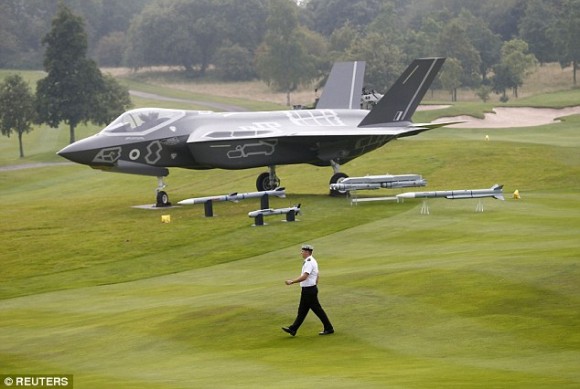 Lockheed F-35B on fairway, with array of ordnance
It's a Lockheed F-35B, "Lightning II" fighter-bomber aircraft, obviously parked on the grass of the resort golf course, with an array of sophisticated ordnance in front of it.
Among other devices on display, I clearly discern an AGM-154 Joint Standoff Weapon (JSOW); and an AIM-120 Advanced Medium Range Air to Air Missile (AMRAAM). I can also make out what appears to be a rack of "Joint Strike Missiles" (JSM); as well as a modified High Speed Anti-Radiation Missile (HARM).
These munitions are all air-to-air and/or air-to-ground weapons. One key point to note is that all of the above-listed items are Raytheon (RTN:NYSE) products. Wow, talk about product placement… It's just like going to the movies.
There are many angles from which to view this NATO meeting. Inside the Celtic Manor meeting rooms, much political focus and arm-twisting had to do with NATO forming a collective policy to deal with new realities coming out of Russia. Of course, most of this year's NATO meeting agenda has been defined by the overall Ukraine situation.
I won't go too far into strategic merits — or not — of NATO "expansion." To me, it was always baiting the proverbial bear for NATO to attempt to include countries from Russia's well-defined "near abroad" within the formal NATO military alliance.
In the 1990s, a very weak Russia acquiesced in the Baltic states joining NATO. Later on, though, in 2008 Russia sent the West a strong message over including tiny, far away Georgia in NATO. This past year, the NATO issue has magnified greatly because Ukraine is a supreme geostrategic point to Russia. This is basic "Geo-Strategy 101″ kind of stuff.
At this point, though, the last year of events in Ukraine is water past the dam. There's no turning back the clock with Russia; nor undoing the internal carnage of Ukraine. We can only look forward.
In Ukraine, I expect things to transform from extensive, bloody fighting to an edgy, armed political mess…
As I mentioned last month, the Ukraine war should soon begin to wind down. First and foremost, Ukraine has spent its combat power fighting an elusive and tenacious foe — assisted by Russia, no doubt. Still, for all the sacrifice, emotion and nationalism, Ukraine is now a nation running almost on fumes, so to speak.
Ukraine cannot muster much in the way of new combat manpower — not that the country can equip and train soldiers very quickly, even if it could. For example, I recently saw a video of a military "parade" in Kiev. It was children marching in formation. I mean, these are middle school boys in ill-fitting uniforms; they should be in 8th grade algebra class, not playing at pretend-soldati!
Another example has to do with air power. Based on "confirmed" losses to date, Ukraine has lost about 150% of its air force from a year ago. That surplus of planes — the "extra" 50% — is donations from outside nations (guess who). Still, when Ukrainian airplanes go into the rebel-held zones any more, they routinely get shot down. Things will NOT get better, if the fighting drags on.
In Ukraine, I expect things to transform from extensive, bloody fighting to an edgy, armed political mess; but the situation will evolve. There's no well-defined road that the next phase "must" follow, by any means. Thus will many parties work to shape events, and bend the arc of history to their own vision. We'll have to see how it unfolds…
The situation in Ukraine has deteriorated badly, in the past year. We now have new imperatives and new political dynamics at work.
Your takeaway from the NATO summit in Wales is that there's growing consensus that member nations must increase military spending, and guess what? Right there, on the golf course, is one fairly rapid solution — that is, buy new aerial weapons and upgrade old ones. The so-called "deliverables" will be systems that are compatible with the most advanced levels one finds in the U.S. arsenal.
Clearly then, the optics of this NATO meeting — literally and figuratively — were good for Raytheon. It's a strong, technically advanced, well-run, profitable company. It's a long-term keeper for any portfolio, and certainly a defense-oriented one.
Meanwhile, the NATO focus is not just on aircraft; it also includes upgrades to ground systems, radars, ships, shipboard weapons, submarines and more. And again, if I wanted to take the time, I could list entire product descriptions of systems and services from Raytheon.
I'll leave it at that — a strong reaffirmation of Raytheon as a long-term play.
Regards,
Byron King
for The Daily Reckoning
P.S. In today's issue of The Daily Reckoning I gave readers a chance to discover the Pentagon's secret army… and how to turn what they're doing into serious profits. If you didn't see it, you might have missed out. Don't let that happen again. Sign up for The Daily Reckoning, for FREE, and get these kinds of unique investment opportunities sent straight to your email inbox, every single day.