Military Spending: An Unnecessary Farce
"If you see fraud and do not say fraud, you are a fraud." – Nassim Taleb, Antifragile
Words to live by.
We don't go looking for fraud, as a matter, of course. It's just so easy to find, we can't help ourselves.
From this morning's Guardian: "Obama fixates on economic growth to boost Democrat's midterm chances."
Tomorrow is election day. And we can think of no greater fraud than politicians on the campaign trail… from either party. In this case, however, it's the commander in chief who's out pandering would be voters.
"If you see fraud and do not say fraud, you are a fraud."
"Low personal approval ratings," the Guardian tells us, "have kept the president away from the most competitive swing states this election but, in a series of last-minute speeches to more sympathetic audiences in Maine and Rhode Island, Obama is attempting to build a more positive narrative by focusing on buoyant GDP figures."
Without much else to go on, White House officials "jumped on" Thursday's reported 3.6% growth in the third quarter of 2014.
"This morning," Obama told a crowd of some 3,000 supporters in Portland, Maine, "we learned that our economy grew at a strong clip over the summer — even stronger than we'd expected. In fact, over the past six months, our economy has grown at the fastest pace in more than 10 years. So the truth is America is outpacing most of the rest of the world."
Indeed.
Like we said, we can't help ourselves.
As you're probably aware, we recently partnered up with Jim Rickards to help us parse these types of reports. We thought, meh, why not pass them through the lens of a CIA currency wars analyst?
Yesterday Jim tweeted this comment: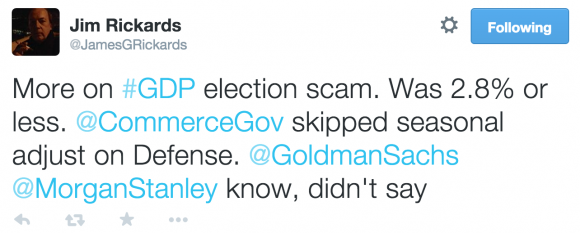 Conveniently, the seasonal adjustment on government spending on the military has been overlooked.
"You always have to go behind the numbers," Mr. Rickards warned new lifetime readers of his Strategic Intelligence report on Thursday in a briefing, "and break it down a little bit. A big slug of that was government spending and a lot of that was military spending."
"I hate to be a cynic — and look, it's strong data, there's no denying that. But you know the election is a couple of days away. This is the last GDP report, the last important economic report before the election.
"Military spending is the most discretionary item of all."
"The government can't make you buy a dishwasher or refrigerator but they can make the military go out and buy a jet plane. I work closely enough with the government in various capacities that I know how these things operate."
We hate to be cynics too, but for kicks we looked further behind the numbers with the help of Doug Bandow writing at Forbes:
"America accounts for nearly 40 percent of globe's military outlays"…
"The cost is high — about $627 billion budgeted this year, though it will end up higher with the latest Mideast war."
"The war lobby minimizes the magnitude of America's military spending through statistical legerdemain," Bandow asserts:
"For instance, National Review's editors argued that inflation-adjusted outlays are down 12 percent since 2010. Washington Post columnist Robert Samuelson noted that expenditures constitute just 3.4 percent of GDP, compared to 5.5 percent during the Cold War, and the percentage is headed downward.
"America and its allies collectively account for two-thirds of the globe's military expenditures."
"But Washington does not spend in isolation. It is allied with every major industrialized state save China and Russia, including Europe, Japan, and South Korea. Other allies include Australia, Israel and the Gulf States. Friendly powers include Singapore and Taiwan. The U.S. leads the world in military spending. Of the next fourteen nations, ten are allies, two are independent (Brazil, India), and two are potential antagonists (China, Russia). America and its allies collectively account for two-thirds of the globe's military expenditures.
"While Washington's inflation-adjusted outlays have fallen since 2011, they previously rose significantly — almost 165 percent between 1998 and 2011. It is only natural for expenditures to fall as Washington wound down two wars.
"Even today the U.S. spends more on the military in constant dollars than in 2008."
With respect to the the president's higher-than-expected third quarter GDP numbers? Bandow adds this helpful perspective:
"The percentage of GDP tells us little about real resources without taking into account the size of the economy. Samuelson warned that by 2019 the outlays per GDP ratio would fall below that in 1940. However, military spending should be based on the threat environment, not statistical ratios. The GDP today is 13 times the GDP in 1940; spending even an equal percentage would yield 13 times the real resources.
"America's GDP this year is more than seven times that in 1944, at the height of World War II and nearly seven times that in 1952, at the height of the Korean War. Today's GDP is roughly 3.5 times that in 1968, at the height of the Vietnam War and almost twice that in 1989, the peak of Ronald Reagan's Cold War military build-up.
"Washington today spends more in real resources on the military than in any of those years except 1944. Real outlays today are about two-thirds the level even then, during America's greatest war."
Several years ago, we grew tired of grousing about military spending — and goosed GDP numbers for that matter — and decided to "make the empire pay" as it were.
The iShares Aerospace and Defense ETF (NYSE:ITA) which we recommended is up 11% since Oct. 14th… and up 109% since you originally had a chance to buy it in 2010. Today, our military historian Byron King analyzed the new global arms race all this military spending has wrought. With no real let up in sight, ITA is likely to continue to be a good play.
Cheers,
Addison Wiggin
for The Daily Reckoning
P.S. I invite you to sign up for our daily reckonings at no charge. Each day, I'll write to you with one big idea you won't find in the mainstream. One way for you to profit… One way to understand the world of finance, economics and politics… or, at the very least, one thing to point and laugh at. Click here and enter your email address to start receiving our missives each day.