Huge Payday from the Mobile Banking Revolution
Today I want to introduce you to an opportunity that could make you ten times every dollar you invest. 1,048%, to be exact.
It's a microcap stock that has pioneered technology that's revolutionizing the banking industry. And I'm not talking about a payment system like PayPal… or some new digital currency like Bitcoin.
I'm talking about a technology currently being used by banks and loved by customers.
It's a technology taking a wrecking ball to physical bank branches and one by one sending tellers the way of the dodo bird.
But before I unveil this disruptive technology for you, let's look at a few important facts…
What if I told you banks could reduce that $4.25 per transaction cost to just 10 cents a transaction?
It's estimated that it costs banks $4.25 per transaction conducted in person at a physical branch. Every time you go to a bank to deposit a check, it costs the bank about that much.
Where do these costs come from? Employee salaries, rent and other fees.
Meanwhile, it costs you time and money to travel to your nearest bank branch and fill out antiquated forms to do the simplest of tasks.
If only there was a way to nearly eliminate these costs altogether, right?
Well, what if I told you that there's a way?
What if I told you banks could reduce that $4.25 per transaction cost to just 10 cents a transaction?
Even better, what if I told you you could deposit a check or conduct your transactions from almost anywhere you wanted, without having to step in your car or call your bank?
Is this something you'd be interested in? What about the banks, think they'd be interested?
Well, look no further. Introducing mobile banking.
If you're unfamiliar with the term, mobile banking is exactly what it sounds like — depositing checks, bill payments, fund transfers or whatever all from your mobile phone. If you bank at a large bank, like Bank of America, chances are good they have a mobile banking application for your smartphone.
Many banks are moving towards this new technology. And with good reason. It's estimated that it costs banks 10 cents per transaction done on a mobile device. That's a 97.65% reduction in cost! Meanwhile it puts all of your banking services at the tip of your fingers.
It's a win-win-win for all parties involved. Banks get a lower cost structure. Consumers get a lot more convenience.
And one microcap stock — one that could make you 1,048% — enables all this to happen.
It's a technology and software firm based out of San Diego, California. And it's been around since the 1980s and has done a variety of services.
Early in its life, it worked for the Defense Department. Ten years ago, it shifted into working with banks.
Specifically, it helped banks electronically capture data on checks. It developed an imaging system that made it possible for banks to process thousands of paper checks quickly and cost-effectively.
In 2008, it capitalized on a trend. That trend was smartphone adoption. They developed a solution that you may have heard of called mobile deposit.
Mobile deposit lets a user deposit checks to their bank account using their smartphone's camera. You take a picture of both sides of the check and hit send. It's really that simple. I've used it countless times with no problem at all.
The company I have in mind developed this technology. And to date, they've signed up 2,222 banks. This includes all of the top 10 commercial banks, which account for a disproportionate amount of customers.
Today, the company has 20 patents awarded and 22 applications pending. Their big driver is mobile deposit software.
Though they've also been experimenting and had success with other smartphone ideas. For example, their technology allows you to open a bank account simply by snapping a photo of both sides of your driver's license. You can also get automatic quotes from insurance companies simply by shooting a picture of your insurance bill.
Some of these newer concepts are only beginning to gain traction too. But it's the mobile deposit solution that's already being used… and it's what's really going to pay off for investors.
Just recently, I spoke with this microcap company's investor relations department and here's some interesting information they give me.
For every check that's deposited through mobile capture, this microcap company earns around 12 cents. This ties into the above cited number on cost per transaction on mobile being 10 cents.
They sell their services primarily through a few different "channel providers." Basically, these channel providers are the intermediaries between banks and this company. The channel providers are big, billion-dollar companies.
Two of these "channel providers" are NCR Corporation (NYSE:NCR) and Fiserv Inc (Nasdaq:FISV). Buying either company will give you great exposure to the mobile banking trend that's revolutionizing the banking industry. They're big safe billion dollar companies.
But if you want to make 1,048%, like I told you about, you have to go to the source.
Here's how the business model works. The banks estimate how many checks they think will be deposited through their smartphone application. Then they buy that number of transactions from the microcap company I've been telling you about.
For instance, if U.S. Bank thinks it'll have a million deposits, they'll buy all these upfront and pay this microcap company $120,000, or 12 cents per deposit. It's tough to project exactly how many transactions the banks will need. That's the tricky part. But looking at this small mobile tech company's quarterly revenues you can see that business continues to grow.
In the most recent quarter, revenues grew 39% year over year. And the number of banks signing up for this company's mobile deposit solution keeps getting larger. It's gone from 564 banks in September 2012 to 2,222 banks today.
Today, over 50% of the 5,800 commercial banks in the U.S. offer some form of mobile banking.
The big picture is this: The more banks offer this company's mobile deposit technology to consumers, the more money this little company makes. And that's good if you own shares of the company ahead of time — today a share goes for just $3.54.
And this company could be an absolute home run for you if you're positioned ahead of time. Remember, the firm earns a small amount of money on each check that's deposited using it's mobile technology.
To put this in perspective, data from the Federal Reserve suggest that in 2012, 19.4 billion checks were deposited. They go on to state that of this 19.4 billion, only 0.6%, were deposited using a mobile device.
That's tiny! What would happen to this company's earnings if this the rate of mobile deposits grew?
I've set up a few scenarios to see what would happen. I've also reduced the check fee to 7 cents, from 12 cents. This is to be conservative and factor in bulk pricing.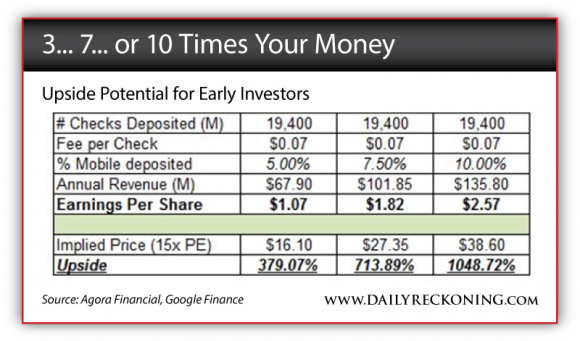 As you can see, the potential gains are enormous here: 379%, 713%, 1,048%?!
I've dug up a few facts and data points that support the argument that the 0.6% of mobile deposits will grow. These facts come from a recent report put out by Monitise, a financial servicing firm.
First, the growth in mobile banking. Today, over 50% of the 5,800 commercial banks in the U.S. offer some form of mobile banking. This number will only grow from here.
Second, the future of bank branches. Ninety percent of U.S. bankers surveyed expect at least a 10% decline in branch numbers over the next five years, with 45% expecting the decline to be 25% or more. Soon, the "branch" will be located on your smartphone.
Both of these data points, along with reduced costs for banks by having fewer tellers, means this company is beautifully positioned for massive growth.
Regards,
Thompson Clark
for The Daily Reckoning
P.S. You've probably noticed that I've kept this company's name under wraps. And there's very good reason for it. This company has a market cap just under $100 million. That means if just 1,000 of the Daily Reckoning's readers bought 1,000 shares of this company… it could start moving the price in a way that would attract momentum traders. Then they'd buy in and send the price even higher… only to have it plummet back down afterwards. So to avoid any potential "pump and dump" controversy, I'm going to reserve the company's name for readers of paid service Microcap Millionaires.
However… If you'd like to learn more about how to sign up for my elite service – as well as other great tips and strategies – I urge you to sign up for the FREE Daily Reckoning email edition. In each issue you'll discover several opportunities to get in on the ground floor of the market's most profitable investment stories. And it comes straight to your inbox, every weekday afternoon, completely free of charge. Trust me… This is the first step to making the huge gains I detailed above. Sign up for FREE, right here, before you do anything else today.