How to Lose Friends With Defense Spending
Well, in the scheme of things, that didn't take long. According to a BBC News poll out last month, "Germany is the most positively viewed nation in the world."
Ha.
A mere 70 years after Der Fuhrer and his band of anti-Semitic rogues blitzkrieged their way across Europe, readers of the BBC are apparently ready to forgive and forget and break bread over a frothy stein of Lowenbrau.
"Germany came out top," says the BBC, "with 59% rating it positively."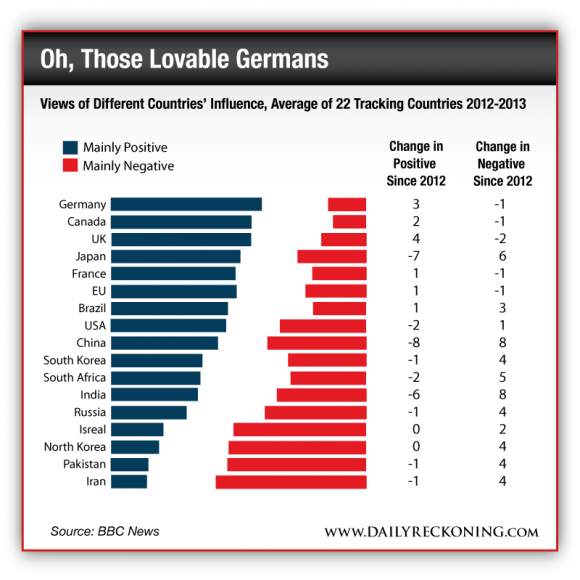 Iran proved to be the most reviled.
And how about the Canadians, eh? Somehow they managed to slip in at No. 2 on the national popularity chart. Those of us below the 49th parallel didn't fare quite so well. Apparently, the U.S. is only slightly more likable than China… and slightly less likable than Brazil.
OK, the latter we understand: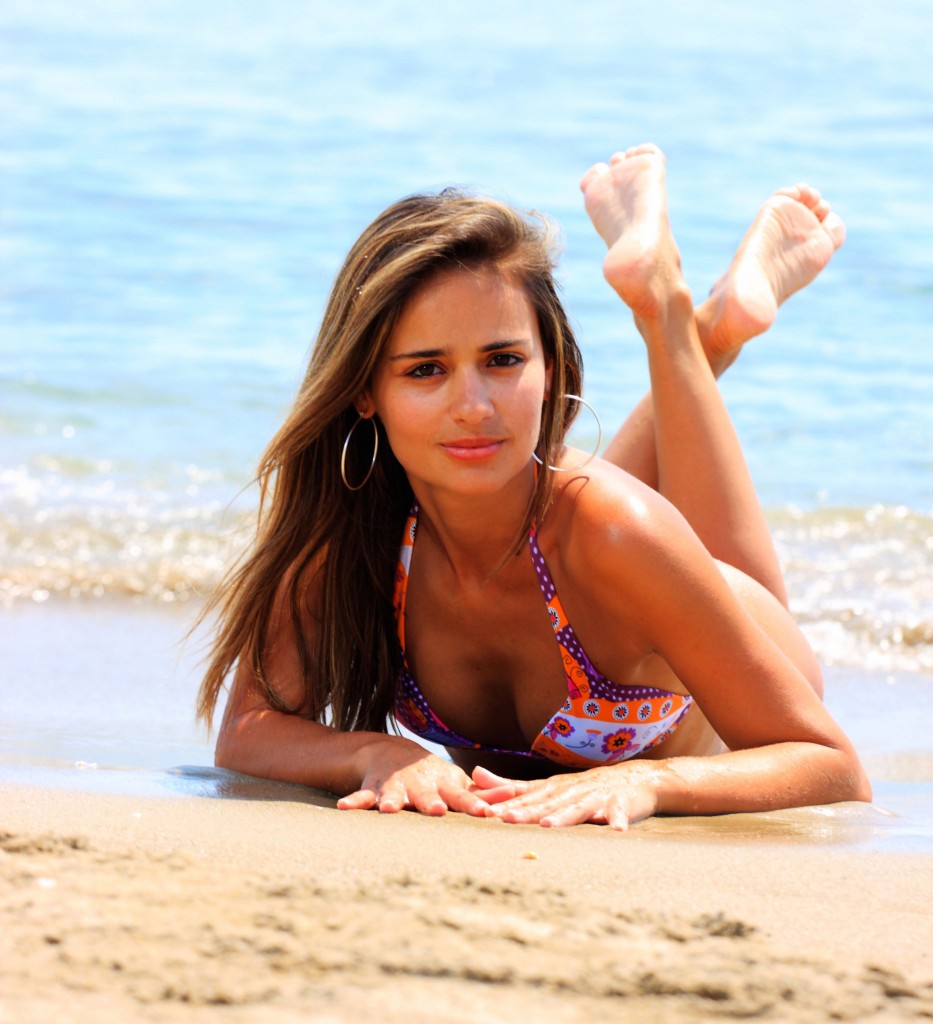 Brazilian model enjoying the Brazilian national pastime.
But c'mon… the EU isn't even a country, and it ranks higher than the ol' U.S.? What gives?
What about all the money, lives and time spent making the world safe for democracy? Doesn't Uncle Sam get any credit for that? Seriously. Defense spending has risen precipitously every year this century: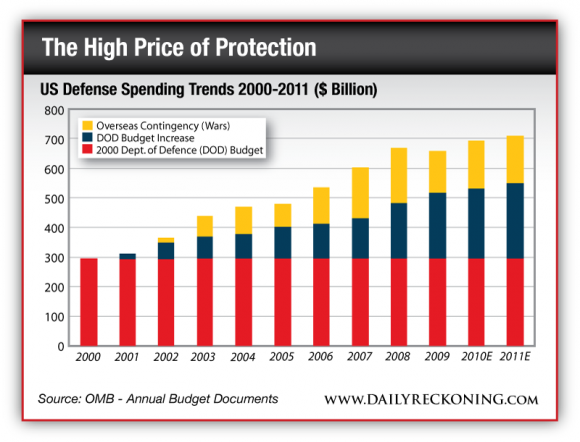 And that group at the Pentagon is a determined bunch. According to a report from Defense News, the Pentagon is adding thousands more to the payroll… just to improve their image:
"The size of the Pentagon's vast oversight organizations grew by more than 15% from 2010-2012, despite efforts to pare down the U.S. Defense Department's bureaucracy, a Defense News analysis has found.

"On Aug. 9, 2010, then-Defense Secretary Robert Gates said the Pentagon needed to cut staff sizes. He made this task part of his efficiencies initiative — an effort to save hundreds of billions of dollars through better business practices. The military services' incentive for accomplishing these tasks was that they would be able to get back some of that money to reinvest in other priorities."
According to the Costs of War project run out of Brown University, since 2001, the U.S. has already spent $3.1 trillion on the war effort in Afghanistan and Iraq. You would think for all of that money the U.S. would have a few more grateful supporters among the BBC audience.
Or at least some juicy oil deals for U.S. firms…
No? Not there either…?
"We lost out," said Michael Makovsky told The New York Times. He is a former Defense Department official during the Bush administration who worked on Iraq oil policy. "The Chinese had nothing to do with the war, but from an economic standpoint they are benefiting from it, and our Fifth Fleet and air forces are helping to assure their supply."
"The Chinese are the biggest beneficiary of this post-Saddam oil boom in Iraq," said Denise Natali, a Middle East expert at the National Defense University in Washington. "They need energy, and they want to get into the market."
To successfully do that, the Chinese have spent $2 billion per year and have played ball with the Iraqi government… something the fat cats at Exxon Mobil have a hard time with.
"If the United States invasion and occupation of Iraq ended up benefiting China, American energy experts say the unforeseen turn of events is not necessarily bad for United States' interests. The increased Iraqi production, much of it pumped by Chinese workers, has also shielded the world economy from a spike in oil prices resulting from Western sanctions on Iranian oil exports.
"And with the boom in American domestic oil production in new shale fields surpassing all expectations over the last four years, dependence on Middle Eastern oil has declined, making access to the Iraqi fields less vital for the United States."
Ah, well, turns out we didn't need the oil anyway.
Go figure.
Regards,
Addison Wiggin
for The Daily Reckoning
Ed. Note: This essay was featured prominently in the Daily Reckoning email edition, which offers a detailed, often irreverent view of the markets at large, every day to over 300,000 subscribers. If you're not receiving the Daily Reckoning by email, you're missing out on at least 2/3 of our best analysis and commentary. Sign up today, for free, right here.