When Every Day is Payday
Unless you've been under a rock this week, you've read about Chaffee Royalties. Simply put, they're the safest investment to build wealth — some showing investors 4,900% gains in the past.
You see, Chaffee Royalties work well in times of economic uncertainty. Their income streams are locked-in agreements for decades of payments, the wealth of which they pass on to their shareholders. Often these payouts are a fixed percentage of a product — say gold or palladium — or a piece of the business.
One Chaffee Royalty payer I've looked into gets over $57 million per year from 12 different income streams in all areas of the market — not just resources! In fact, though it's a Canadian company, it doesn't deal with miners at all.
Chaffee Royalty stocks avoid shouldering the risk and increase of costs to produce that plague young explorers and producers. Instead, they just deliver some upfront money to the mining company in exchange for a fixed percentage of production, locked in at a fixed price… Often these agreements will even adjust should inflation rear its ugly head.
These companies are safe, historically lucrative, and very easy to collect, as we'll cover down below.
In 2002, the same royalty "paycheck program" — that paid out $50 for every $1 invested — decided to shut the door to new "members." In 2008, that door opened again… "There was no telling," Chris advised readers, "when the door will shut again."
About 1,800 readers got in on that Chaffee Royalty Program. And it's been doing well since…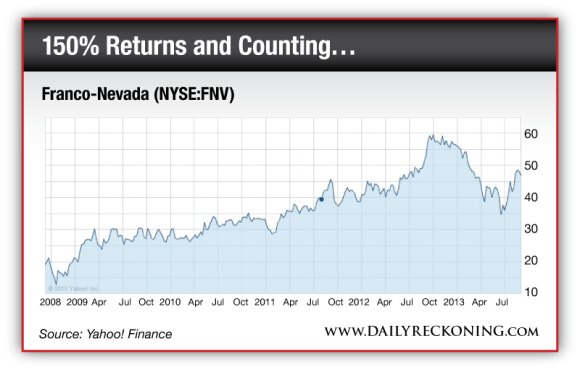 There are plenty of Chaffee Royalty Programs out there. And they aren't strictly resource plays. They collect income on everything from healthcare to retail, manufacturing to home improvement, and even agriculture and scientific data. In fact, it's easy to achieve portfolio diversity using Chaffee Royalty Programs.
The key is getting in when the young and nimble players are starting to attract their income streams who haven't hit the big time… yet. After all, Franco-Nevada is an old bird… started back in 1983. Today, you probably want something newer to the market to see the bigger gains.
For example, take a look at this chart.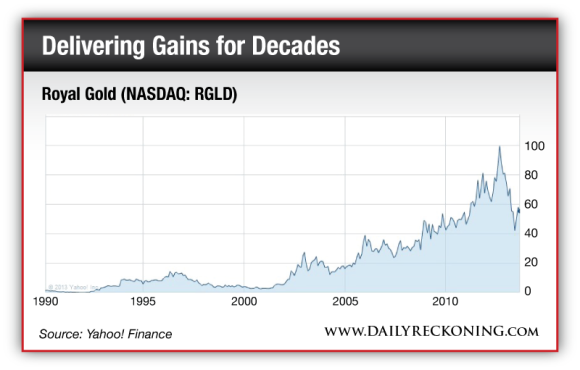 Had you gotten into Royal Gold Inc. (NASDAQ: RGLD), right when this Chaffee player kicked into action, you'd be up 4,536%. Yes, you read that right…4,536%. That's the kind of explosive power these royalty plays have once they start collecting on their income streams and passing the gains directly to you.
And when I say 4,536% gains, I'm not even including the dividends Royal Gold has paid out.
Today Royal Gold pays out an annual 80-cent dividend — which, based on today's $57 share price, puts you at a 1.4% yield. But that's the thing. Now everyone knows about how great Royal Gold is… and so the price has driven higher to match.
So you should be looking for something smaller, newer and ready to grow. Chris Mayer, editor of Capital & Crisis, has been sniffing around the market for the next opportunity, and now he's found one, a tiny $45 million market cap company. In fact, he liked it so much he owned it himself… that is, until readers petitioned him to let them have a crack at it.
There are others Chris is eyeing too. We can't share the names (it just wouldn't be fair to Chris' paid up subscribers). However, I do want to show you how they're doing…
Since March 2012, Chris' readers had a chance at 170% gains so far. We call it making royalties off "treasure maps". And there's more money to be made. Plus we've seen nearly $1 in dividends to boot.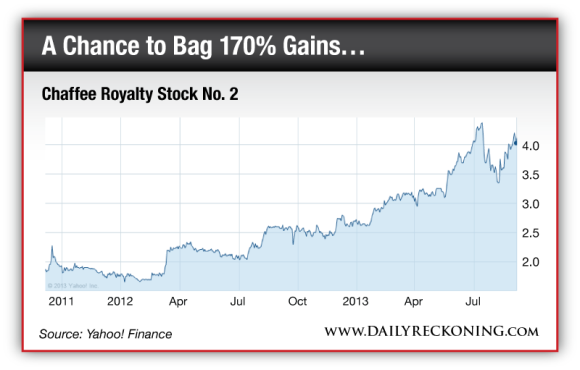 Here's another one that's given us 61% gains so far… and we'll keep holding. We call it the "Only Diversified Canadian Royalty Play."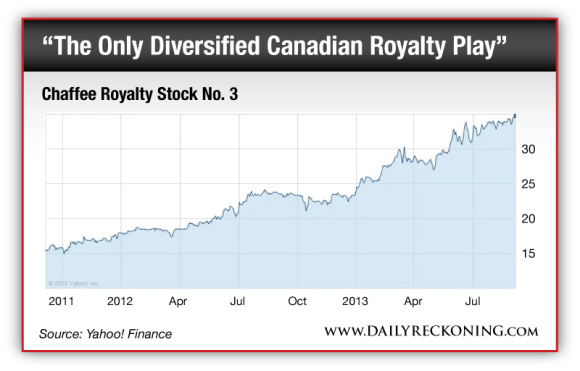 Pretty juicy, right? So you're probably wondering: how short a time window do I have? Well, I can tell you that things can change on a dime in the Chaffee Royalty arena. As I mentioned, the last go-round, in 2008, when Chris and I let readers in on another favorite Chaffee Royalty, it didn't stay open very long…
That's because the two big players decided to duke it out and snap up the company as spoils to pad their own income streams. Franco-Nevada (which turned every $1 into $50) tried its best to use all-cash to outbid Royal Gold for the prize of International Royalty Corp. Those who did get in ended up holding shares of Royal Gold… in exchange for their old IRC shares… and their investment has grown 60% since, excluding dividends.
The bottom line is, having more than one Chaffee royalty investment will provide great income streams in the years ahead, no matter what Mr. Market holds in store. It's cheap to get started… and as easy as sitting there and watching the money come in.
Regards,
Samantha Buker
for The Daily Reckoning
P.S. I've posted all of the details on Chaffee stocks on our website for free. My research includes how to start investing in them today and how to stay updated on new Chaffee plays. Readers of the Daily Reckoning email edition were given access to the link in today's issue. If you're not receiving TheDaily Reckoning email, you probably missed out on it. Sign up for The Daily Reckoning for free, right here, and never missed another opportunity like this one.