Greetings from Zurich
I'm writing you from the Hotel Storchen on the bank of the Limmat River in the heart of Zurich, Switzerland. It is a picturesque city with its lakeshore location and the snowy Alps in the background.
There is a light frosting of snow here now. Here is a picture I took of the clock tower of the Fraumunster Church with its blue spire piercing a washed-out sky…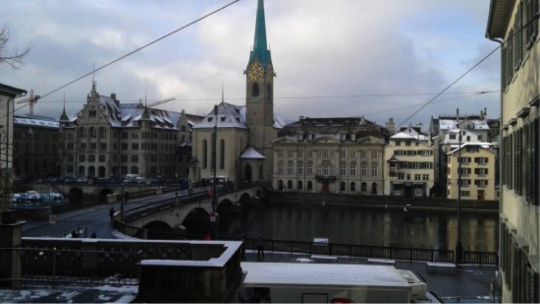 I'm here for the ValueX conference. There are about 80 investors from all over the world who have come to share ideas and learn from each other. I'll tell you about my presentation further down below. But first, a little about Zurich, which would seem a good spot to hold a financial conference.
The city is one of the money centers of the world. The "gnomes of Zurich" may be a cliche, but banking does dominate the city's business affairs. As Diccon Bewes writes in Swiss Watching:
"Alongside the big two (UBS and Credit Suisse) are 319 others, with over 3,400 branches, altogether employing about 132,000 people. That's a big chunk of the economy…"
Switzerland is still a favorite haven for the world's wealth. A recent report from Deloitte says there is over $2 trillion in offshore wealth here. That is ahead of Britain and the U.S., which occupy the Nos. 2 and 3 spots on the list of offshore wealth.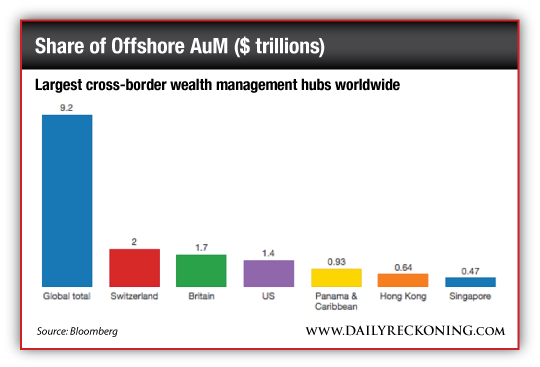 All is not well, however, in the Alpine Republic. Tax evasion crackdowns have eaten into its advantages. Its standing as a discreet, tax-light haven has been under assault. Regulatory costs are driving some away.
One hedge fund manager based in Zurich told me it's getting so bad he is considering moving his fund. Other financial companies are doing the same math. At its peak, there were 162 foreign-owned banks here. Now there are 121. Assets under management have fallen 7% in the last couple of years.
The aforementioned Bewes comments on the Swiss penchant for bureaucracy:
"Switzerland is a bureaucracy as much as a democracy. Swiss red tape makes all others look pink. They love pieces of paper. To the Swiss mind, if it doesn't have a paper record, it doesn't exist."
Beyond the increasing regulatory costs there is, of course, the rapidly appreciating Swiss franc — which took over the headlines last month. Everything here is about 20% more expensive than it would've been had I come earlier.
The strong franc makes it tougher for Swiss exporters. Swiss banking services become more expensive, too. Julius Baer, a Swiss private banking group, already announced cuts. Here is an excerpt from an article at SwissInfo:
"The industry is also bracing itself for the negative effects of the strong franc that soared 20% against the euro when the Swiss National Bank abandoned its euro peg on Jan. 15. Julius Baer announced on Monday that it needed to save CHF100 million by shedding some 200 jobs as a result of the strong franc pressures on margins."
The franc has long been among the better of the world's monetary brands. The currency dates to 1850. Before that, every canton had its own currency. Some monasteries even issued their own currency. Coins from the old Helvetic Republic would circulate too. In total, some 800 different coins were legal tender.
I've been here all week and I have yet to see or touch a Swiss franc, actually. So far, I've paid for everything using credit cards. These days, money in any modern economy is overwhelmingly just blips on a screen somewhere.
In any event, I think the Swiss will come out of it all right. This is one of the richest countries in the world per capita. Zurich is a comfortable and pleasant city. I can readily see why it is routinely ranked among the world's most livable cities.
I'm traveling with Thompson Clark, editor of Agora Financial's Microcap Millionaires. We've enjoyed walking the narrow and winding medieval streets of the old part of town.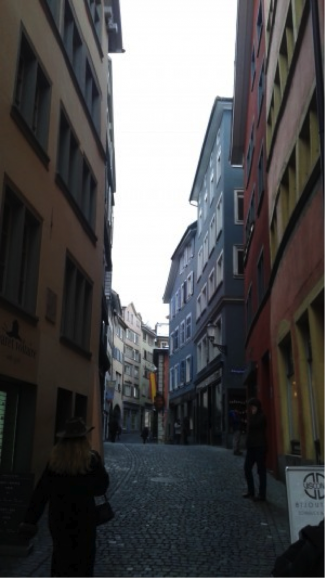 Switzerland's famous neutrality spared it the bombings and destruction suffered by other European cities. Our hotel boasts that is has been serving guests for over 650 years. As Thompson says, "Maybe you should write about how all the buildings are so old because the country has never been blown up."
Done.
Regards,
Chris Mayer
for The Daily Reckoning
P.S. I'll have more from Switzerland in a future letter. For now, be sure to sign up for The Daily Reckoning. Articles like this one that you find here on our website are only a snippet of what you receive in The Daily Reckoning email edition. Click here now to sign up for FREE to see what you're missing.