Focusing On The Wrong Thing
The major U.S. stock indexes got slammed hard at the start of trading this morning — but as we write, the damage looks less severe.
Small caps are taking it the hardest, the Russell 2000 down three quarters of a percent. But the S&P 500 is down only a quarter-percent, at 2,075.
The proximate cause of the early-morning panic was an 8.5% sell-off overnight in China.
There was no obvious trigger for the sell-off: Figures showed profits at Chinese industrial firms during June fell 0.3% from a year ago. Big whoop.
Chalk it up, perhaps, to a collective loss of confidence in the Chinese government's measures to arrest a 30% drop in the Shanghai Composite Index going back to mid-June. Those measures included a ban on short selling.
Today's drop was all but inevitable. Earlier this month, we cited a well-founded rant by money manager Barry Ritholtz. It's worth revisiting this morning. "Short sellers are typically the first to buy during a crash. Why? They have no risk in making the buy, as they are closing out an existing position. Thus, they act as a floor under a falling market.
"The strongest collapse in U.S. equities took place after the SEC banned short selling in September 2008."
Back to the U.S. market: The S&P 500 bounced off support in the first hour of trading. So the primary uptrend going back nearly four years remains in place — that's the solid blue line on this chart going back the last 12 months.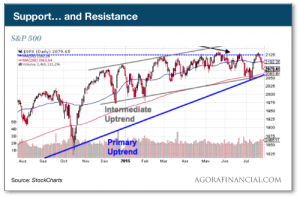 Of more significance to Jonas Elmerraji at our trading desk is the dashed blue line near the top. For the fifth time in five months, the index hit a ceiling at 2,125 a week ago today. Could a sixth try mark a breakout? "Things start to get interesting if the S&P can move materially above 2,125," says Jonas.
"Expect earnings to remain a major market-moving factor in the next month or so. At this point, 185 S&P 500 components have reported their numbers to Wall Street for the second quarter — and 75% of those reporting companies have bested analysts' best-guess numbers. That's a pretty solid beat rate, and it could help take out some of that selling pressure up at 2,125."
Gold raced past $1,100 again late Friday afternoon but can't hold it this morning. At last check, the bid was $1,097.
The bargain gold price has breathed life into moribund sales of U.S. Gold Eagles. So far in July, 266,500 ounces of gold coins have exited the U.S. Mint's doors.
That's already the highest monthly total since April 2013. Not coincidentally, that's the month when gold tumbled $200 in a week.
Silver Eagles, you wonder? As we mentioned on July 8, sales to the Mint's dealer network have been suspended thanks to high demand. It was supposed to be for only two weeks, but two stretched into three and three is about to become four. To be continued…
Here's a contrarian indicator gold bugs might like: Hedge funds have collectively gone bearish on gold for the first time on record.
Figures from the Commodity Futures Trading Commission show hedge funds and other speculators are net short 11,345 contracts in futures and options for the week ended last Tuesday.
That's never happened before… although we caution the records go back to only 2006.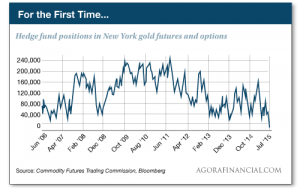 Regards,
Dave Gonigam
for The Daily Reckoning
P.S. Be sure to sign up for The Daily Reckoning — a free and entertaining look at the world of finance and politics. The articles you find here on our website are only a snippet of what you receive in The Daily Reckoning email edition. Click here now to sign up for FREE to see what you're missing.