Are Tech Stocks About to Crash the Nasdaq?
You should make a hasty getaway if a big-name tech stock is weighing down your portfolio…
The market continues to lurch lower this week. Retail stocks were the first to burst into flames. Now household tech names and biotech stocks are feeling the market's wrath as the weekend approaches. The Nasdaq Composite is a shell of its former self, lagging the major averages and hosting some of the biggest blow-ups on the market right now.
The Nasdaq Composite dropped another half percent yesterday—even though the Dow Jones Industrial Average managed to finish the day in the green. That's not an isolated incident. The tech-heavy index and the Big Board broke up three weeks ago. In the meantime, the Nasdaq has dropped nearly 5%.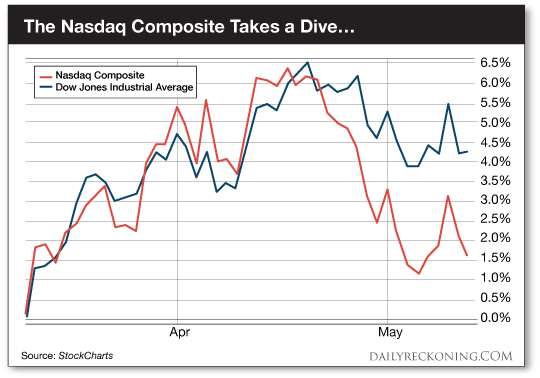 We've kept close tabs on the tech wreck as it has ripped through the market over the past several weeks. And as we warned earlier this month, it could get much worse before it gets better.
In case you haven't bothered to keep track, the list of terrible tech earnings just keeps getting longer. Google's parent company Alphabet missed analyst estimates for earnings and revenue for the first quarter. Microsoft whiffed on first quarter earnings. Twitter has quickly reclaimed garbage stock status as it pushes new lows.
And it's not just the garbage stocks that are dragging the Nasdaq to hell. Even Apple Inc. (NASDAQ:AAPL) and Netflix Inc. (NASDAQ:NFLX) shares are feeling the burn. In fact, these two stocks helped lead the Nasdaq lower yesterday.
Apple and Netflix each dropped more than 2% Thursday, while Apple pushed new 52-week lows.
These household name stocks aren't going down without a fight as they try to spin some positive news for investors. The good folks at Apple just laid out $1 billion in cash to buy Chinese Uber competitor Didi Chuxing. Does the market care? Not one bit…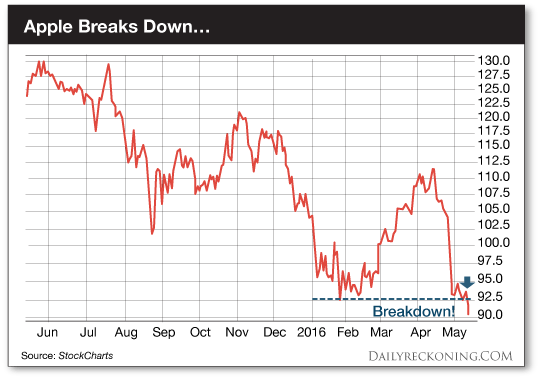 Then there's that other tech group— I'm talking about biotech. These stocks staged a nice little relief rally back in late April. While the major averages were taking long walks off short piers, investors actually gobbled up biotech stocks, shunning the "safe" utilities sector.
At the time, utilities had been this year's big winners. The sector was up nearly 17% through early April. Along with consumer staples, this was the place you wanted to be if you were looking to ride out the year's early storm. This rush into biotech changed all that…
But the relief rally was short lived. Now, it's looking more like a dead cat bounce.
Take a look for yourself: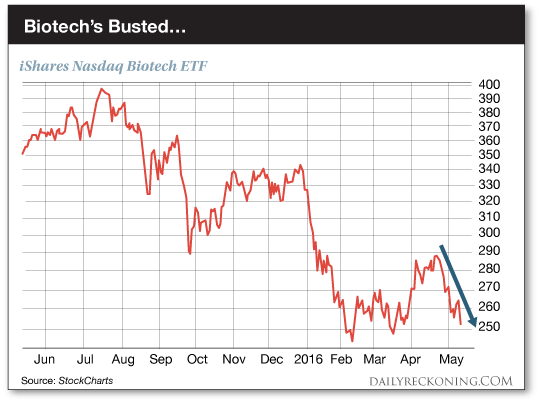 Biotech stocks are getting dangerously close to their February lows. A break below this mark would probably lead to even more carnage in the sector.
We're already seeing some of the biggest biotech names crumble this week.
John Murphy notes on his Stockcharts.com blog that Biogen (NASDAQ:BIIB) has once again dropped below its 50-day moving average, while Gilead Sciences (NASDAQ:GILD) is perilously close to posting new 2016 lows. These are major Nasdaq names that have the potential to drag the entire biotech sector lower…
Whether we're talking big-tech or biotech, these aren't the sectors you want to jump into right now for trades on the long side. And if the these sectors can't contain the damage, lower prices are sure to spread to the rest of the market…
Sincerely,
Greg Guenthner
for The Daily Reckoning
P.S. Make money in a falling market–sign up for my Rude Awakening e-letter, for FREE, right here. Stop missing out on the next big trend. Click here now to sign up for FREE.