America's Choices: Stable Entitlements, More Cronyism or More Inflation
Here's the problem with central banks seeking higher inflation: costs go up but wages don't.
It's easy to quantify the annual cost of Social Security/Medicare, and not so easy to calculate the cost of Cartel Cronyism and Central Bank-created inflation. Cartel cronyism is a hidden tax on the entire economy, as is Central Bank-created inflation.
This matters because the number one cause of the high cost of living is artificial scarcity created and maintained by monopolies, cartels, and the government that serves their interests. Artificial scarcity imposed by cartels and a servile state is the primary cause of soaring costs in a variety of sectors.
There are many factors that generate artificial scarcity: regulatory capture/ regulatory moats designed to protect cartels and monopolies from competition, a lack of affordable capital available to small enterprises, thickets of regulations that don't really serve the public interest, educational institutions that don't teach the fundamentals of entrepreneurism and how to start and operate a small business, and so on.
That makes it easy for the financial-political Oligarchy to continue their skimming operations, because nobody says Cartel Cronyism cost us $1 trillion last year, and central bank skimming (inflation) cost us another $1 trillion.
The stark reality is there are limits on what we as a nation can afford in the long term.
Borrowing trillions of dollars annually at low rates of interest creates a magical-thinking illusion that we can just tack on another $10 trillion, or what the hay, make it $100 trillion, and get away with it, because we've gotten away with it so far.
This leaves us an equally stark choice: we can only afford one of these three crushing costs:
1. Limited Social Security/Medicare (no nation can afford unlimited anything, including healthcare)
2. Central bank inflation/credit expansion. All central banks desperately want higher inflation, which acts as an economy-wide tax on wage earners whose incomes are not rising along with inflation.
3. Cartel Cronyism You know the drill: regulatory capture, monopolies enforced by the central state, cartels that eliminate competition via absurdly complex regulations imposed by the state, etc.
One of my correspondents, a doctor, recently sent me an example of cartel cronyism in the Big Pharma sector:
"A lot of people don't know that if a Big Pharma company makes a pill with a new dose, or new method of administration of an old, generic drug – in the eyes of the FDA it becomes a new, on-patent drug, which no other Big Pharma company can copy, thus setting the stage for making billions with minimal R&D costs.
Naloxone was invented in 1961, and was in standard use when I started my medical training in 1974. It is a terrific drug – within 60 seconds it completely reverses the effects of narcotics, making it a life-saver for folks who've overdosed. I have used it many times with great success. So far, so good. Per goodrx.com, I can buy two pre-loaded syringes of naloxone for $34.12 today.
There is virtually zero learning curve – it works if injected under the skin, in a muscle, or in a vein. For an untrained person facing an overdose patient, you can just stab the needle up to the hilt into a buttock or shoulder, and push the plunger – it's that easy. If it's truly life or death, you can stab it through clothes – sound hard?
Well, kaleo pharmaceuticals have repackaged it in an auto-injecting form, with a little voice-guided thingy – somehow managed to make it a no-copay for folks with health insurance, and you can get it in my area for – are you sitting down? – $3,844.60! That is more than one hundred times the cost of the two pre-loaded syringes.
It MIGHT be worth it if it was really hard to use, and required an auto-injector and voice commands – but it's easy as pie – I could teach you how to use the pre-loaded syringe in 5 minutes. At a savings of $3,810.48."
The advert claims "$0 copay for commercially insured patients." So as long as somebody else pays the $3,844.60 — insurers, the government, anybody but the patient — it's all "free," right?
Well, actually, no.
The soaring cost of cartel cronyism is paid by all of us when the federal government borrows money to pay the bills or insurers are nailed for fraudulent charges, overbilling, needless tests and Big Pharma's 100-fold cost increases.
Medicare costs are expanding at a rate that far exceeds the GDP growth of the economy which supports Medicare spending.
There is only one end-game to this chart: bankruptcy of the federal state and the nation.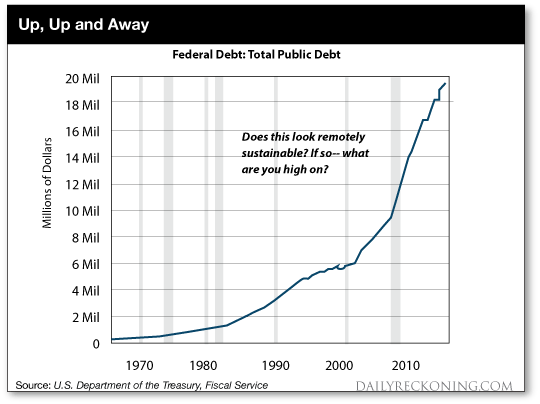 Here's your central bank in action: credit growth has outstripped tepid GDP growth of the real economy that has to pay interest on all that new debt.
Here's the problem with central banks seeking higher inflation: costs go up but wages don't. So wage earners become poorer, and have to trim spending or borrow more to get by or maintain their lifestyle.
So choose wisely, America — you can only afford one: entitlements with some limits, cartel cronyism or central bank credit expansion/inflation.
If you're having trouble making the choice, start by asking of each option: cui bono — to whose benefit?
Regards,
Charles Hugh Smith
for The Daily Reckoning