A "Win-Win" Scenario for Ukraine's Energy Sector
So is this what the mess in Ukraine is all about?
The new anti-Russian government is moving to privatize the nation's energy sector. Well, at least that's according to the pro-Russian Interfax-Ukraine news agency.
It quoted the new prime minister, Arseniy Yatsenyuk, at a meeting with business leaders on Monday: "I'll tell you about the idea of privatization of the energy sector at transparent auctions: Chornomornaftogaz and other companies, which are part of Naftogaz Ukrainy," the national gas and oil company.
We find no other account of this meeting. But it has the ring of truth, at least…
Mr. Yatsenyuk was Washington's handpicked choice for prime minister in the new Ukrainian government.
We know this from the recording of the now-infamous F-bomb phone call between Assistant Secretary of State Victoria Nuland and the U.S. ambassador to Ukraine. "I think Yats is the guy who's got the economic experience, the governing experience," said Ms. Nuland.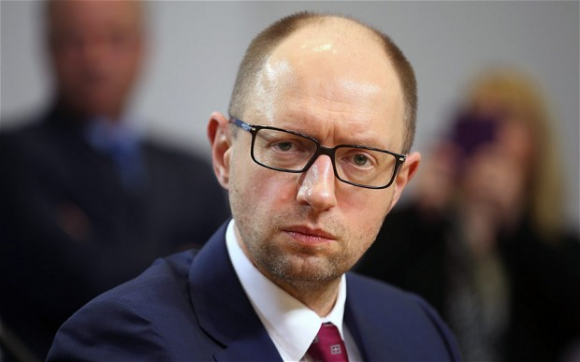 "Yats"… They even had a pet name for him
Now… We take a back seat to no one when it comes to privatizing government functions that can be handled better by the private sector. But we're fairly sure that in the sale of Naftogaz's assets, the beneficiaries will be Ukraine's pro-Western oligarchs. Hey, it's their turn after the pro-Russian oligarchs used Naftogaz to buy Russian gas at artificially low prices and pocketed the difference.
"The [previous] government was rotten to the core… but most governments of Ukraine will be rotten to the core," says George Friedman of the private intel firm Stratfor, "partly because there is no tradition of respect for the law, and because of the way property was privatized [when Ukraine became independent]."
The sale will surely be good news as well for anyone reckless enough to buy Ukrainian government bonds — European banks hold more than $23 billion in outstanding loans. Heck, the proceeds might even total the $35 billion Ukraine says it needs to avoid a default. Win-win!
Regards,
Dave Gonigam
for The Daily Reckoning
Ed. Note: This brand of unique commentary is just the kind of analysis you can expect each day in The Daily Reckoning – including several opportunities to learn how to safeguard your wealth no matter what happens. If you're not getting it, you're only getting half the story. Sign up for FREE, right here, to ensure that never happens again.