Physical Gold Demand Remains High
Physical gold demand remains high, futures push prices up.
Bloomberg reported earlier this week that the central banks of Russia and Kazakhstan added substantially to their gold holdings in defiance of the wave of gold bearishness sweeping the market since April, according to a recent IMF report.
"Russian holdings, the seventh-largest by country, climbed 8.4 metric tons, to 990 tons, taking gains this year to 3.4% after expanding by 8.5% in 2012, International Monetary Fund data show. Kazakhstan's hoard grew 2.6 tons, to 125.5 tons, taking the increase to 8.9% this year after a 41% expansion in 2012, data on the website showed."
Alexandra Knight, an economist at National Australia Bank Ltd., noted, "The longer-term trend for central banks to increase gold reserves remains intact."
Gold was up over $1,400 intraday on Tuesday, boosted by growing physical demand and rising futures prices. After pulling back slightly it was back up to close at $1,390 on Wednesday.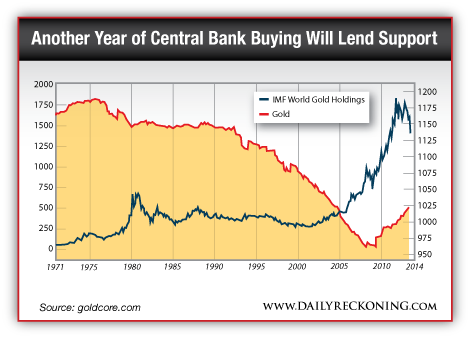 Goldcore.com noted the increase in central bank purchases of physical gold worldwide has been increasing steadily since 2008 as a foreign exchange portfolio diversification. Many speculate Greece may also be buying to brace for an exit from the eurozone in order to shore up a possible return to its own currency. (image credit: goldcore.com)
Major gold purchases by central banks run countercurrent to recent projections by major banks such as Goldman Sachs and Credit Suisse that gold's decade-long secular bull market is over, with projections ranging as low as $1,100 for 2013.
Regards,