Breaking News: US Economy No Longer #1... Maybe
Maybe we haven't had enough coffee today… but we're finding it hard to get up any kind of reaction to the following…

Ooh, but that wasn't supposed to happen till 2019, the link at the Financial Times says.
Seems the wonks at the World Bank have decided that fiat currency goes a lot further in developing countries than they used to think. Thus, they've revised their forecasts. We went in search of a chart representing this revision and found one at The Economist…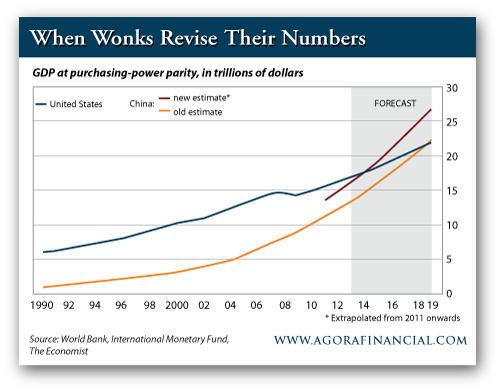 And you know what? After staring at the chart and downing another cup, we still can't rouse ourselves.
For one thing, the United States still has a population roughly a quarter the size of China's. So there's still a lot more "economic output" per person in the U.S., right?
But there's a more fundamental problem: In the end, the statisticians are still relying on gross domestic product — GDP — which, as we've long pointed out, is a statistical abstraction that has no bearing on your life or your job or your standard of living.
"It's just a number that economists can play with," our Chris Mayer reminds us.
Chris points to a recent Financial Times piece that says Nigeria has become Africa's largest economy, simply because the government there changed the way it measures GDP.
We can never cite this example enough, courtesy of Agora Inc. founder Bill Bonner: If you mow your lawn and your neighbor mows his, GDP is unchanged. But if you mow each other's lawn and pay each other $30 to do so, GDP miraculously grows by $60.
"GDP," concludes Chris, "is an abstraction too far removed from reality. Yet people make real-world policy on this fantasy as well as a witch's brew of sister concoctions."
God must have a wicked-good sense of irony: The China-will-surpass-the-U.S. story came out the same day the Commerce Department issued the latest "fantasy" GDP figure… and the Federal Reserve will draw on GDP in deciding "real-world policy" later today.
The GDP number for the first quarter stunk. It registered an annualized increase of 0.1% — lower than even the most pessimistic guess among dozens of economists polled by Bloomberg.
Digging into the numbers, we see consumers are still spending, but business investment is down and exports are darn near collapsing.
But hey, chalk it up to the rough winter, right? That's what they've done with every other lousy number this year.
Thus, the big U.S. stock indexes are ruler-flat today, holding onto yesterday's modest gains. Gold is also little changed, at $1,292.
As for the Fed, its latest policy pronouncement came this afternoon, this time absent one Janet Yellen… and thus no opportunity for her to make the kind of "stumble" the media pounced on after her first news conference as Fed chairwoman six weeks ago.
Then, she was pressed to specify how soon the Fed might allow the fed funds rate to start rising once the current round of bond buying/money printing is wound down later this year. She said, "about six months."
There was a momentary market panic, the Dow shedding 100 points.
We've been thinking about this "stumble" ever since, and we've come to the following conclusion: What else was she going to say?
Imagine if she'd told the truth: "I can't tell you when we'll make that call. It all depends on the economic data and whether they meet certain thresholds. And frankly, those thresholds might change another six or 12 months down the line, depending on other variables, and I can't tell you what those variables might be right now. In fact, even the kind of data we find relevant now might be less relevant in another six or 12 months; we might find other data more relevant by then."
That would be an honest answer. It would also tank the market a lot harder and longer than 100 points in an afternoon… because the obvious takeaway would be, "These people have no idea what the hell they're doing."
Regards,
Dave Gonigam
for The Daily Reckoning
Ed. Note: Of course, while the yahoos at the Fed might not know what the hell they're doing, there are a handful of people who do… These are the people to whom you should be paying particular attention, and you can get exclusive commentary straight from the source of this contingent of financial gurus by signing up for The 5 Min. Forecast, right here.