Is China Launching an Attack on the U.S. Dollar?
DATELINE (BALTIMORE) Tuesday, Aug. 11, 9 a.m. Beijing time might prove to be the new date that will live in infamy, because that's when China announced it was devaluing it's currency.  And some speculate this also marks their official attack on the U.S. dollar.

That's what Jim Rickards, the financial warfare adviser to the CIA, NSA and 14 other U.S. national intelligence agencies, are urgently warningall Americans about at this time.
As the man who literally wrote the book on currency wars, Rickards calls this a "sneak attack" in the currency wars between the world's two largest economies — the United States and China.
Just a few hours after China's decision to de-peg its currency from the dollar, global stock markets, commodities and currencies started gyrating wildly.
In fact, the S&P 500 descended into negative territory for the first time since mid-July after the yuan devaluation sent shock waves through the global markets.
And Jim Rickards says these currency wars are just heating up.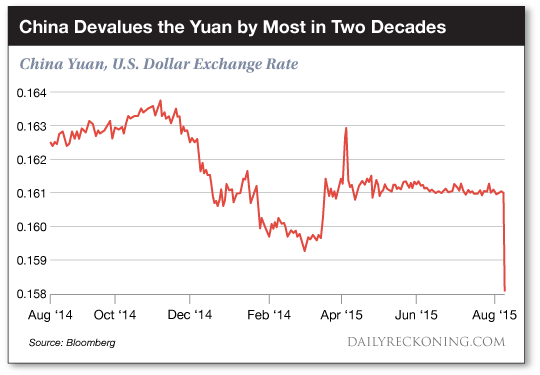 A global currency war could impact millions of American stocks and retirement plans. New book explain everything and what to do now.
Headlines cover the front pages of sites like MarketWatch.com warning, "China Could Trigger the Biggest Financial Rout Since 2008" and "China Yuan Devaluation Is a Game Changer for Fed on Rates."
USAToday reports, "Stocks Tumble for 2nd Day as China Further Devalues Yuan"…
And Bloomberg says, "Concerns China's economy is faltering torpedoed stocks around the world"…
In short, because China and the United States are the world's two biggest economies — everything that China is doing to their currency affects the lives of more than 300 million Americans.
A weaker yuan means an even stronger dollar than before, making Chinese imports to the U.S. cheaper. This is deflationary — and deflation is exactly what the Federal Reserve is trying to fight this year.
The Fed, which has hinted at raising rates recently, may not do so now, because raising rates would be even more deflationary. On the other hand, a currency war between the world's two largest economies could quickly ignite global inflation if it gets too out of hand.
What does the world's foremost expert on the interplay of world currencies recommend for American investors?
How far will the stock market fall, and what should you do if it crashes?
How can you prepare yourself?
Those are all topics that Jim Rickards covers in his newest book, The Big Drop: How to Grow Your Wealth During the Coming Collapse…

As part of a nationwide push to educate as many Americans as possible, for a limited time only, this two-time New York Times best-selling author is making his latest book available for free to any U.S. resident with a valid mailing address.
Simply click here to see Jim Rickards' warnings for yourself and discover how to receive your free book (while supplies last).