Your Secret Obsession Can Make You Fast, Double-digit Gains
Hey, I saw that!
I saw you chuck that gluten-free toast with the tofu spread your wife made you, and grab that hidden box of donuts out of your desk.
I'm onto your little game. You claim you're turning over a new leaf (kale, perhaps?). But you're still choking down the junk.
How else can you explain this?
"Doughnut sales from quick service restaurants, like Krispy Kreme and Dunkin' Donuts, are up for the third straight year, after several years in decline," the Washington Post reports. "Doughnut giant Krispy Kreme reported a 9 percent increase in earnings in its first-quarter earnings report, beating its own internal estimates. Revenue was up more than 37 percent from the first quarter a year ago."
So while the old-codger fast food restaurants like McDonalds continue trying to appeal to "healthier" tastes, we're all sitting around stuffing our faces with garbage.
Even the old-school "healthier" fast food options are taking a hit in today's market. Have you been "eating fresh" as Subway? No? Well, they're trying to win you back by getting rid of artificial ingredients. But it's not working…
"Subway's U.S. sales last year declined 3 percent, or $400 million, falling faster than any other of America's top 25 food chain," The Washington Post explains. "The mega-deli was also knocked back to America's third best-selling food chain for the first time in seven years."
I know what you're thinking…
If the trend is toward healthier options, then why are these "healthy" moves by the major fast food chains getting the back of the hand from customers and investors? And why in God's name are people eating more donuts?
I think I've figured it out—this whole healthy food thing is one big lie. We all say we want to eat healthier. But in reality we just want fresher food that tastes better. That four-pound burrito you ordered at Chipotle yesterday may have been filled with hormone-free meat. But it was still 1,800 calories.
Just compare red-hot IPO Shake Shack to fast-food fossil McDonalds. Shake Shack has been one of the highest fliers of the yea. But Mickey D's can't get off the mat. Look at the damn thing, flat as the prairie: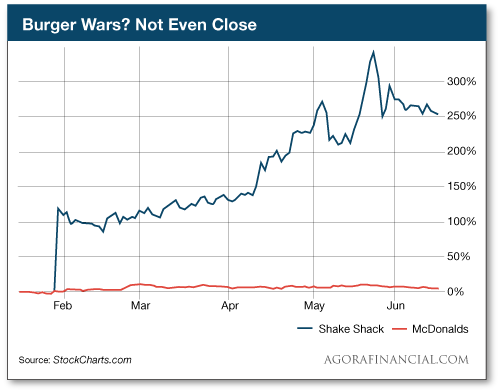 Look, I've been yapping about the "better" fast food trend for quite a while. And while genuine health food and organic offerings have gained traction over the past few years, the real trend is just new food that actually tastes great. And last I checked, donuts were still damn tasty. But a burger from under the McDonald's heat lamp? I'll pass…
So I'm granting you temporary amnesty from whatever fad diet you're following at the moment. Instead of that plate of bean sprouts, why not get yourself over to Dunkin' Donuts? Because that stock is putting on the pounds.
Regards,
Greg Guenthner
for The Daily Reckoning
P.S. Grab me a donut! If you want to cash in on the biggest profits this market has to offer, sign up for my Rude Awakening e-letter, for FREE, right here. Stop missing out. Click here now to sign up for FREE