Your Front Row Seat to the Next "Big Oil"
When it comes to America's shale boom your eyes shouldn't be on big oil, explains our own Matt Insley.
"Pardon me while I generalize substantially. But, big oil left the U.S. oil patch years ago," Matt says. "Companies went overseas, they went offshore, they started researching alternative fuels – with each step they moved further from conventional oil production. These big companies were thinking conventionally. They thought the commercial amounts of U.S. oil were long-gone."
But as it turns out, their calculations were a little off…
Fortunately for investors like you, small, relatively unknown innovators were able to move in on America's shale plays.
"They thought unconventionally and it's paying dividends today," Matt explains. "As these companies gear up production and start lowering costs with efficiencies we're in for a few Exxon-like run-ups."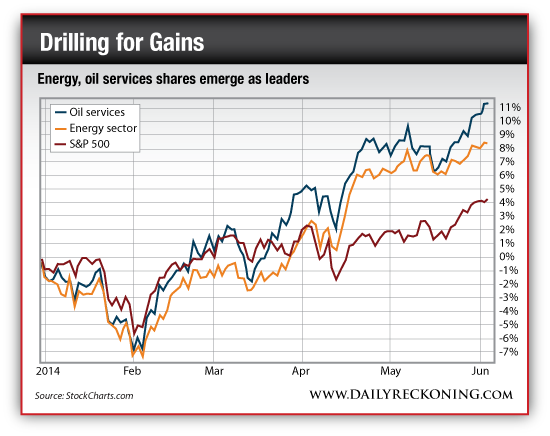 Right now, the market's loving all things energy related. The oil services sector is leading the way in 2014, up more than 11.3% after posting more new highs yesterday afternoon. The energy sector isn't far behind, boasting year-to-date gains of 8.4%. Meanwhile, the S&P 500 is up just 4.3% on the year.
The biggest gains, however, are set to come from the smaller explorers.
"Just as Exxon got its start back in the U.S. oil patch, a few companies are set to ramp up production and grow larger than most Wall Street analysts would ever believe." Matt continues. "It's THESE companies I urge you to focus on today, not the big oil companies, like Exxon."
Regards,
Greg Guenthner
for The Daily Reckoning
P.S. For the most part, the companies Matt is talking about don't have much international exposure or offshore activity. They are simply focused on producing as much American oil as they can, as cheap as they can. Sign up for the Rude Awakening for FREE today to see how you can trade these trends for huge gains…