You Can't Afford to Ignore This Threat Any Longer...
What was it like to get busted?
You know, when hackers recently released the member names of online cheating site Ashley Madison – the site with the motto Life is short. Have an affair.
Must have been brutal…
What, you say you weren't on that list? Sorry, I must have confused you with somebody else with the same exact name. It happens.
Whether you were on that list or not, this is just one example of the growing menace hackers are posing. Your personal information– credit cards, bank accounts, Social Security number– it's all under siege. Either you've been a victim or you will be a victim at some point.
But there's hope. And today you'll learn about a cybersecurity play that could bag you some fast double-digit gains over the next few months while you simultaneously help to defeat the bad guys. After all, these cybersecurity firms develop the countermeasures to stop these bandits cold.
Look, I'm not being paranoid here. Hackers across the globe are targeting U.S. businesses and government agencies. And you. They're routinely exposing massive security flaws across the board. Heck, even the president has been forced to deal with cybersecurity issues.
Just this past weekend, Obama commented on China's suspected involvement in some recent high-profile hacks. In preparation for a visit from Chinese president Xi Jinping, Obama said the "two sides would have to agree on common rules in cyberspace, arguing 'there comes a point at which we consider this a core national security threat and we will treat it as such," the BBC reports.
So just how bad have recent hacks made things for the White House? Well, officials just announced that Obama would no longer use the Waldorf Astoria in New York. And the BBC reminds us that the Waldorf was just purchased by a Chinese company last year. Coincidence? Not likely. Now who's being paranoid?
Here's the deal:
We've talked about this theme many times before in these pages—and there's a big reason why. Cybersecurity is shaping up to become the play of the decade. No information is as secure as it seems. And most corporations are painfully behind the curve when it comes to protecting their data– and your data! That's the reality of the digital world in which we now live…
These hacks aren't isolated incidents. As I told you just last month, hackers obtained the personal information of up to a million former federal employees. And Goldman Sachs counts 17 high-profile cybersecurity breaches over the past 12 months alone.
So with all of this activity in the industry, cybersecurity stocks much be flying high, right?
Not exactly. In fact, many of the industry pure plays have fallen out of favor with investors ever since the stock market began losing steam over the summer…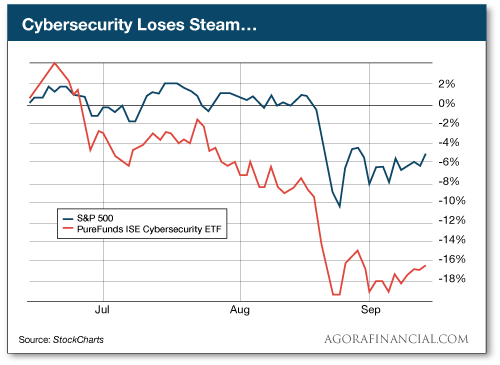 The PureFunds ISE Cybersecurity ETF (AMEX:HACK) has dropped more than 16% over the past three months, while the S&P has only faded about 5%. While cybersecurity stocks were some of the best stocks to own during the first half of the year, their performance has slipped over the past few months.
However, some of these stocks are beginning to show signs of a swift turnaround…
You should already be familiar with Palo Alto Networks Inc. (NYSE: PANW). We booked a 35% gain on our PANW trade back in the summer before these stocks started to slip. And now, you have a second shot at booking double-digit gains by betting on this cybersecurity leader.
Palo Alto Networks is the top dog in the space. And that matters a great deal right now since the market continues to punish all but the very best stocks.
PANW is another one of those stocks that was quick to shake off the sharp August pullback.  Now it's tracking its July highs, giving you another shot at cybersecurity gains.
Sincerely,
Greg Guenthner
for The Daily Reckoning
P.S. Don't think it can't happen to you! If you want to cash in on the biggest profits this market has to offer, sign up for my Rude Awakening e-letter, right here. Stop missing out. Click here now to sign up for FREE.