Was Yesterday the Start of The Big One? Here are 3 Things to Do Right Now...
Was yesterday the start of the big one?
Unless you've been in a coma the past 24 hours, you know the news out of Greece triggered the biggest stock plunge of the year. Will it get worse? And what should you do now?
Today I'll show you three things you must do next…
Before I get to anything else, I advise you to tune out the news. You don't need all that noise distracting you today. It's not time for panic moves, radical guesses or some BS poll about whether or not Greece will file divorce papers with the European Union. No, the market's telling us everything we need to know. And it's the only opinion that counts.
So here's how the day played out, and what stocks are saying about their next move:
Monday trading started off innocently enough stateside–even as the rest of the world's market's trembled. If you were totally unaware of the Greece debacle, you'd think it was a typical Monday morning, I told the 5 Min. Forecast's Dave Gonigam as I refilled my coffee early yesterday.
At the time, the Nasdaq was leading the loss parade– down about 1%. No biggie…
But as the day progressed there wasn't a buyer in sight. Then stocks fell off the cliff to end the day. So much for a boring summer! The S&P put the snooze-fest to rest with a splat, posting its first 2% decline since October. Ouch.
But are we really looking at the big one–the start of a serious correction? Too soon to say. However, the market is starting to flash some warning signs…
"The S&P 500 is coming dangerously close to finishing the second quarter in the red, which would end a streak of nine quarters in a row of gains (not including dividends)," Bespoke Investment Group reports. "Going back to 1928, there have only been three other periods where the S&P 500 went nine or more quarters without a decline."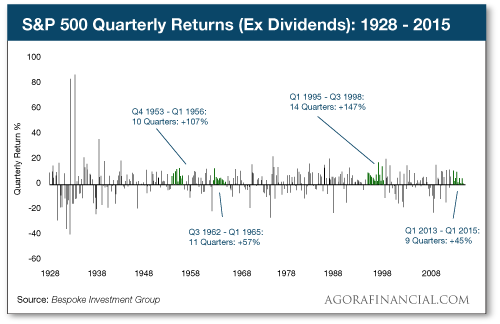 Time for a combo-breaker? Buckle up– we get to find out today!
To recap:
Stocks have been choppy all year. After trading in a tight range for weeks, we saw stocks within spitting distance of all-time highs last week. Now, the S&P is in the red for the year. But frankly, it doesn't matter if it's because of Greece or if Saturn's moons are perfectly aligned. We're in the danger zone–and it's time to act.
So here's what you should do right now:
1. Tune Out
The news can't save you. And they'll be throwing every talking head they can at you over the next few days. You'll be bombarded by opinions–yet you'll only hear what you want to hear. So why bother letting them try to get into your head? The news doesn't determine what's important. That's the market's job. It does its dirty work with price. If stocks continue to sink, the bad news will get worse, not the other way around.
There's a reason financial news network ratings are hitting record lows. And trust me, they're going to milk whatever's left of this crisis for all it's worth. Don't give in to the beast…
2. Lighten Up
Yes, you're going to encounter some losses in your trading portfolio. Any trader trying to bat a thousand is going to earn nothing but disappointment–even in the best of trading environments. Sell when it's time to sell and don't get cute. Obey whatever stop losses you've set without exception. You can't wish your stocks higher.
3. Search for Strength
You'll find opportunity in almost every market. And each new day brings a new bucket of potential trades. For instance, you might have noticed that a few biotech stocks were spared from the market's wrath yesterday. This could be a space where we find some refuge this week and beyond.
I'll spend the rest of the week rooting out some of the market's best hiding spots for you.
Stay tuned…
Regards,
Greg Guenthner
for The Daily Reckoning
P.S. Don't let your emotions get the better of you. If you want to cash in on the biggest profits this market has to offer, sign up for my Rude Awakening e-letter, for FREE, right here. Stop missing out. Click here now to sign up for FREE.