Warren Buffett Would Never Buy This Stock... But You Did!
Warren Buffett is your friendly neighborhood billionaire.
He enjoys Coca-Cola and ice cream cones at his annual Berkshire Hathaway love fest, which was held in Omaha over the weekend. Folks show up by the thousands to hear his folksy banter and market opinions.
They must think some of the Oracle's value investing savvy might rub off on their sorry brokerage accounts. Or maybe Buffett will accidentally drop a fat wad of hundreds for some lucky attendee to find…
Because he certainly doesn't dole out a lot of stock picks.
You won't hear about any groundbreaking high-tech companies at the Berkshire meeting. Uncle Warren is not a fan of technology. He's probably the kind of guy who calls his grandson to come over when his computer is acting up.
But he did mention one of your best performing trades yesterday, juicing it to new highs for the year. Even though Buffett would never buy this stock, he did admit that the company and its innovative founder are making waves.
So what's the innovative company that has earned Buffett's admiration? Amazon, of course…
We're not going to out-Bezos Bezos, Buffett said about the Amazon CEO in response to a question about the effect of online retail's stiff competition against traditional retailers such as Walmart.
"It's a telling remark considering that Berkshire owns a large stake in Walmart— which has arguably been hurt most by the rise of Amazon," CNN Money reports. "Berkshire also is a big investor in Costco."
While Amazon stock is probably too expensive for the folks at Berkshire to ever consider, Buffett's nod of approval is helping Amazon recover the ground it lost during the first quarter. Amazon was one of the best performers in the S&P 500 during a slow session yesterday, rising nearly 4%. The stock posted new 2016 highs—and is within spitting distance of its own all-time highs set late last year.
Amazon is arguably one of the most important companies in the world right now. It's disrupting more than a handful of industries and growing at an almost unbelievable pace.
But things weren't looking so hot for the E-tail king earlier this year. One of the biggest surprises during the first quarter was a sharp rebound in the brick and mortar retailers everyone supposedly hates. Buffett's Walmart is a prime example. The stock has enjoyed a nice bump this year despite coming off a brutal 2015 and relentless pressure from Amazon.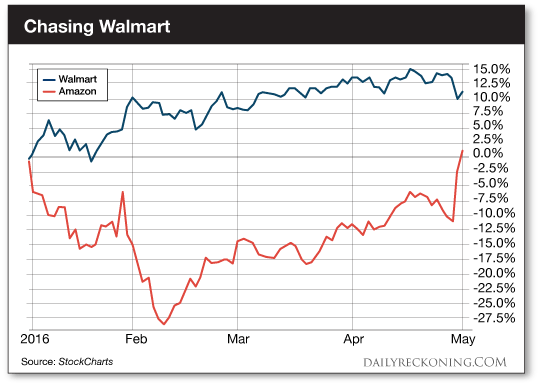 Now that Amazon stock is positive on the year, it's looking to retake its throne as one of the market's best stocks. And it shouldn't run into too much resistance. The king of E-tail is weaseling its way into every nook and cranny of every household in America. At this rate we'll all have tiny Amazon robots coursing through our frontal lobes, shipping our every whim and desire to us in minutes via drone.
Remember, Amazon stock jumped nearly 120% in 2015. After surviving a brief setback during the market's first quarter correction, there's no reason why this stock can't retake its leadership position and finish 2016 as a top performer.
Since you hopped onboard this trade in mid-April, the stock is up nearly 15% [Click here if you missed this trade]. And we think it's just getting started—even in Uncle Warren isn't buying shares…
Sincerely,
Greg Guenthner
for The Daily Reckoning
P.S. Make money in ANY market–sign up for my Rude Awakening e-letter, for FREE, right here. Stop missing out on the next big trend. Click here now to sign up for FREE.