Did Warren Buffett Just Doom the World's Greatest Growth Stock?
Warren Buffett's Berkshire Hathaway just plunked down $1 billion on Apple Inc. (NASDAQ:AAPL) stock.
Predictably, the investing class gobbled up the news. Despite its recent poor performance, Uncle Warren has finally stepped in to save the nation's most popular stock! By midday, Apple shares were up well over 3%, pulling shares out of a tailspin that threated to lay waste to the stock as it sputtered to new 52-week lows last week.
But wait just a doggone minute…
"Berkshire Hathaway's new investment in Apple was purchased by one of Warren Buffett's stockpicking lieutenants, not by the 'Oracle of Omaha' himself," The Wall Street Journal reports. "Mr. Buffett is famously averse to investing in tech companies, and has specifically ruled out investing in Apple before. But in recent years, he has added two former hedge-fund managers, Todd Combs and Ted Weschler, to Berkshire's investing team. They've shown a willingness to wade into corners of the market that Mr. Buffett himself won't touch, including the tech sector."
So Warren Buffett (who still uses a flip phone, by the way) had nothing to do with Berkshire's latest foray into the tech world. Shocking!
Do investors care? It doesn't look like it. They'll gleefully follow the headlines right off a cliff every single time. And if you're looking for growth stock returns from Apple because a couple of Berkshire boys have amassed a small stake, you might be disappointed in the results.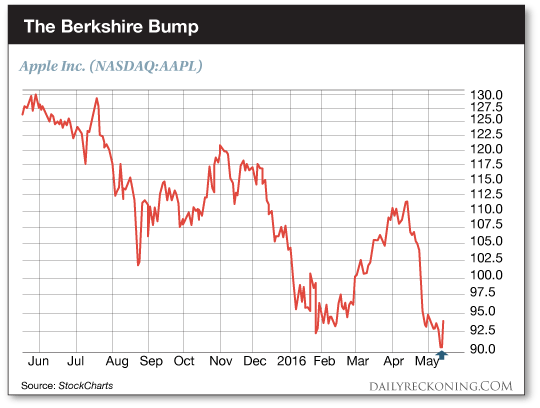 Is Apple a terrible company? Absolutely not. Right now, I can reach out and touch two Apple products that are sitting on my desk. Everywhere you look you'll see Apple's logo. The world is saturated in iPhones and iPads.
But its days of world domination and market-stomping returns are behind it. From 2003 to 2015, Apple shares rocketed more than 10,000%. I'm betting we won't see another run form this stock that will even come close to matching that performance. Apple is a Dow component now. And lately, its performance has left much to be desired…
Apple stared into the abyss last week as the stock cratered to new 52-week lows. Last month, the company announced first quarter earnings—and a 13% drop in revenue. That's the first time the company saw its revenue drop in 13 years. And experts estimate that Apple Watch sales are down a disastrous 60% since the holiday season (Apple won't release official numbers on its Apple Watch flop).
Perhaps that's why Buffett's henchmen are taking a taste of this forbidden fruit. But is Apple actually cheap? Maybe. But its stock could very well get cheaper over the next few months. Heck, it could take years before the stock materializes into one of Uncle Warren's classic value bets.
If you absolutely must buy a Dow component this week it should be Home Depot (NYSE:HD).
The world's No. 1 home improvement retailer just crushed earnings expectations and continues to see strong demand in the age of online shopping. While every other retailer is getting kicked down the stairs this month (thanks Amazon!), Home Depot is set to post new highs when the market opens today. That's gives us a much better shot at booking gains than Apple—a stock that's down more than 25% over the past 12 months.
Apple the growth giant is dead. Long live Apple— the dividend-paying Dow behemoth!
Sincerely,
Greg Guenthner
for The Daily Reckoning
P.S. Make money in ANY market–sign up for my Rude Awakening e-letter, for FREE, right here. Stop missing out on the next big trend. Click here now to sign up for FREE.