U.S. vs. Cuban Health Care: A Tale of Intestinal Fortitude
[Ed. Note: All this week in the Daily Reckoning email edition, Managing Editor Peter Coyne has been reporting direct from the streets of Havana, Cuba. He's on a fact-finding tour of the country with his travel companion Paul Mampilly — editor of Agora Financial's FDA Trader. Below, Pete relays one harrowing tale of "intestinal fortitude" from someone else he's met on the trip — and an account of the kind of medical treatment he received. Read on…]
The first thing you would've noticed about Michael was his bloodshot eyeballs.
"Let's just say I had things coming out of both ends of me nonstop," he told me over breakfast. "A lot of things."
Yummm…
The longer I look around Havana, the more I realize it's a magnificent place to have a friendly conversation… sip a mojito… or catch Montezuma's revenge.
In fact, it may be the only place in the world you can do all three things simultaneously.
Michael, a 40-something, clean-cut and preppy North Carolinian journeyed out to a private restaurant, or "paladar," the other night. Privately owned restaurants are known for better water and food standards than the government-run ones.
"I felt like I was dying. I couldn't stop throwing up or using the bathroom."
It's all relative, though, because within hours of eating, the poor chap spent the night and next two days sitting and kneeling over a 1960s toilet.
Only this morning did we see him again. He was in good physical health but still in mental recovery…
"How was everything?" we asked, concerned for our fellow traveler.
"You didn't hear?" he answered.
"Hear what?"
"The needle story…"
I leaned in… "Uhh, no, what needle story?"
"Well," Michael explained, "After I told you I was sick on Monday, I went back to my room. I felt like I was dying. I couldn't stop throwing up or using the bathroom."
For background, after Michael had told us he was sick Monday, we let the hotel front desk know our new friend needed a nurse or doctor.
"Within the hour," Michael continued, "a nurse knocked at my hotel door with a silver tray."
"In broken English, she said to me, 'Need to inject,' which I was OK with. It was some sort of anti-nausea medication to stop the vomiting. But then she clarified where she needed to stick me… pointing to my rear end."
"Oooh…" we whispered, wincing.
"I felt like hell… I barely had the energy to shake my head back and forth to say no.
"She made me lie down… ugh…"
"Were the syringe and needle separate, prepackaged and disposable, or exposed and made of glass?" asked our colleague Paul Mampilly. Paul's our investment director and editor of FDA Trader. It's the world's premier independent biotech research service. Safe to say, Paul knows what he's talking about here
"Glass and exposed," replied Michael. "She said it was sterilized… she also brought an antibiotic with her to kill the bug I caught."
Paul turned to me. "See how fast they responded? Imagine if this happened in the U.S. First, he probably would've gone to the ER. He would've been subject to a CAT scan and at least 10 other tests. Then two more nurses would've checked on him… and then a doctor. He would've racked up thousands of dollars in costs. Instead, Fidel picked up the tab."
But Michael came to us at 8:10 a.m. on Monday, and within an hour, the nurse was at his door, already had a diagnosis and treatment and treated him. It was efficient and low-cost.
"That's because," Paul continued, "basic medicine is cheap and easy to do. It's about pattern recognition. Notice she was able to diagnose Michael's symptoms without performing any tests. Without even seeing him. How?
"She took the information we gave the hotel — he was a tourist… he ate at a paladar… a few hours later, he began vomiting and using the bathroom… etc. Based on her experience, she was able to narrow down what it was. She had seen tourists before who had it. That's how she knew to bring something to stop the vomiting and an antibiotic to kill the bacteria."
In Cuba, they're able to keep costs low because they don't do testing — except for very sophisticated illnesses.
Would Michael's diagnosis have been any better if he were subjected to dozens of tests?
By contrast, we have doubts that many American doctors could do their job without tests or advanced technology. They don't use their judgment or their heads — just their eyes, following whatever the computer tells them.
More technology quickly becomes a hindrance to providing good health care. Would Michael's diagnosis have been any better if he were subjected to dozens of tests?
No system is without its flaw, however. They reuse syringes and needles because they can't afford more hygienic disposable ones. They use half-century-old sterilization techniques. People get stabbed in the rump instead of swallowing a pill. They have no standards, so safety can vary from doctor to doctor. These are symptoms of a society with no money. The less money you have, the more shortcuts you're forced to make.
In the U.S., there is what Paul calls an "expense cascade" — which is set up to generate more and more money for doctors, hospitals, insurers and medical device and drug manufacturers. That's a function of government.
In Cuba, the health care is relatively good and low-cost. Yet the (very few) resources the Cubans have are poured into their health care system. That and education. Every other aspect of life is sub-substandard. That's also a function of government.
Hasta luego,
Peter Coyne
for The Daily Reckoning
P.S. Pick your poison, I suppose. But if you pick the "expense cascade", I recommend you read this essay from our friend Jud Anglin. Jud runs a company called MedRetreat — which helps Americans find better and cheaper health care services abroad. He got started back when Hillary Clinton was pushing the health care initiative back in the '90s. He was already beset by Crohn's disease and trying to figure out a way to negotiate the insurance system on his own. Obamacare to him was a major set back. Luckily he's found a way to reduce your health care costs through a new "exchange."
P.P.S. "Peter," writes one reader, "I have the ultimate respect for you now. You are not some fake. Yes, I would love to visit Cuba. The young folks of Cuba, I believe, will welcome 'capitalism' to better their lives."
"You had to go there to find all of this out?" questions another. "Where ya been the last 30 years or so? This is what communism does."
Uhh… seeing is believing. Besides, not everything is how it seems here. More on that later. If you're interested, here are a few more photos.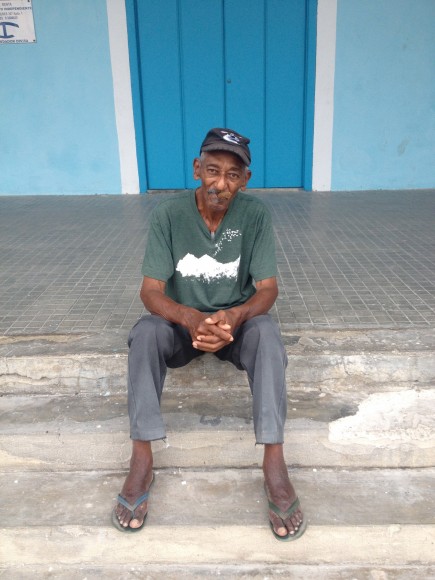 Javier, smoking a cigar in St. Francis Square.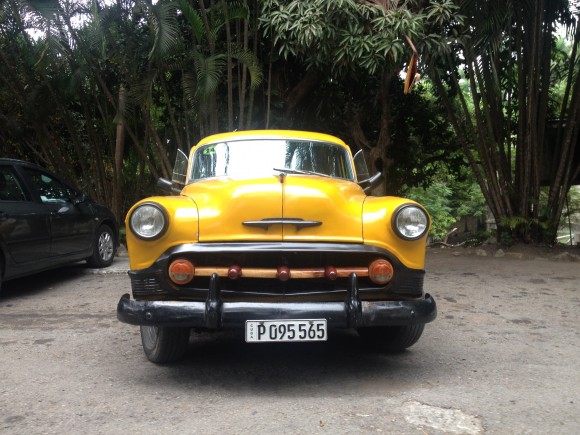 An old Chevy — used as a taxi — just outside Ernest Hemingway's house. Been asking every Cuban if they'll let me get behind the wheel of one. So far, no luck.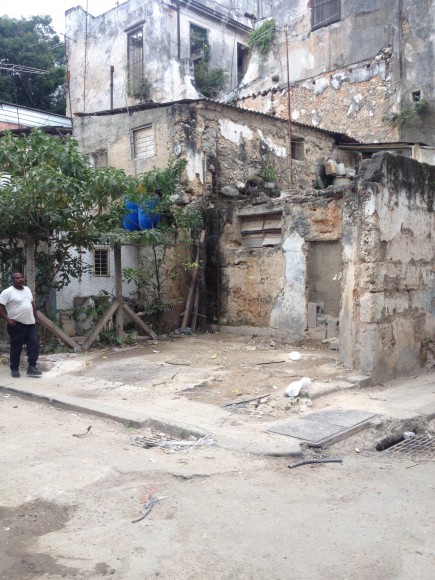 One of many ruins in Old Havana. The buildings are stunning… but they need repair. There is a huge opportunity for foreign investors to come, restore the city and profit.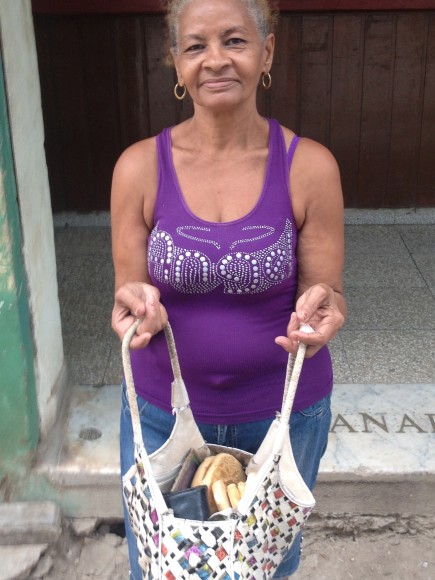 Carmen, after receiving her bread rations. Cubans get one piece of bread per day per family member. She told me she's happy — I wonder, however, if she could be even happier.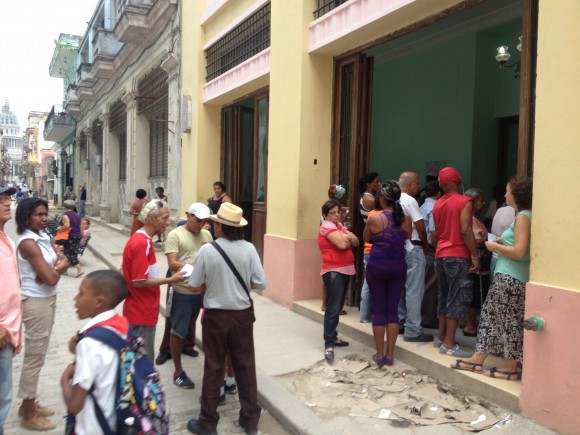 The bread rations building — and Cubans lining up to redeem their government coupons.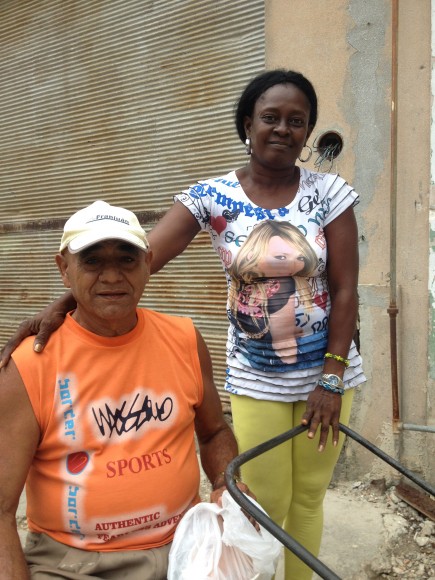 Jamie and Juana, two owners of a homemade chocolate and nut cart in Old Havana.