Truth the Experts Aren't Telling You About Oil Prices
Oil's going to $150!
No wait, forget that, oil's crashing all the way to $20.
Hold on, which one's right? Don't ask me. I took a 3-iron to my crystal ball after I lost a bet one night. But you'll find all kinds of crazy predictions around the oil patch these days.
I'm not a fan of the guessing game. If you want to make money in the markets you have to react, not guess. And today we're going to make money reacting to what the oil charts are actually showing us right now, not to what they could be showing us in 6 months.
And today, what the charts are whispering might surprise you…
It's too bad so many investors fall for the guessing game. And you can count on the big banks to supply the bait. Our buddies over at Goldman Sachs, for example, have grabbed headlines with some of their oil forecasts.
"Forecast No. 1 was for the price of WTI oil to return to $45 per barrel by October of this year," explains our energy maven over at Outstanding Investments, Jody Chudley. "The reasoning behind this call is that the recent rally in WTI prices from the low $40s to near $60 is going to be 'self-defeating.'"
In other words, the drillers are going to crank up production again thanks to higher prices, leaving us awash in oil. Then prices will fall again.
"Goldman's second bearish call is long-term in nature and quite eye-opening," Jody continues. "Goldman thinks that WTI is actually going to continue to decrease over time, ultimately setting at $50 per barrel in 2020."
Take both these predictions with a dump truck full of salt. As Jody reminds us: There is nothing in Goldman's track record of predicting oil prices to suggest they know what they are talking about.
Nothing. As in nil, nada, zilch…
But you don't have to follow Goldman's phony psychics. You can get some potentially profitable clues about crude just by looking at its chart. And right now, it looks like we're setting up for *gasp* higher prices: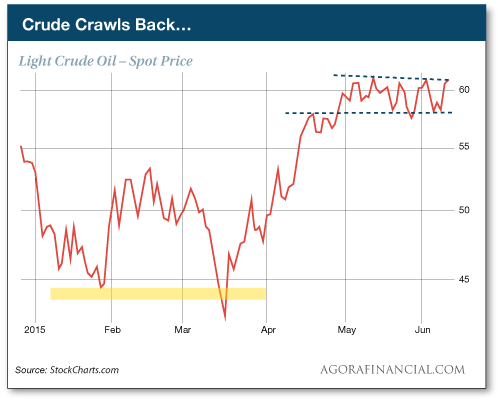 Crude quickly ripped up toward $60 after bottoming out in March, where it's remained trapped for more than a month. But thanks to a nice bounce this week we're seeing signs this monster is ready for its next leg higher…
And it also doesn't hurt that crude inventories fell by 6.81 million barrels last week — a nice little data point helping to juice this rally. Lower supplies, higher prices. Pretty simple.
I'm not getting into long-term forecasts here. We might be looking at a few months here. But that's enough to hand us some sweet, West Texas gains.
Now stop paying attention to the psychics and start paying attention to the charts.
Regards,
Greg Guenthner
for The Daily Reckoning
P.S. Read the charts, not the tea leaves. If you want to cash in on the biggest profits this market has to offer, sign up for my Rude Awakening e-letter, for FREE, right here. Stop missing out. Click here now to sign up for FREE