Trending Past Turmoil
The stock market has been light on drama lately.
So far this month, the broad market has resumed its attack of new highs, stomping the VIX back toward its lows. In fact, yesterday's measly drop was just the third time this month that the S&P 500 failed to finish the day in the green.
"After experiencing big swings in the market from late May through late June, volatility has quickly come back down to earth this month," explain the team over at Bespoke Investment Group. "Not only has the VIX moved back down to its lows for the year, but the pace of 'all or nothing' days has quickly dried up."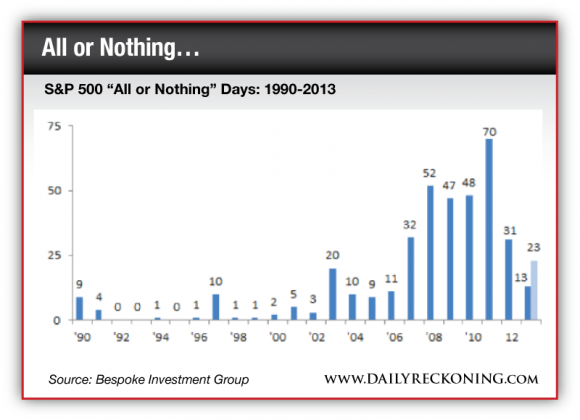 Bespoke records an "all or nothing" day when the net daily advance decline reading on the S&P 500 is greater than plus or minus 400. In other words, an "all or nothing" day happens when a massive number of stocks on the market are shooting higher together— or when a large majority of stocks are moving lower.
Aside from a few "all or nothing" days popping up in May and June, 2013 has been an uneventful year. In fact, if it keeps up this pace this year, we'll see the lowest total "all or nothing days" since 2006.
That's a good thing for long-term investors. Notice how market turmoil intensified the number of "all or nothing" swings over the past seven years. Not surprisingly, the two highest totals since 1990 came in 2008 and 2011 when the financial crisis and eurozone meltdown ripped through the markets. These periods of uncertainty produced ultra-high correlations in the market. It's not healthy action. Now, it appears that we're moving away from the turmoil…
Fewer and fewer big, correlated stock market moves will inspire investor confidence. A choppy, confusing market keeps most risk-adverse long-term investors on the sidelines. But if stability surfaces, more investors will leave their bear market mindsets behind and take the plunge.
Regards,