Trading an Undercover Rally
Stocks finally bounced yesterday. It wasn't exactly an inspiring performance — and the move certainly didn't reveal too much about the what you should expect after enduring a painful three-day drop that quickly shot the S&P 60 points lower…
However, I'm seeing signs pointing to the emergence of a new leading sector. This group of stocks abruptly fell out of favor early last year. But right now, an undercover comeback is in the works.
I'm talking about the homebuilders.
While everyone is freaking out over the broad market taking a dive, housing-related stocks are creeping higher. In fact, the iShares Dow Jones U.S. Home Construction ETF (NYSE:ITB)/S&P 500 ratio just turned positive for the first time since last July…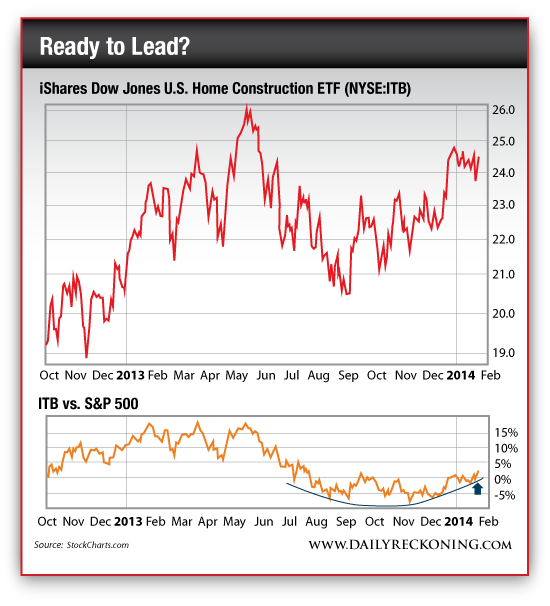 A significant move higher in these homebuilders could take a lot of investors by surprise for a couple of reasons.
First, everyone's worried that rising interest rates will squash the housing market. Housing data has also been squishy lately. New home sales slumped 7% in December. Sure, there are plenty of folks arguing that the unusually cold weather is impacting construction. But we won't know if this theory is true for several months.
The way I see it, these negative headlines are helping to set up the perfect stealth rally. It's also important to remember that both the home construction ETF and the retail-heavy SPDR Homebuilders Index ETF (NYSE:XHB) underperformed the S&P in 2013, while home prices actually increased 10.9%. That marked their biggest annual increase since the bursting of the housing bubble–and homebuilders spent the year consolidating instead of ripping higher.
Now, we have a situation where the major holdings in both ITB and XHB are looking downright cheap compared to the S&P. Earnings for individual builders also look strong, with DR Horton posting an earnings increase of 86% for the latest quarter off of raised prices.
ITB is my preferred homebuilder trading vehicle for a longer-term trade. I like the ETF here and as a potential buy-the-dips play — even if the broad market remains in a funk. As long as the ETF keeps building those higher lows, it's a strong bet heading into what is shaping up to be an uncertain year…
Regards,
Greg Guenthner
for The Daily Reckoning
Ed. Note: While 2014 may be an "uncertain year" as Greg puts it, there are ways to make your investment decisions more sure-footed. By signing up for free The Rude Awakening email edition, you'll get daily updates on where the market is headed – including a series of compelling trends, 5 specific numbers to watch and at least 3 chances to discover real, actionable investment opportunities. All of this is conveniently sent straight to your inbox every morning right around the opening bell… and it's all completely free. So what do you have to lose? Sign up for FREE, right here, and start getting the full story.