Trade Your Way Through World War 3
The world is falling apart again.
Tensions continue to mount in the Ukraine, every single news station is handing out free Crimean geography lessons, and futures are pointing to a painfully lower open for U.S. stocks.
Can the Russians sink the markets and drag us into another Cold War?
I don't know.
Luckily, you and I don't need an answer to this impossible question. While armchair geopolitical experts attempt to guess how this mess will play out, the charts will tell us exactly how to react to any situation. And right now, with the market teetering at the top of its trading range, there's a noticeable performance gap widening between large and small stocks…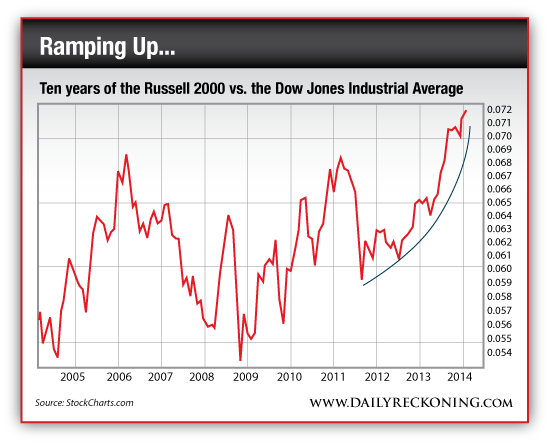 Small-cap stocks continue to ramp up their performance compared to their larger cousins. Despite the broad market's slow start to the year, small stocks continue to dominate, extending their breakout relative to the blue chips that occurred midway through 2013.
Taking a closer look, you can clearly see how the Dow Jones Industrial Average has yet to overtake its all-time highs (set all the way back on Dec. 31st). Yet just last week, we were treated to new closing highs from the Russell, the S&P 500, and the NASDAQ.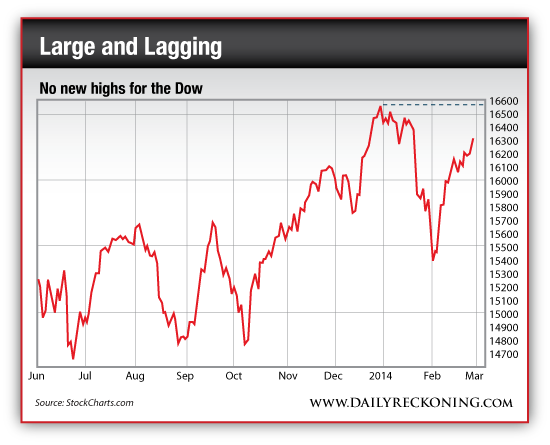 Now, we don't know if the Dow's failure to confirm the other new highs will present any problems in the days and weeks ahead. But what the lagging large-caps do tell us is that if you're trading, your best bet right now is to stick to the small stocks that are clearly outperforming the "brand name", dividend-paying blue chips…
Regards,
Greg Guenthner
for The Daily Reckoning
P.S. It's not just Dow components that are looking like a potential disaster waiting to happen. In today's issue of The Rude Awakening, I gave readers a chance to learn about one incredible opportunity that could make early investors huge gains as this trend progresses. If you didn't get it, you missed out. But don't worry… I'll be featuring another great opportunity in the next issue of The Rude Awakening — which gets sent straight to your inbox every single trading day, right around the opening bell. So you're always prepared for whatever the market throws at you. Sign up for FREE, right here.