The Stealth Homebuilder Rally Starts Now
The unusually cold and snowy winter much of the country experienced just a few months ago quickly became the go-to excuse for businesses that couldn't hit their respective sales numbers.
No one bought any cars in February? Blame the cold. T-shirt sales slumping? It's all that damn snow. Heck, even weeks after the last flake melted, CEOs grumbled about the weather every time an analyst asked a pointed question about slow sales.
However, the housing market was the sector that took the biggest hit of all during the brutal winter months. And the sharp slowdown in construction had plenty of folks wondering whether the building slowdown would recover once the weather improved.
Well, now we finally have an answer…
"Americans snapped up previously owned homes in May in the biggest monthly sales gain in almost three years," Bloomberg reports, "a sign the residential real estate market is regaining its footing after a stumble early in the year."
Home purchases jumped by almost 5% to a 4.89 million annualized rate — the biggest increase since August 2011.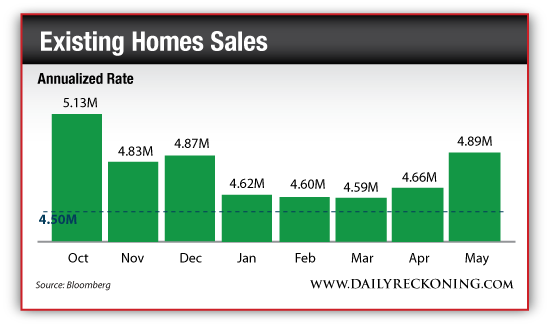 This unexpected pickup in the housing market is helping to confirm the "stealth rally" we've been following since late last year.
Remember, everyone has been worried that rising interest rates will squash the housing market. So when new home sales slumped 7% in late 2013, analysts were quick to blame rates as the culprit. Everyone thought rates had to move higher. But here we are. Rates drifted lower again and the housing market looks strong…
These negative headlines are helping to set up our stealth rally. It's important to note that the iShares Dow Jones US Home Construction ETF (NYSE:ITB) and the retail-heavy SPDR Homebuilders Index ETF (NYSE:XHB) underperformed the S&P in 2013, while home prices actually increased 10.9%. That marked their biggest annual increase since the bursting of the housing bubble — and homebuilders spent the year consolidating instead of ripping higher.
Now, we have a situation where the major holdings in both ITB and XHB are looking downright cheap compared to the S&P. Earnings for individual builders also look strong.
Regards,
Greg Guenthner
for The Daily Reckoning
P.S. I like housing here as a potential buy-the-dips play — even if the broad market dips this summer. In today's issue of The Rude Awakening, I gave readers a unique chance to discover my favorite play in this sector — a solid, long-term strategy that's a perfect example of why you should buy-the-dips in the current housing market. Sign up for my FREE Rude Awakening email edition for your chance to discover more of these great investment opportunities, every single trading day.